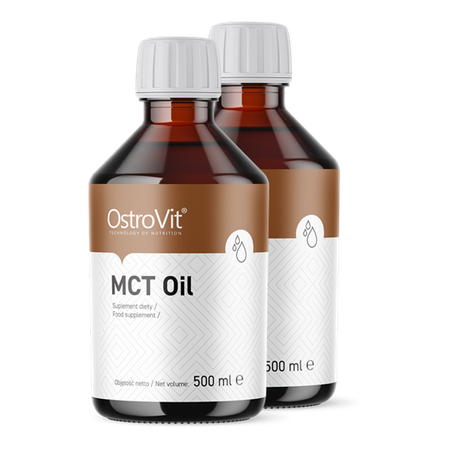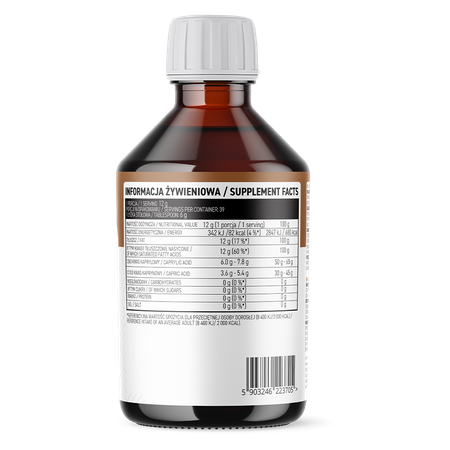 2 x OstroVit MCT OIL 500 ml natural
23,10 €
2 x OstroVit MCT OIL 500 ml

500 ml MCT - medium-chain fatty acids
82 servings in the bottle
1 daily portion is 12 g
Quick and simple energy boost
Suggested usage
Consume a portion of the product 12 g (2 tablespoons) twice a day with meals. The recommended portion of the product can be increased by 12 g every 3 days to obtain the optimal portion tailored to your needs. Consumption of a single amount of more than 100 g of the product may cause gastrointestinal discomfort.
Do not exceed the recommended daily allowance. The dietary supplement cannot be used as a substitute for a varied diet. A balanced diet and a healthy lifestyle are recommended. Do not consume if you are allergic to any of the ingredients in the product. The product should not be used by children, pregnant women and nursing mothers. Keep out of reach of small children.
Nutritional information
Ingredients
MCT oil contains medium-chain fatty acids from Guinea oilseed.
The product may contain milk (including lactose), soy, peanuts, other nuts, sesame seeds, oats, eggs, crustaceans, fish.
Nutrition Facts
Nutritional values
Per 100 g
For a portion
% RI*
Energy
2847 kJ /680 kcal
342 kJ / 82 kcal
4
Fat
100 g
12 g
17
- of which saturated fatty acids
100 g
12 g
60
Carbohydrates
0 g
0 g
-
- of which sugars
0 g
0 g
-
Protein
0 g
0 g
-
Salt
0 g
0 g
-
FATTY ACIDS COMPOSITION:
C6:0 Caproic acid
2.0 g
0.2 g
- 
C8:0 Caprylic acid
55 - 65  g
6.6 g - 7.8 g
- 
C10:0 Kwas Capric acid
35 - 45 g
4.2 g - 5.4 g
- 
C12:0 Lauric acid
3.0 g
0.4 g
 -
C14:0 Myristic acid
1 g
0.1 g
 -
*RI - Reference intake
Product reviews
0
opinion
Questions and Answers
Add a question about this product