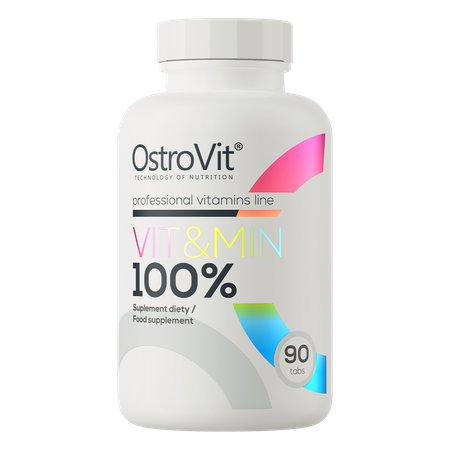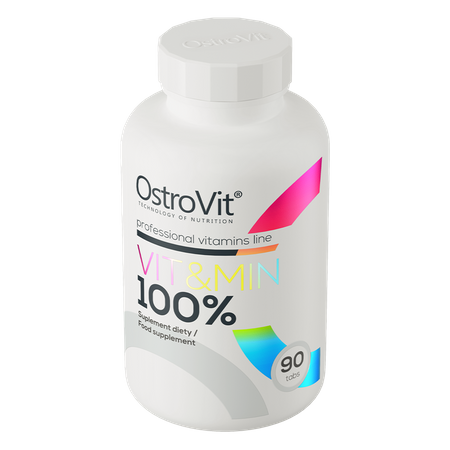 OstroVit 100% Vit&Min 90 tabs
2,74 €
OstroVit 100% Vit&Min 90 tabs
OstroVit 100% Vit&Min is a composition of highly digestible vitamins and minerals. The formula of the preparation contains a complex that meets the needs of an adult. The product is especially recommended for people who live actively, especially those who practice sports. Vit&Min is a complex preparation containing vitamins and minerals containing a high biological content, which makes them perfectly absorbed by the body and provides a high level of energy throughout the day. The OstroVit food supplement is the perfect solution during intense physical and mental effort. The complex of vitamins and minerals contained in the preparation will also allow for a quick return to physical fitness during convalescence after illnesses and injuries.

1 serving = 2 tablets
Number of portions in the package: 45
Package content: 90 tablets
Highly absorbable complex of minerals and vitamins
The effect of vitamins and minerals on the body
Vitamins and minerals control all life processes taking place in the human body. The human body cannot produce them on its own, so it is necessary to provide them with food or additionally with dietary supplements. This is due to the fact that nowadays we often come into contact with processed and modified foods, which are conducive to unfavorable conditions for the body, such as stress or increased emotional tension, but also contribute to the deterioration of psychophysical fitness, deteriorating health and well-being. The human body needs vitamin and mineral components for proper work. Although seemingly these are only microscopic particles, they have a significant impact on the quality of our health.
Properties of the ingredients contained in OstroVit Vit&Min:
Provides the micronutrients necessary for every athlete
Helps with skin care
Facilitates the proper functioning of muscles
Helps to reduce tiredness and fatigue.
Laboratory-confirmed quality
For the sake of our customers' health, the products we manufacture are regularly tested in an independent accredited laboratory to ensure and maintain the highest quality.






Suggested usage
Training days: 1 serving (2 tablets) before the first meal Non-training days: 1 serving before the first meal  
Do not exceed the recommended daily dose for consumption. Dietary supplement can not be used as a substitute (replacement) of a varied diet. A balanced diet and a healthy lifestyle are recommended. Do not eat if you are allergic to any of the ingredients in the product. The product should not be used by children, pregnant women and nursing mothers. Keep out of reach of small children.
Nutritional information
Ingredients
Food supplement in tablets containing vitamins and minerals. Calcium carbonate, magnesium citrate, L-ascorbic acid, nicotinic acid amide, ferric lactate, D-alpha tocopherol, zinc sulfate, calcium D-pantothenate, manganese sulfate, riboflavin, pyridoxine hydrochloride, thiamine mononitrate, copper sulfate, retinyl acetate, pteroylmonoglutamic acid, potassium iodide, sodium selenate, D-biotin, cholecalciferol, cyanocobalamin, bulking agent - microcrystalline cellulose, anticaking agents: calcium phosphate, magnesium salts of fatty acids, silicon dioxide, binding substance - polyvinylpyrrolidone.
The product may contain milk (including lactose), soy, cereals containing gluten, eggs, celery, mustard, crustaceans.
Nutrition Facts
Net weight of product: 137 g
| Active ingredients | For a portion | % RI* |
| --- | --- | --- |
| Calcium |  264 mg | 33 |
| Magnesium |  185 mg | 49 |
| Vitamin C |  80 mg | 100 |
| Niacin |  16 mg | 100 |
| Iron |  14 mg | 100 |
| Vitamin E |  12 mg | 100 |
| Zinc |  10 mg | 100 |
| Pantothenic acid |  6 mg | 100 |
| Manganese |  1.8 mg | 90 |
| Riboflavin |  1.4 mg | 100 |
| Vitamin B6 |  1.4 mg | 100 |
| Thiamine |  1.1 mg | 100 |
| Copper |  1 mg | 100 |
| Vitamin A |  800 µg | 100 |
| Folic acid |  200 µg | 100 |
| Iodine |  150 µg | 100 |
| Selenium |  55 µg | 100 |
| Biotin |  50 µg | 100 |
| Vitamin D |  5 µg | 100 |
| Vitamin B12 |  2.5 µg | 100 |
*RI- Reference intake
Product reviews
0
opinion
Questions and Answers
Add a question about this product