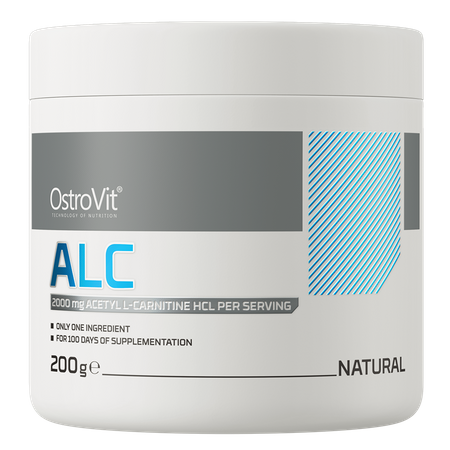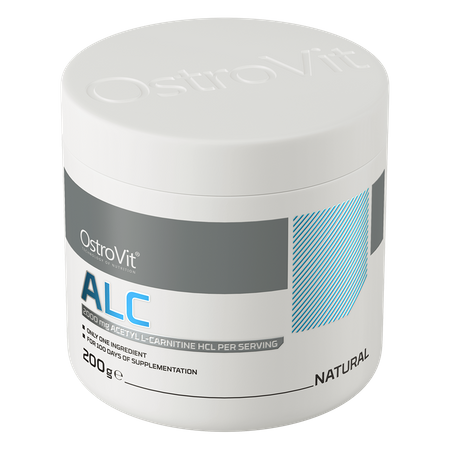 OstroVit ALC Acetyl L-Carnitine 200 g natural
25,58 €
OstroVit ALC 200 g
OstroVit ALC is a very efficient powdered dietary supplement containing pure acetyl l-carnitine, that is a natural nutrient which supports operation of your nervous system and muscles. The product performs well in persons who experience mental strain, wish to lose weight or lead active lifestyle.

Dietary supplement OstroVit ALC in powder form is an ideal proposition for all those who have problems swallowing tablets and capsules. The product is not only easy to consume, but also extremely efficient - one package is enough for over 3 months of regular supplementation.
What is ALC and how it works?
Acetyl L-carnitine, included in the supplement, overcomes blow-brain barrier, thanks to which it can successfully support your nervous system. The most important benefits of using it can be positive impact on mood, stress reduction, assurance of optimal energy, boosted endurance, as well as comprehensive support when slimming down.
Properties of the ingredients contained in Acetylo L-Caritinin:
COMPREHENSIVE SUPPORT TO NERVOUS SYSTEM - Acetyl L-carnitine has an influence on neurotransmitters balance and regeneration of nerve endings. Thanks to this, it influences cognitive functions.
FOR HEALTHY LIFESTYLE LOVERS - ALC is a great choice if you are physically active. It releases energy and protects against fatigue. Aside from this, it fosters body shaping. This is why it can also be used by persons who reduce weight.
PURE ACETYL L-CARNITINE HCL - One portion of the product contains as many as 200 mg of pure acetyl L-carnitine without any additives, including 1340 mg of L-carnitine. It is an optimal amount of substance which can help you achieve best results of supplementation.
CONVENIENT FORM - A daily portion of ACL is just one measure of the product. You can mix the powder with water or juice and drink it whenever you feel like it. You can therefore forget about discomfort associated with swallowing pills.
The product has strong hygroscopic properties (strongly absorbs moisture). The formation of clumps or uniform (compact) consistency is not a sign of loss of product properties. In this case, the product must be crushed anew.
Laboratory-proven quality
For the sake of the health of our customers, the products manufactured by us are regularly tested in an independent accredited laboratory to ensure and maintain the highest quality.
Suggested usage
Dissolve a single serving of the product 2 g (2.5 scoops) in 100-150 ml of water or juice in a shaker. Take one serving a day. Please use the scoop included in the package (1 ml).
Do not exceed the recommended daily dose. Do not use the product as a substitute for a varied diet. Recommended are a balanced diet and healthy lifestyle. Do not ingest if you are allergic to any of the ingredients. Children, pregnant or nursing woman must not take the product. Keep out of the reach of young children.
Nutritional information
Ingredients
Acetyl-L-carnitine HCl
Product may contain milk (including lactose), soybeans, peanuts, other nuts, sesame seeds, cereals containing gluten, eggs, crustaceans, fish.
Nutrition Facts
| Active ingredients | Per portion |
| --- | --- |
| Acetyl L-carnitine HCl | 2000 mg |
| - of which L-carnitine | 1340 mg |
Product reviews
0
opinion
Questions and Answers
Add a question about this product