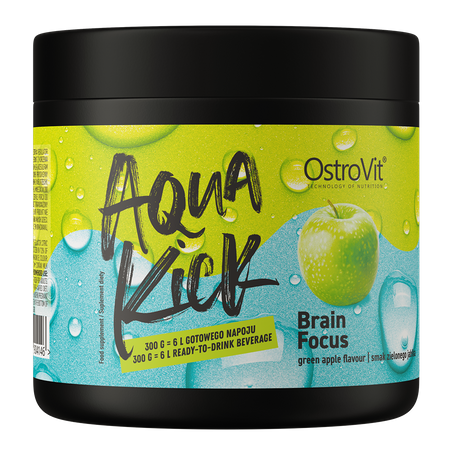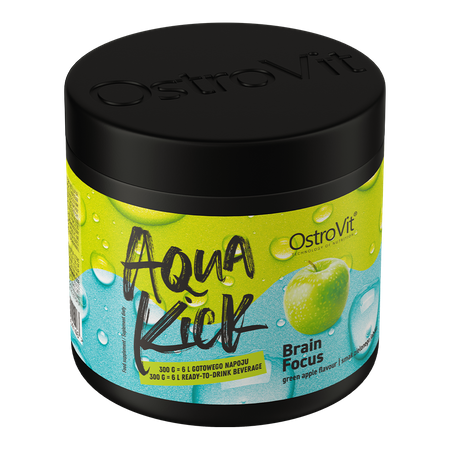 OstroVit Aqua Kick Brain Focus 300 g
6,39 €
OstroVit Aqua Kick Brain Focus 300 g
OstroVit Aqua Kick Brain Focus is a dietary supplement for all those who want to stimulate their brain to act. Thanks to a unique composition of such active ingredients as inositol, choline bitartrate, ashwagandha and vitamin B6, you can not only learn faster and focus better but also be in a better mood, even in stressful situations. If you deal with impaired memorizing, your work requires concentration or just want to have better mental comfort, try our modern dietary supplement.

Who Aqua Kick Brain Focus sachets are designed for?
Aqua Kick Brain Focus dietary supplement is a set of active ingredients which influence operation of your brain. The product are useful especially for persons who still educate or perform intensive mental work. Aside from support to cognitive capabilities, such as memory and concentration, Aqua Kick supplement will perform well also in persons who suffer from nervousness and phobias.
In the supplement we can find inositol, choline bitartrate as well as ashwagandha root extract. All these substances encourage the brain to act and support cognitive functions. Additional element of the mixture - vitamin B6 - fosters impact of other ingredients. Choose OstroVit Aqua Kick Brain Focus if you:
have memorizing issues
cannot concentrate
still study
do mental work
have phobias
your mood is to be improved
deal with permanent stress
Properties:
OstroVit Aqua Kick Brain Focus is a revolutionary dietary supplement which supports cognitive functions of your organism. From now on, instead of traditional capsules and pills, you can choose supplementation in the form of green apple-flavored drink. Just mix 10 g of the product with a glass of water and drink throughout the day.
Major features of the supplement:
SUPPORT TO BRAIN - Ingredients included in the dietary supplement stimulate the nervous system to act and let you remain calm in stressful situations.
UNIQUE COMBINATION OF INGREDIENTS - Thanks to combination of as many as four active substances, the impact of the supplement is very broad and applies to various functions of the brain.
FAST PREPARATION - To prepare the supplement, you need a few seconds. Just put 10 g of supplement in a glass of water and stir.
PERFECT FOR BUSY PEOPLE - The powdered supplement is perfect if you are always on the move. You can drink it throughout the day instead of water and take it anywhere you like.
Active ingredients of OstroVit Aqua Kick Brain Focus
With Aqua Kick Brain Focus dietary supplement, you can take care of proper functioning of the nervous system but also general health of your organism. Check properties of its ingredients:
Inositol - It stimulates central nervous system. It has anabolic properties. It regulates blood sugar level. It is used as help in treating PCOS.
Choline bitartrate - It contributes to improvement of nervous system functioning. It supports liver and reduces body weight.
Ashwagandha root extract - It improves cognitive functions and reduces stress and anxiety.
Vitamin B6 - It boosts metabolism and synthesis of such hormones as serotonin and adrenaline, thus influencing functions of the nervous system.
Suggested usage
Dissolve a single serving of the product 10 g (1.5 scoop) in 200 ml of water. Take 1 serving daily. Product is intended for adults.
Do not exceed the recommended daily dose. Do not use the product as a substitute (replacement) for a varied diet. Recommended are balanced diet and healthy lifestyle. Do not ingest if you are allergic to any of the ingredients. Children, pregnant and nursing woman must not take the product. The product is intended for adults. Keep out of the reach of children.
Nutritional information
Ingredients
Maltodextrin, acidity regulator: citric acid; aroma, inositol, choline bitartrate, acidity regulator: malic acid; ashwagandha root extract standardized on 7.2% of withanolides, 1% of alkaloids, 0.25% of withaferin; sweeteners: sucralose, acesulfame K; anti-caking agent: silicon dioxide; colour: copper complex chlorophyllin; pyridoxine hydrochloride (vitamin B6), cyanocobalamin (vitamin B12).
Product may contain milk (including lactose), soy, peanuts, other nuts, sesame seeds, cereals containing gluten, eggs, crustaceans, fish.
Nutrition Facts
| Nutritional values | 10 g powder | % RI* | 100 ml liquid |
| --- | --- | --- | --- |
| Energy value | 119 kJ / 28 kcal | - | 57 kJ / 13 kcal |
| Fat | 0 g | - | 0 g |
| - of which saturated fatty acids | 0 g | - | 0 g |
| Carbohydrates | 6.9 g | - | 3.3 g |
| - of which sugars | 1.5 g | - | 0.7 g |
| Protein | 0 g | - | 0 g |
| Salt | 0 g | - | 0 g |
| Active ingredients | 10 g powder | % RI* | 100 ml liquid |
| Inositol | 250 mg | - | 119.1 mg |
| Choline bitartrate | 250 mg | - | 119.1 mg |
| Ashwagandha root exctract, in this: | 139 mg | - | 66.19 mg |
| - withanolides (7.2%) | 10 mg | - | 4.76 mg |
| - alkaloids (1%) | 1.39 mg | - | 0.66 mg |
| - withaferin A (0.25%) | 0.35 mg | - | 0.17 mg |
| Vitamin B6 | 2.8 mg | 200 | 1.33 mg |
| Vitamin B12 | 30 μg | 1200 | 14.23 μg |
*RI- Reference intake
Product reviews
0
opinion
Questions and Answers
Add a question about this product