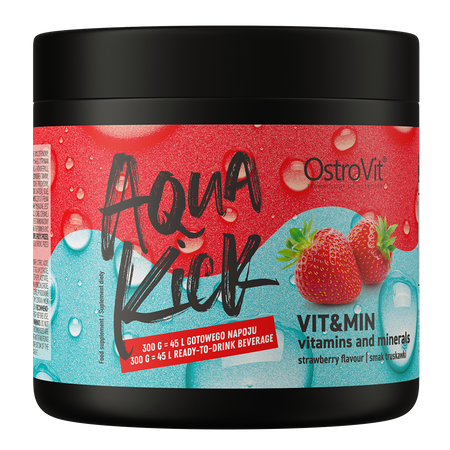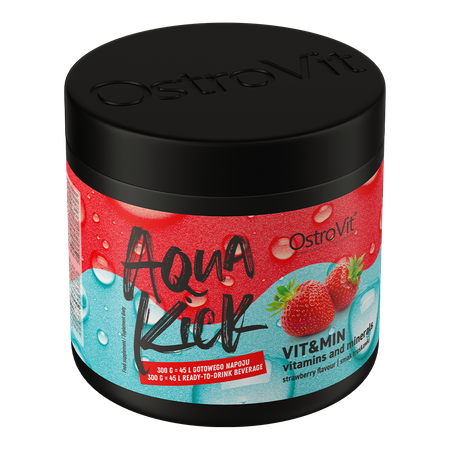 OstroVit Aqua Kick VIT&MIN 300 g
6,25 €
OstroVit Aqua Kick VIT&MIN 300 g
OstroVit Aqua Kick VIT & MIN is a complex of vitamins and minerals that you add to a bottle of water. This way you can supply your organism with required nutrients and hydrate it properly. The aforesaid vitamins and minerals can help you easily supplement deficiencies in your daily diet. A pleasant strawberry flavor will encourage you to choose this product. If you decide to buy OstroVit Aqua Kick VIT&MIN, you provide as many as 21 well-selected ingredients in a highly assimilable form.

Why is it worth consuming OstroVit Aqua Kick VIT&MIN?
Supplementing vitamins and minerals which you cannot provide your organism with through food may protect you against a number of unpleasant results and make your mood and health much better. You don't need to look for and use various preparations. Choosing OstroVit Aqua Kick VIT&MIN, you receive a ready set which meets your demand for 21 vitamins and minerals.
Properties:
SUPPLY MINERALS - 9 very important minerals which strengthen your immunological system, improve brain capability, and supply energy.
SUPPLY VITAMINS - They take part in almost all reactions in your organism. When they are missing, your organism does not work properly.
DRINK ENOUG - Join the group of persons who are one of few who drink a recommended amount of liquids a day and see the power coming from suitable hydration.
TAKE IT WITH YOU WHEREVER YOU WANT - A very convenient form of the powder closed in a small box makes it possible to take the supplement almost anywhere and prepare it at an express pace.
Active ingredients of the supplement:
Potassium - It leads to proper operation of muscles.
Magnesium - It reduces fatigue and raises resistance to stress.
Calcium - It builds teeth and bones.
Vitamin C - It increases immunity and iron absorption.
Niacin - It regulates production of sex hormones.
Vitamin E - It is a very strong anti-oxidant. It delays aging process.
Thiamine - It supports nervous system and allows proper functioning of the brain.
Riboflavin - It protects vision, raises immunity and supports nervous system.
Zinc - It participates in production of testosterone and boosts immunity.
Iron - It supports the vascular system.
Pantothenic acid - It makes the face look radiant and hair healthy.
Vitamin B6 - It takes part in aminoacid transformation processes.
Manganese - It participates in creating many enzymes.
Copper - It is used to create red blood cells, connective tissue and nerve fibers.
Vitamin A - Required to keep the skin, hair and nails healthy.
Folic acid - It plays a key role in synthesis of nucleic acids.
Selenium - It supports function of thyroid and immunity of organism.
Biotin - It makes the face, nails and hair healthy and affects mood.
Chromium - It is important in carbohydrate and fat metabolism.
Vitamin D - It helps you keep your teeth and bones healthy. It has a positive impact on immunity.
Vitamin B12 - It lets you keep your skin healthy, as well as strengthens and boosts growth of nails. It boosts organism immunity and assures proper eyesight.
Suggested usage
Dissolve a single serving of the product 10 g (1 full scoop) in 1,5 l of water. Consume throughout the day.
Product is intended for adults. Before use, it is advisable to take a 25-(OH)D blood test and consult the test result with your doctor or pharmacist.
Do not exceed the recommended daily dose. Do not use the product as a substitute (replacement) for a varied diet. Recommended are a balanced diet and healthy lifestyle. Do not ingest if you are allergic to any of the ingredients. Children, pregnant or nursing woman must not take the product. Keep out of the reach of children.
Nutritional information
Ingredients
Acidity regulator: citric acid; aroma, beet juice concentrate in powder, acidity regulator: malic acid; magnesium salts of citric acid, potassium citrate, calcium carbonate, sweeteners: sucralose, acesulfame K; iron (II) diglycinate, L-ascorbic acid, DL-alpha-tocopheryl acetate, zinc picolinate, L-selenomethionine, nicotinic acid, anti-caking agent: silicon dioxide; thiamine hydrochloride, riboflavin, calcium D-pantothenate, cholecalciferol, manganese diglycinate, copper diglycinate, retinyl acetate, pyridoxine hydrochloride, chromium picolinate, pteroylmonoglutamic acid, D-biotin, cyanocobalamin.
The product may contain milk (including lactose), soy, peanuts, other nuts, sesame seeds, cereals containing gluten, eggs, crustaceans, fish.
Nutrition Facts
| Nutritional values | 10 g powder | 100 ml liquid |
| --- | --- | --- |
| Energy value | 32 kJ / 7 kcal | 2 kJ / 0 kcal |
| Fat | 0 g | 0 g |
| - of which saturated fatty acids | 0 g | 0 g |
| Carbohydrates | 1.9 g | 0.1 g |
| - of which sugars | 0.4 g | 0 g |
| Protein | 0 g | 0 g |
| Salt | 0 g | 0 g |
| Active ingredients | 10 g powder | % RI* |
| Potassium | 150 mg | 8 |
| Magnesium | 57 mg | 15 |
| Calcium | 60 mg | 8 |
| Vitamin C | 40 mg | 50 |
| Niacin | 8 mg | 50 |
| Vitamin E | 15 mg | 125 |
| Thiamine | 7.5 mg | 682 |
| Riboflavin | 7.5 mg | 536 |
| Zinc | 7.5 mg | 75 |
| Iron | 7 mg | 50 |
| Pantothenic acid | 6 mg | 100 |
| Vitamin B6 | 1 mg | 72 |
| Manganese | 0.9 mg | 45 |
| Copper | 0.5 mg | 50 |
| Vitamin A | 400 µg | 50 |
| Folic acid | 200 µg | 100 |
| Selenium | 100 µg | 182 |
| Biotin | 75 µg | 150 |
| Chromium | 75 µg | 188 |
| Vitamin D | 15 µg | 300 |
| Vitamin B12 | 5 µg | 200 |
*RI - Reference intake
Product reviews
0
opinion
Questions and Answers
Add a question about this product