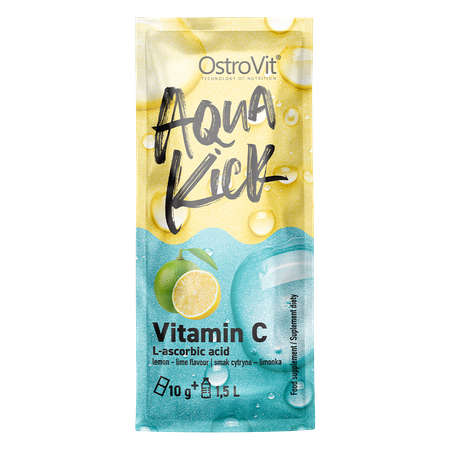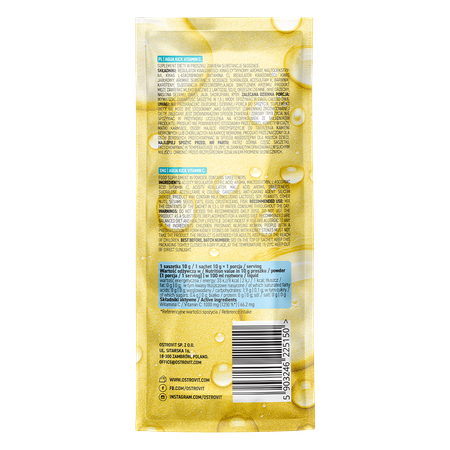 OstroVit Aqua Kick Vitamin C 10 g
0,33 €
OstroVit Aqua Kick Vitamin C 10 g
OstroVit Aqua Kick Vitamin C is a dietary supplement which can help you easily and quickly provide your organism with a required daily amount of vitamin C. This ingredient, famous for its strong anti-oxidant properties, performs a number of important roles in the organism and its deficiency may prove to be very harmful.

Aqua Kick Vitamin C dietary supplement in the form of a water-soluble powder with a lemon-lime flavor is an extremely convenient alternative to classic tablets. A single sachet is enough to mix with a bottle of water. This creates a refreshing drink that you can drink all day instead of water. One serving of the product provides as much as 1000 mg of ascorbic acid.
The role of vitamin C in the body
Vitamin C, that is an ascorbic acid, is frequently used in case of cold or other types of infections. Although the substance does not actually mitigates symptoms of the disease, in terms of prevention it may shorten its effect. Aside from this, vitamin C supports a series of processes in the organism - it participates in production of collagen, fosters wound healing, activates enzymes, increases absorption of iron, strengthens teeth as well as has strong anti-oxidant impact.
Human organism cannot product vitamin C on its own, thus it is important that you take it regularly in the form of food or supplements. When the ascorbic acid level drops dramatically, you may experience distinctive symptoms in the form of general weakness, muscle and joint aches, subcutaneous bleeding, bruises, gum swelling or inflammation of mucous membrane.
Properties:
COMPREHENSIVE SUPPORT OF THE BODY - Ascorbic acid can be used in many more ways than just in prevention of infections.
EFFECTIVE ANTIOXIDANT - Thanks to its strong antioxidant properties, vitamin C destroys free radicals, thus slowing down the aging process of the body.
HIGH DOSE - One portion of the supplement contains 1000 mg of vitamin C. If used regularly, such a dose will provide you with an optimal level of ascorbic acid, thanks to which you will not be exposed to deficiency of this valuable ingredient.
TASTY ALTERNATIVE TO WATER - Vitamin C in the form of water-soluble sachets is an interesting alternative to those who do not like drinking water. After solving the powder in a bottle of water, you gain a refreshing drink to be consumed throughout the day.
Suggested usage
Mix the contents of the sachet in 1,5 l of water. Consume throughout the day.
Do not exceed the recommended daily dose. Do not use the product as a substitute (replacement) for a varied diet. Recommended are balanced diet and healthy lifestyle. Do not ingest if you are allergic to any of the ingredients. Children, pregnant, nursing woman, people with a predisposition to form kidney stones or those with kidney stones must not take the product. The product is intended for adults. Keep out of the reach of children.
Nutritional information
Ingredients
Acidity regulator: citric acid; aroma, maltodextrin, L-ascorbic acid (vitamin C), acidity regulator: malic acid; aroma, sweeteners: sucralose, acesulfame K; colour: carotenes; anti-caking agent: silicon dioxide.
Product may contain milk (including lactose), soy, peanuts, other nuts, sesame seeds, oats, eggs, crustaceans, fish.
Nutrition Facts
| Nutritional values | 10 g powder | % RI* | 100 ml liquid |
| --- | --- | --- | --- |
| Energy value | 33 kJ/ 8 kcal | - | 2 kJ / 1 kcal |
| Fat | 0 g | - | 0 g |
| - of which saturated fatty acids | 0 g | - | 0 g |
| Carbohydrates | 1.9 g | - | 0.1 g |
| - of which sugars | 0.4 g | - | 0 g |
| Protein | 0 g | - | 0 g |
| Salt | 0 g | - | 0 g |
| Active ingredients | 10 g powder | % RI* | 100 ml liquid |
| Vitamin C | 1000 mg | 1250 | 66.2 mg |
*RI - Reference intake
Product reviews
0
opinion
Questions and Answers
Add a question about this product