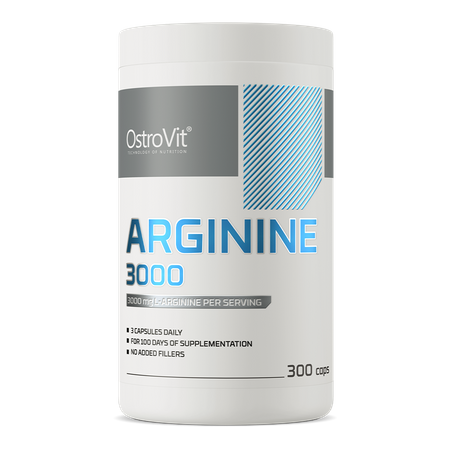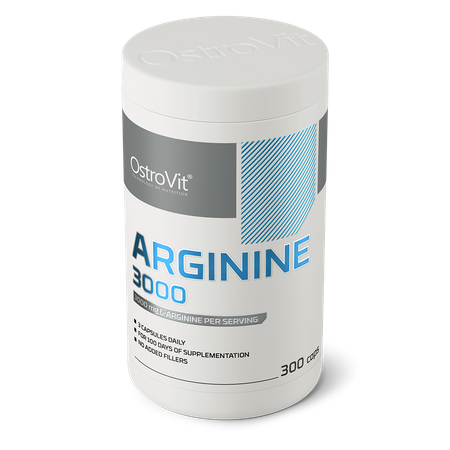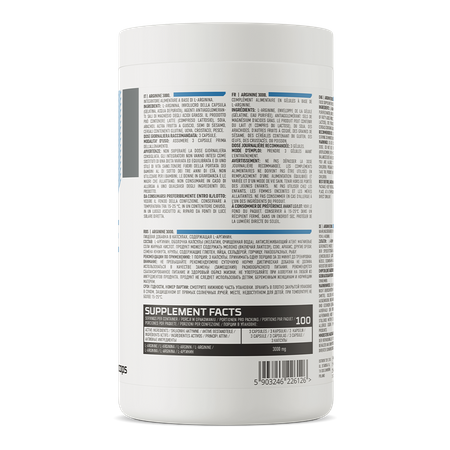 OstroVit Arginine 3000 300 caps
13,03 €
OstroVit Arginine 3000 mg 300 caps
OstroVit Arginine 3000 mg is a dietary supplement in capsules containing only one ingredient, which is l-arginine. For the sake of quality and consumer satisfaction, the preparation has been subjected to the highest level of micronization, which proves its perfection. Arginine is considered one of the better NO - BOOSTERS. Due to its properties, arginine, which is a substrate of nitric oxide synthesis, lowers blood pressure and improves oxygen transport to our muscle cells.
3
Capsules
1 serving = 3 capsules


300 capsules of l-arginine in the package
100 servings in the package
Portion = 3 capsules
Only one ingredient, no unnecessary fillers
L-arginine
L-arginine is an organic chemical compound from the group of amino acids. It belongs to essential amino acids, and is often classified as "relatively exogenous". It is an extremely important amino acid because it is an intermediate in both the urea cycle (with L-ornithine, L-citrulline) and the nitric oxide cycle. It is also one of the three substrates forming creatine, which is necessary for the proper functioning of the body.
Properties of the ingredients contained in OstroVit Arginine
L-arginine as an essential amino acid also finds practical and invaluable use in supplementation in athletes. It is great for implementation in strength and strength-endurance sports. Here are some of the most important properties of a "wonderful" amino acid:
By directly activating nitric oxide, it improves blood flow
Show a significant effect on lowering blood pressure
Arginine increases insulin sensitivity with prolonged supplementation
L-arginine accelerates the healing of various types of wounds, cuts and burns
As a powerful antioxidant (antioxidant), it reduces excess free radicals in our body
Work favorably on the brain by increasing blood supply. Support remembering and clear thinking
Laboratory-proven quality
For the sake of the health of our customers, the products manufactured by us are regularly tested in an independent accredited laboratory to ensure and maintain the highest quality.
Suggested usage
1 serving: 3 capsules. Take one serving 30 minutes before training.
Do not exceed the recommended daily dose. Do not use the product as a substitute (replacement) for a varied diet. Recommended are balanced diet and healthy lifestyle. Do not ingest if you are allergic to any of the ingredients. Children, pregnant or nursing woman must not take the product. Keep out of the reach of  children.
Nutritional information
Ingredients
L-arginine, capsule shell (gelatin, purified water).
Product may contain milk (including lactose), soy, peanuts, other nuts, sesame seeds, oats, eggs, crustaceans, fish.
Nutrition Facts
| Active ingredients | 3 capsules (1 portion) |
| --- | --- |
| L-arginine | 3000 mg |
Product reviews
0
opinion
Questions and Answers
Add a question about this product