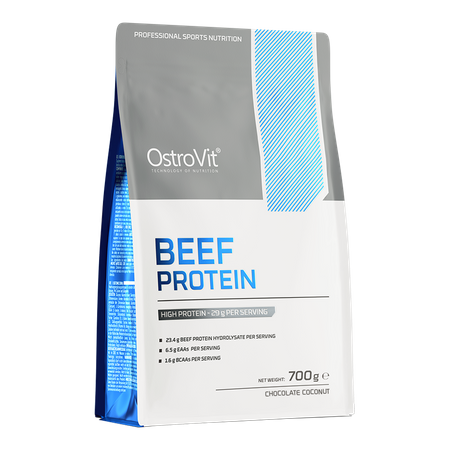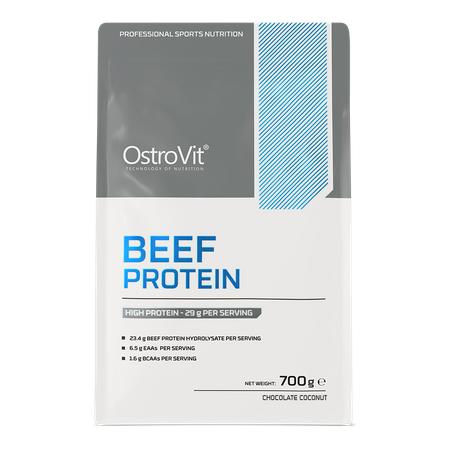 OstroVit Beef Protein 700 g chocolate coconut
14,81 €
OstroVit Beef Protein 700 g
OstroVit Beef Protein 700 g is the highest quality beef protein hydrolyzate, which is considered the purest source of protein used in the diet of athletes, characterized by high bioavailability and richness of amino acids. It was created for all people with lactose intolerance and looking for an alternative to traditional whey protein powder. The preparation is obtained in the process of enzymatic hydrolysis of beef meat and has been enriched with the presence of amino acids - L-glutamine and L-arginine. It is ideal both in the period of building muscle mass and reducing body fat.

700 g per package
The product contains 23 servings!
1 serving = 30g
3 delicious flavors
OstroVit Beef Protein 700 g
It is a preparation that contains over 90% of easily digestible animal protein of beef origin and a model profile of amino acids necessary to build muscle mass without containing unnecessary sugars or fats. Thanks to its high bioavailability and the highest nutritional value, beef protein hydrolyzate effectively accelerates the construction of lean body mass. Stimulates the growth and regeneration of muscle fibers. In addition, it has an anti-catabolic effect - it prevents muscle breakdown. It is an excellent preparation to be used both before and after exercise. The product is characterized by very good solubility due to the breakdown of protein bonds formed as a result of hydrolysis - after preparing the preparation, a nutritious protein cocktail is created, devoid of unnecessary additives.
The use of the preparation is effective during weight reduction, because it stimulates fat burning, especially the one located in the abdominal area. It is also an effective supplement to the need for protein during the use of low-calorie diets. Beef protein isolate is considered the basis of the diet of every athlete. It is recommended especially in strength sports, bodybuilding and fitness.
Properties of the ingredients contained in OstroVit Beef Protein 700 g:
Bovine protein hydrolyzate
Free of carbohydrates and fats
It works anabolic - helps in building pure muscle mass
It works anti-catabolic - prevents muscle breakdown
Accelerates post-workout muscle regeneration
Suitable for supplementation in all sports
Recommended during the period of building muscle mass.
Laboratory-proven quality
For the sake of our customers' health, the products we manufacture are regularly tested in an independent accredited laboratory to ensure and maintain the highest quality.






Suggested usage
Mix a portion of 30 g (2.5 scoops) in 200 ml of skim milk or water. Consume once a day. The product is intended for adults.
Do not exceed the recommended daily intake. The dietary supplement cannot be used as a substitute (replacement) of a varied diet. A balanced diet and a healthy lifestyle are recommended. Nie spożywać w przypadku uczulenia na którykolwiek ze składników produktu. The product should not be used by children, pregnant women and nursing mothers. Keep out of reach of small children.
Nutritional information
Ingredients
Beef protein hydrolyzate, flavor enhancer: glycine; L-glutamine, L-arginine, maltodextrin, flavourings, dye: ammonia caramel; thickener: xanthan gum; emulsifier: lecithins; sweeteners: sucralose, acesulfame K.
Diet supplement. Contains sweeteners.
The product may contain peanuts, other nuts, sesame seeds, cereals containing gluten, eggs, crustaceans, fish.
Nutrition Facts
| Active ingredients | Per serving 30 g | in 100g |
| --- | --- | --- |
| Bovine protein hydrolyzate | 23 400 mg | 78 g |
| L-glutamine | 1200 mg | 4 g |
| L-arginine | 900 mg | 3 g |
| Nutritional value | Per serving 30 g | in 100 g |
| --- | --- | --- |
| Energy value | 497 kJ / 119 kcal | 1655 kJ / 396 kcal |
| Fat | 0 g | 0 g |
| -including saturated fatty acids | 0 g | 0 g |
| Carbohydrates | 0 g | 0 g |
| - including sugars | 0 g | 0 g  |
| Protein | 29 g | 97 g |
| Salt | 0.28 g | 0.94 g  |
Product reviews
0
opinion
Questions and Answers
Add a question about this product