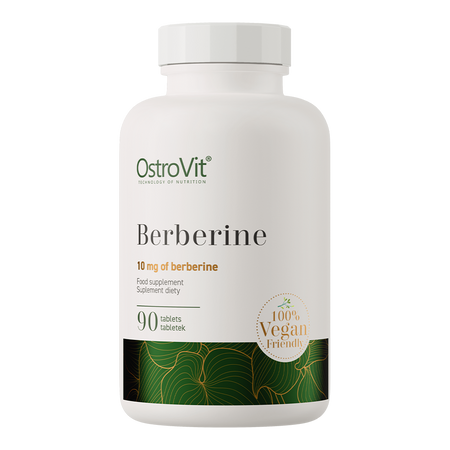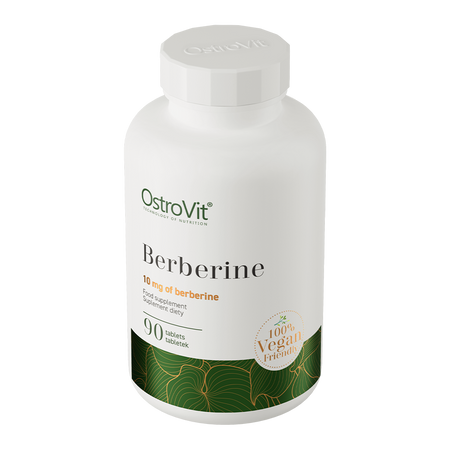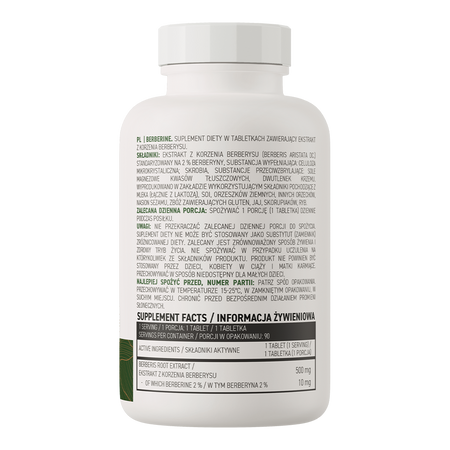 OstroVit Berberine 90 tablets
4,25 €
OstroVit Berberine 90 tablets
OstroVit Berberine is a dietary supplement that contains barberry root extract standardized to 2% berberine. It is a preparation available in the form of easy-to-swallow tablets, created for conscious consumers who want to supplement their daily diet with a valuable ingredient.
1
Tablet
1 serving = 1 tablet
Source of berberine - one serving of the dietary supplement contains 500 mg of barberry root extract standardized to 2% berberine.
1 serving = 1 tablet.
Performance - the product package contains 90 servings of the preparation, which is enough for three months of regular supplementation.
Convenient form - the preparation available in the form of easy-to-swallow tablets ensures trouble-free supply of dietary supplement.
OstroVit Berberine - a valuable supplement to the daily diet
Berberine is a chemical compound included in the group of isoquinoline alkaloids. It is a natural substance of plant origin, which can be found in the roots, stems and fruits of shrubs of the barberry family. Berberine has many properties and for this reason has been used in traditional Chinese medicine and folk medicine in European countries for hundreds of years. Berberine is a compound that is poorly soluble in water and alcohol. In dietary supplements can be found in various chemical forms - in preparations you can find berberine in the form of hydrochloride or sulfate, as well as in the form of a natural extract. The OstroVit product uses barberry root extract standardized to 2% berberine, which positively affects the quality of the dietary supplement and ensures a high content of active substance in each serving of the preparation.
Suggested usage
Consume 1 serving (1 tablet) daily with meals.
Do not exceed the recommended daily allowance. Dietary supplement can't be used as a substitute (replacement) of a varied diet. A balanced diet and a healthy lifestyle are recommended. Do not use if you are allergic to any of the ingredients in the product. The product should not be used by children, pregnant women and nursing mothers. Keep out of reach of small children.
Nutritional information
Ingredients
Berberis root extract (Berberis aristata DC.) standardized on 2% berberine, bulking agent: microcrystalline cellulose; starch, anticaking agents: calcium phosphates, silicon dioxide, magnesium salts of fatty acids.
Product may contain milk (including lactose), soy, peanuts, other nuts, sesame seeds, cereals containing gluten, eggs, celery, mustard, crustaceans, fish.
Nutrition Facts
| Active ingredients | Per portion |
| --- | --- |
| Berberis root extract |  500 mg  |
| - of which berberine 2% |  10 mg  |
Product reviews
0
opinion
Questions and Answers
FAQ
In the discription it sais: Berberis root extract 500 mg - in which berberine 2% 10 mg . Does this mean there is only 10 mg of berberine in one pil? Than why is it called 500mg? Is this the same with every brand? I find this very confusing. I am also trying to figure out why you are able to make less expensive supplements. Is that because it is 10mg instead of 500mg? Looking forward to your answer. Thank you. Best regards, Gerdien
Please note that the label states that there is 500 mg of berberis extract standardized to 2% of berberine in 1 tablet (2% of 500 mg = 10 mg). 10 mg of berberine is the maximum recommended daily serving we can put in as a food supplement.
Do you need more information?
If the above information is not sufficient for you, please send us your question. We will do our best to answer them.
Add a question about this product