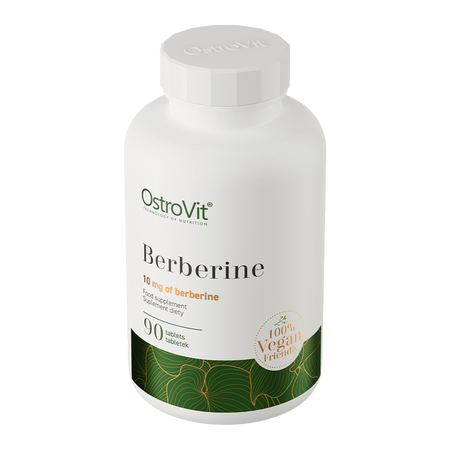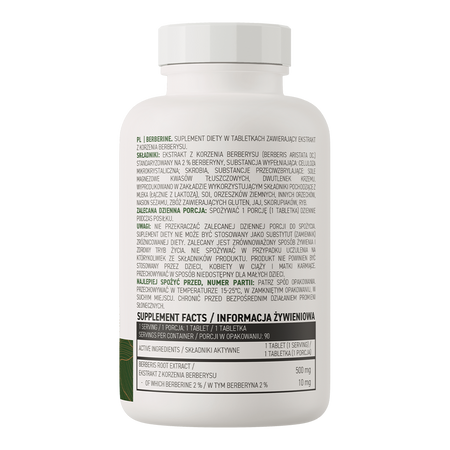 OstroVit Berberine 90 tabs
4,21 €
OstroVit Berberyna 90 tabs
OstroVit Berberine is a dietary supplement in tablets containing extract of berberine. Berberine has a positive effect on the functioning of the intestines and the regulation of the intestinal lining, which translates into better functioning of the digestive system. Berberine can be used in cases of dysregulation of sugar and insulin metabolism in the body due to the fact that it increases the amount and sensitivity of insulin receptors. Moreover, it delays the breakdown of complex carbohydrates into simple sugars, including by regulating macrobiotics, stimulating the consumption of SFA. Berberine mimics the action of insulin by increasing the use of glucose, making it an insulin-mimetic.

Contains 90 servings of the product
1 serving = 1 tablet
Standardization of 2% per 10 mg of berberine
Berberine
The action of berberine has beneficial properties in reducing body weight. It helps to increase the activity of adiponectin (a hormone secreted by adipose tissue, which plays a role in improving insulin sensitivity), which causes that berberine is a supplement supporting the reduction of fat tissue - by regulating glycemic index, as well as by affecting the hormones that are secreted by adipose tissue. Moreover, berberine also effects memory. It can be used as a means of improving cognitive functions and memorization, mainly by influencing the cholinergic pathways.
Properties of the ingredients contained in OstroVit Berberine:
Helps to lower blood glucose levels
Has a positive effect on the work of the intestines
Has a beneficial effect in reducing body weight
Supports the work of the brain (memory, concentration)
Suggested usage
Consume 1 serving (1 tablet) daily with meals.
Do not exceed the recommended daily allowance. Dietary supplement can't be used as a substitute (replacement) of a varied diet. A balanced diet and a healthy lifestyle are recommended. Do not use if you are allergic to any of the ingredients in the product. The product should not be used by children, pregnant women and nursing mothers. Keep out of reach of small children.
Nutritional information
Ingredients
Berberis root extract (Berberis aristata DC.) standardized on 2% berberine, bulking agent: microcrystalline cellulose; starch, anticaking agents: calcium phosphates, silicon dioxide, magnesium salts of fatty acids.
Product may contain milk (including lactose), soy, peanuts, other nuts, sesame seeds, cereals containing gluten, eggs, celery, mustard, crustaceans, fish.
Nutrition Facts
| Active ingredients | For a portion |
| --- | --- |
| Berberis root extract |  500 mg  |
| - in which berberine 2% |  10 mg  |
Product reviews
0
opinion
Questions and Answers
FAQ
In the discription it sais: Berberis root extract 500 mg - in which berberine 2% 10 mg . Does this mean there is only 10 mg of berberine in one pil? Than why is it called 500mg? Is this the same with every brand? I find this very confusing. I am also trying to figure out why you are able to make less expensive supplements. Is that because it is 10mg instead of 500mg? Looking forward to your answer. Thank you. Best regards, Gerdien
Please note that the label states that there is 500 mg of berberis extract standardized to 2% of berberine in 1 tablet (2% of 500 mg = 10 mg). 10 mg of berberine is the maximum recommended daily serving we can put in as a food supplement.
Do you need more information?
If the above information is not sufficient for you, please send us your question. We will do our best to answer them.
Add a question about this product