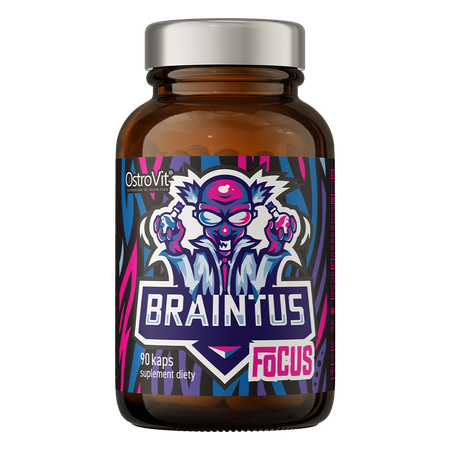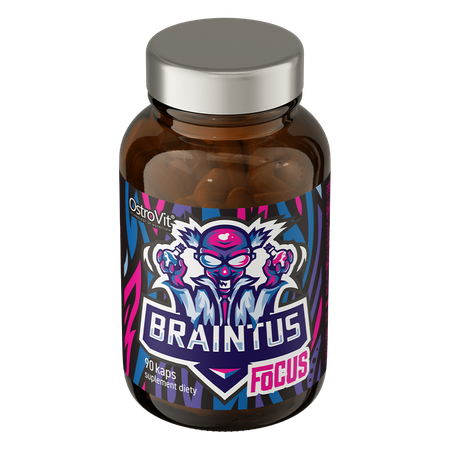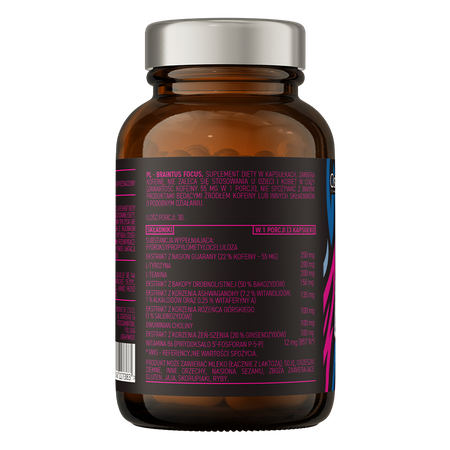 OstroVit Braintus Focus 90 caps
6,51 €
OstroVit Braintus Focus 90 caps
OstroVit Braintus Focus is a dietary supplement whose active ingredients support proper operation of the brain. The formula of OstroVit Braintus Focus includes as many as 9 carefully selected active ingredients which can help you to stimulate your memory, be properly concentrated and gain energy. Get to know them better and open up to new possibilities.

What is OstroVit Braintus Focus?
OstroVit Braintus Focus is a modern dietary supplement. It has been designed especially for persons who need comprehensive mind stimulation.
The innovative formula contains 9 active ingredients which support proper operation of the organism in key areas.
The dietary supplement:
contains top-quality ingredients – as per norms and standards applicable in the European Union
has been tested in the laboratory in terms of safe use
takes a form of easy-to-swallow capsules – a package includes 90 capsules for a 30-day treatment
A formula formulated to stimulate the mind
In the composition of OstroVit Braintus Focus you will find as many as 9 active ingredients that naturally support the proper functioning of your mind.
Guarana seed extract - It is a natural source of caffeine. It contributes to reduction of physical and mental fatigue and comprehensively supports operation of your brain. It helps you to improve memory and concentration as well as boost energy.
L-tyrosine - It supports pro-cognitive functions of the organism, that is concentration, memory and acquisition of new information. It helps you to reduce effects of physical and mental fatigue as well as chronic stress and exhaustion.
L-teanine - It boosts concentration and relaxation. It leads to reduction of stress which, for example, may accompany you when you study hard or cram for an important examination.
Small-leaved bacopa extract (Bacopa Monnieri) - It comprehensively supports cognitive functions of the brain, that is memory, concentration and information acquiring skills. It helps you to reduce effects of stress when you put much physical effort. It is a natural anti-oxidant protecting you against free radicals.
Ashwagandha root extract - ashwagandha is an adaptogen used for centuries in Ayurvedic medicine. It facilitates memorising and delays aging process.
Mountain hornbill root extract - It boosts cognitive processes in the brain, particularly memory and concentration, as well as helps you to limit a negative reaction to stress.
Choline bitartrate - It helps you to stay in a good mood and supports memorizing. It fosters organism detoxification.
Ginseng root extract - It has a positive influence on studying and memorising. It also protects you against stress.
Vitamin B6 - It has an impact on reduction of fatigue and weariness as well as supports proper operation of the nervous system and mental functions.
Laboratory-proven quality
For the sake of the health of our customers, the products manufactured by us are regularly tested in an independent accredited laboratory to ensure and maintain the highest quality.
Suggested usage
Consume 1 serving (3 capsules) daily. The preparation is intended for adults.
Do not exceed the recommended daily allowance. Dietary supplement cannot be used as a substitute for a varied diet. A balanced diet and a healthy lifestyle are recommended. Do not consume if you are allergic to any of the ingredients in the product. The product should not be used by children, pregnant women and nursing mothers. Keep out of reach of small children.
Nutritional information
Ingredients
Capsule shell (bulking agent: hydroxypropyl methylcellulose), Guarana seed extract (22% caffeine - 55 mg), L-tyrosine, L-tyrosine, Bacopa extract (50% bacosides), Ashwagandha root extract (7.2% withanolides, 1% alkaloids and 0.25% vitaferin A), Rhodiola rosea root extract (1% salidrosides), Choline bitartrate, Ginseng root extract (20% ginsenosides), Vitamin B6 (pyridoxal 5'-P-5-P-phosphate).
The product may contain milk (including lactose), soy, peanuts, other nuts, sesame seeds, oats, eggs, crustaceans, fish.
Nutrition Facts
| Active ingredients | Per portion | % RI* |
| --- | --- | --- |
| Guarana seed extract | 250 mg | - |
| - including 22% coffeine | 55 mg | - |
| L-tyrosine | 200 mg | - |
| L-theanine | 200 mg | - |
| Bacopa extract (50% bacosides) | 150 mg | - |
| Ashwagandha root extract | 135 mg | - |
| Rhodiola rosea root extract (1% salidrosides) | 100 mg | - |
| Choline bitartrate | 100 mg | - |
| Ginseng root extract (20% ginsenosides) | 100 mg | - |
| Vitamin B6 (pyridoxalo 5'-phosphate P-5-P) | 18 mg | 1268 |
*RI - Reference intake
Product reviews
0
opinion
Questions and Answers
Add a question about this product