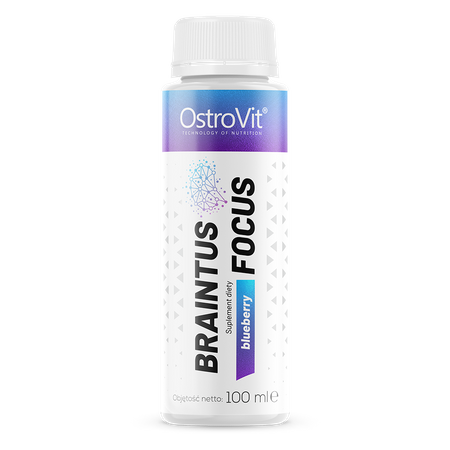 OstroVit Braintus Focus Shot 100 ml
ATTENTION - Expiry date of the product 20.12.2023
0,43 €
OstroVit Braintus Focus Shot 100 ml
OstroVit Braintus Focus Shot is a unique liquid dietary supplement, designed for all those who wish to stimulate their brain. An original composition of active ingredients – caffeine, L-theanine, choline bitartrate, vitamin B6 and ashwagandha extract – supports a series of processes in the nervous system. Do you want to study quicker and memorize better? Do you happen to have concentration issues? Do you deal with insomnia? Try OstroVit Braintus Focus Short – a fruity blueberry-flavored liquid supplement.

OstroVit Braintus Focus Shot – for whom?
OstroVit Braintus Focus Shot, a liquid dietary supplement, is based on a unique set of ingredients that contribute to supporting the brain. The product performs well in all people who wish to support their cognitive functions. It is primarily recommended to students or mental workers. Thanks to regulation of processes in the nervous system, the supplement may ease tension and anxiety, as well as help you fall asleep.
Our fruity blueberry-flavored shot stimulates your brain to act as well as supports proper cognitive functions, such as memory, concentration and imagination. Choose Braintus Focus Shot if you:
want to memorize more and faster
have concentration and attention issues
wish to improve studying results
work mentally
deal with phobias
are in a bad mood
lead a stressful lifestyle
Properties
OstroVit Braintus Focus Shot is a multi-ingredient dietary supplement in liquid. The bottled drink is delicious, fruity and can be easily used – all you need to do is drink it.
Major features of the supplement:
SUPPORT TO BRAIN – The supplement stimulates the nervous system to act. It boosts memory, concentration, attention. It helps you keep calm in stressful situations.
DOSE OF ENERGY – Thanks to the use of caffeine anhydrous, the supplement may increase your vigilance and give you energy so that you get more power and will to act.
PERFECT FOR BUSY PEOPLE – You can always take our supplement with you – and keep it in the backpack, gym bag or at home. Are you about to lose power? OstroVit Braintus Focus Shot is a quick solution to the problem.
READY TO DRINK – The dietary supplement does not require you to prepare it beforehand. You do not need to drink water either. Just open the bottle and drink our blueberry-flavored drink.
Active ingredients of OstroVit Braintus Focus Shot
See properties of particular ingredients of our liquid supplement:
Caffeine anhydrous. It stimulates the nervous system, boosts concentration and attention. It gives you energy to act. It lowers drowsiness
L-theanine. It supports cognitive functions of your organism. It may have relaxing and anxiolytic properties, as well as improve the quality of sleep.
Ashwagandha root extract. It provides comprehensive support to your nervous system. It may ease tension and anxiety
Choline bitartrate. It encourages the nervous system to act. It may help you memorize things. It may detoxify the liver.
Vitamin B6. It regulates metabolism and nervous system. It may improve your mood too.
Laboratory-confirmed quality
For the sake of our customers' health, the products we manufacture are regularly tested in an independent accredited laboratory to ensure and maintain the highest quality.






Suggested usage
One serving 1 bottle (100 ml) consume once a day. Do not consume more than 1 serving a day. The product is intended for people adults. Sediment is a natural phenomenon. Shake before use. Once opened, store in the fridge, consume within 24 hours.
Do not use if you are allergic to any of the ingredients of the supplement. Do not mix with alcohol. Because it contain the high content of caffeine the product is not indicated for people sensitive to caffeine, hypertension and other cardiovascular diseases, children, pregnant women, breast-feeding women. Food supplement can not be used as a substitute (replacement) of a varied diet. Store at 2-25°C in a dry place. Protect from sunlight and freeze. Keep out of reach of children.
Nutritional information
Ingredients
Water, apple juice from apple juice concentrate 20%, acidity regulator: citric acid; L-theanine, anhydrous caffeine, ashwagandha root extract (7.2% withanolides, 1% alkaloids and 0.25% vitaferin A), choline bitartrate, sweeteners: acesulfame K, sucralose; preservatives: sodium benzoate, potassium sorbate; vitamin B6 (pyridoxal 5'-phosphate P-5-P), flavor.
The product may contain milk (including lactose), soybeans, peanuts, other nuts, sesame seeds, cereals containing gluten, eggs, shellfish, fish.
Nutrition Facts
| Active ingredients | Per serving | %RI* |
| --- | --- | --- |
| Anhydrous caffeine | 150 mg | - |
| L-theanine | 200 mg | - |
| Ashwagandha root extract (7.2% witanolides, 1% alkaloids and 0.25% vitaferin A) | 130 mg | - |
| Choline bitartrate | 100 mg | - |
| Vitamin B6 (pirydoxal 5'-phosphate P-5-P) | 18 mg | 1286 |
*RI - Reference intake
Product reviews
0
opinion
Questions and Answers
Add a question about this product