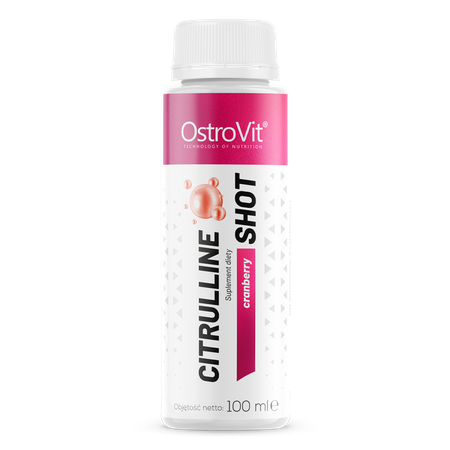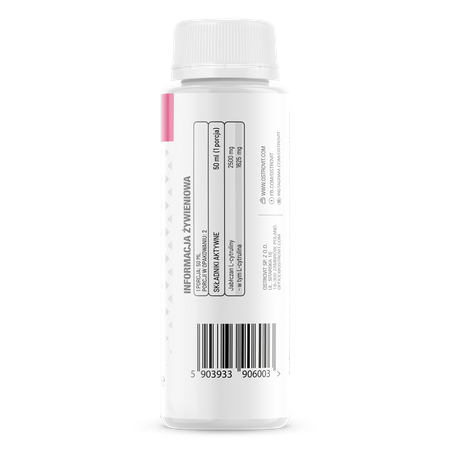 OstroVit Citrulline Shot 100 ml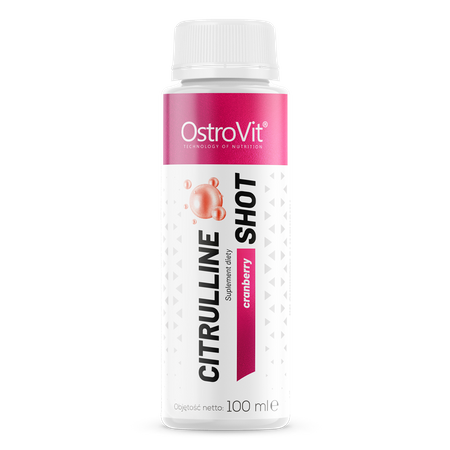 1,08 €
OstroVit Citrulline Shot 100 ml
OstroVit Citrulline Shot is a dietary supplement designed for all those who lead an active lifestyle. L-citrulline malate supports a proper muscles growth, while its regular intake may contribute to improving results in sport. Are you looking for a supplement that can secure your muscles against fatigue and help you recover after an intensive workout? Try our fruity dietary supplement in liquid – OstroVit Citrulline Shot.
100
Mililiters
Per Package
50
Mililiters
1 serving = 50 mililiters
Citrulline – when and why to take it?
Citrulline is one of the endogenic aminoacids that exist in the organism, that is the ones which are synthesized on their own by its cells. Its main source in food is nuts, meat as well as plants from gourd family and leguminous plants, such as pumpkin, cucumber, gourd, soy and chickpea. L-citrulline performs a series of roles in the organism, that is participates in transformation of ammonia into urea as well as helps the organism synthesize arginine and ornitine, thanks to which it can contribute to regulation of pressure and increase in muscle strength during your workout. Additionally citrulline may assist in fights against erectile dysfunctions in men.
Citrulline malate may also reduce the amount of lactic acid in muscles, which has a direct impact on reduction of problems with muscle aches after the workout. This will surely be appreciated by all athletes. Choose OstroVit Citrulline Shot dietary supplement if you:
do sports on a regular basis
deal with muscle sores
want to improve your workout performance
wish to make sure your blood pressure is correct
Properties
OstroVit Citrulline Shot, a fruity dietary supplement drink, supports you during and after the physical effort. It may help you perform better in sport as well as deal with problems related to muscle aches.
SUPPORT DURING WORKOUT – OstroVit Citrulline Shot is a liquid dietary supplement which you can use to take care of your muscles and suitable blood pressure. The product is a perfect match if you are physically active.
HIGH DOSE OF CITRULLINE – One shot of our supplement is 2500 mg of L-citrulline malate, including as many as 1626 mg of L-citrulline. Citrulline is easily tolerated by the organism and side effects of supplementation are virtually non-existent.
CONVENIENT – The supplement as a nourishing shot is now one of the most attractive forms of the supplement on the market. The product is ready to use and does not require you to drink water.
FRUITY TASTE – Our dietary supplement is not only easy to use but also tasty. A sweet and sour cranberry will encourage you to perform supplementation on a regular basis.
Laboratory-provem quality
For the sake of our customers' health, the products we manufacture are regularly tested in an independent accredited laboratory to ensure and maintain the highest quality.






Suggested usage
One serving ½ bottle (50 ml – 10 teaspoons) consume once a day. Do not consume more than 1 serving a day. The product is intended for people adults. Sediment is a natural phenomenon. Shake before use. Once opened, store in the fridge, consume within 48 hours.
Do not use if you are allergic to any of the ingredients of the supplement. The product is not recommended for children, pregnant women and breastfeeding women. Food supplement can not be used as a substitute (replacement) of a varied diet. Store at 2-25°C in a dry place. Protect from sunlight and freeze. Keep out of reach of children.
Nutritional information
Ingredients
Water, apple juice from apple juice concentrate 20%, aroma, sweeteners: acesulfame K, sucralose; preservatives: potassium sorbate, sodium benzoate.
The product may contain milk (including lactose), soya, peanuts, other nuts, sesame seeds, cereals containing gluten, eggs, shellfish, fish.
Nutrition Facts
| Active ingredients | 50 ml (1 serving) |
| --- | --- |
| L-citrulline malate | 2500 mg |
| - including L-citrulline | 1625 mg |
Product reviews
0
opinion
Questions and Answers
Add a question about this product