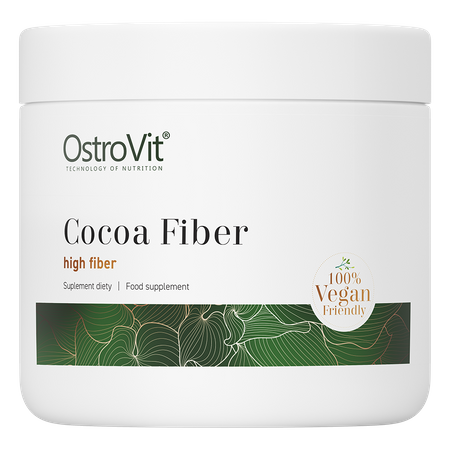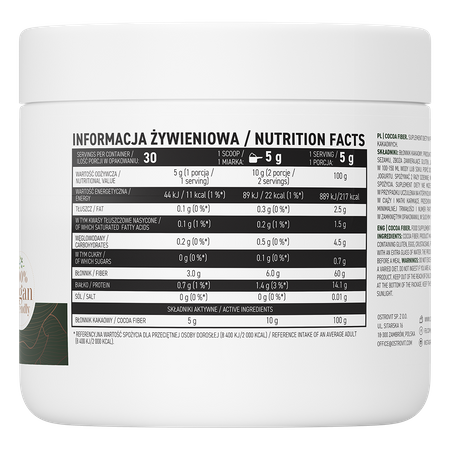 OstroVit Cocoa Fiber VEGE 150 g
1,44 €
OstroVit Cocoa Fiber VEGE 150 g
OstroVit Cocoa Fiber VEGE is a cocoa fiber dietary supplement received from natural cocoa fibers. The product is intended for all cocoa enthusiasts who wish to take care of their health. The fiber has a pleasant aroma and flavor, and its convenient powdered form serves as a great additive to drinks or desserts. Are you looking for a natural dietary supplement which can help you take care of your figure without sacrifices, and support digestion? Choose OstroVit Cocoa Fiber VEGE.


What is OstroVit Cocoa Fiber VEGE who is it intended for?
OstroVit Cocoa Fiber VEGE is a single-ingredient dietary supplement containing high-quality natural fiber. The product is recommended particularly to persons who deal with excess weight, obesity or defecation issues. The cocoa fiber regulates operation of the digestive tract so that any ailments are less bothersome.
Cocoa fibers remove toxins from the organism and neutralize free radicals which damage blood vessels and lead to oxidation of lipides, which may end up with atherosclerosis. The fiber not only regulates processes in the digestive system, but also contributes to preventing diseases of the blood circulation system. Choose OstroVit Cocoa Fiber VEGE if you:
look for a mild-tasting fiber
wrestle with peristaltic motion disorders
have difficulties with defecation
struggle with excess weight or obesity
want to lower your cholesterol or blood sugar level
aim to reduce toxins in your organism
Properties:
OstroVit Cocoa Fiber VEGE supplies nutrients to your daily diet. This universal powdered product will perform well as a healthy additive to your meals and will easily help you satisfy your hunger.
Major features of the supplement:
NUTRITIONAL VALUES - the cocoa fiber used in the supplement contains theobromine which stimulate functions of the heart, and pectins which fill the stomach to satisfy hunger, prevent diarrhea, and lower rise in blood sugar level after having a meal.
CONVENIENT FORM - you can easily and quickly add powdered cocoa fiber to your favorite drink. There is a measure inside the box, which you can use to measure out a suitable amount of product. The supplement is sufficient for 30 portions.
NATURAL AROMA - OstroVit Coca Fiber VEGE has a natural cocoa aroma, thanks to which it can be successfully added to water, milk, yogurt or juice. You can add a small amount of product to cake or muffins too.
PRODUCT FOR VEGANS TOO - OstroVit cocoa fiber consists only of natural plant-based ingredients. It can therefore be used in vegan diet and vegetarian diet.
Suggested usage
Mix 1 scoop of fiber in 100 - 150 ml of water or juice. Wash down with an extra glass of water. The product can also be added to oatmeal, smoothies or yoghurt. Consume twice a day, 30 minutes before a meal.
Do not exceed the recommended daily dose. Do not use the product as a substitute (replacement) for a varied diet. Do not ingest if you are allergic to any of the ingredients. Children, pregnant or nursing woman must not take the product. Keep out of the reach of children.
Nutritional information
Ingredients
Cocoa fiber
Product may contain milk (including lactose), soybeans, peanuts, other nuts, sesame seeds, oat, eggs, crustaceans, fish.
Nutrition Facts
| Nutritional values | 5 g (1 portion) | % RI* | 10 g (2 portions) | % RI* | Per 100 g |
| --- | --- | --- | --- | --- | --- |
| Energy | 44 kJ / 11 kcal | 1 | 89 kJ / 22 kcal | 1 | 889 kJ / 217 kcal |
| Fat | 0.1 g | - | 0.3 g | - | 2.5 g |
| - of which saturated fatty acids | 0.1 g | 1 | 0.2 g | 1 | 1.5 g |
| Carbohydrate | 0.2 g | - | 0.5 g | - | 4.5 g |
| - of which sugars | 0 g | - | 0.1 g | - | 0.7 g |
| Fiber | 3.0 g | - | 6.0 g | - | 60 g |
| Protein | 0.7 g | 1 | 1.4 g | 3 | 14.1 g |
| Salt | 0 g | - | 0 g | - | 0.01 g |
| Active ingredients | 5 g (1 portion) | % RI* | 10 g (2 portions) | % RI* | Per 100 g |
| Cocoa fiber | 5 g | - | 10 g | - | 100 g |
*RI- Reference intake
Product reviews
0
opinion
Questions and Answers
Add a question about this product