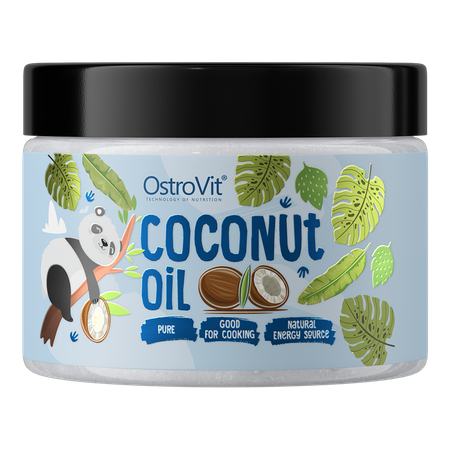 OstroVit Coconut Oil 400 g
OstroVit Coconut Oil 400 g
OstroVit Coconut Oil is a high quality dietary supplement. It is 100% natural, refined coconut oil, which contains no added salt or sugar, and is free of all impurities. It is a preparation recommended especially for conscious consumers and physically active people.

100% natural coconut oil.
Refined product - the dietary supplement is free from bacteria and impurities.
No added sugar, salt or unnecessary ingredients.
Performance - 400 g product package contains 28 servings of the product.
Versatility - coconut oil will work both as a cosmetic and a culinary ingredient.
Neutral taste and odor that does not contribute to the feeling of discomfort when consuming the product.
OstroVit Coconut Oil - a source of saturated fatty acids
Coconut oil is a vegetable fat extracted from the endosperm of mature coconuts, which grow on the coconut palm, also known as the coconut tree proper. It is a high-energy product that is distinguished by a low glycemic index. It is a source of fat, providing the body primarily with saturated fatty acids, which affects its high stability during heat treatment. Coconut oil is also distinguished by a high smoke point, thanks to which it is used to prepare various types of dishes and desserts. In addition, the product is used as a cosmetic for skin and hair care and nails, being a component of masks, conditioners or creams.
Coconut oil is available in two forms - unrefined and refined. Unrefined oil contains more nutrients, but it is distinguished by its characteristic taste and smell, which does not always go well with food, but works great in cosmetics. In turn, refined oil is subjected to high temperature, which adversely affects the content of bioactive ingredients, but promotes the removal of all kinds of impurities and bacteria, and also extends the shelf life. What's more, the refined oil is devoid of its characteristic taste and smell, making it perfect for all kinds of dishes.
OstroVit Coconut Oil is 100% natural and refined coconut oil, which does not contain added salt, sugar and other unnecessary fillers, thanks to which it is a valuable addition to the daily diet.
Suggested usage
Use depending on the demand.
Nutritional information
Ingredients
Refined coconut oil 100%.
The product may contain nuts, peanuts, milk (including lactose), soy, sesame seeds, oats, eggs, crustaceans, fish.
Coconuts come from outside the UE.
Nutrition Facts
| Nutritional values | Per 100 g | Per portion | % RI* |
| --- | --- | --- | --- |
| Energy value | 3702 kJ/900 kcal | 518 kJ/126 kcal | 6 |
| Fat | 100 g | 14 g | 20 |
| - of which saturated fatty acids | 94 g | 13 g | 65 |
| - of which monounsaturated fatty acids | 7.0 g | 1.0 g | - |
| - of which polyunsaturated fatty acids | 2.0 g | 0.3 g | - |
| Carbohydrates | 0.1 g | 0 g | - |
| - of which sugars | 0 g | 0 g | - |
| Protein | 0 g | 0 g | - |
| Salt | 0 g | 0 g | - |
*RI- Reference intake
Product reviews
0
opinion
Questions and Answers
Add a question about this product