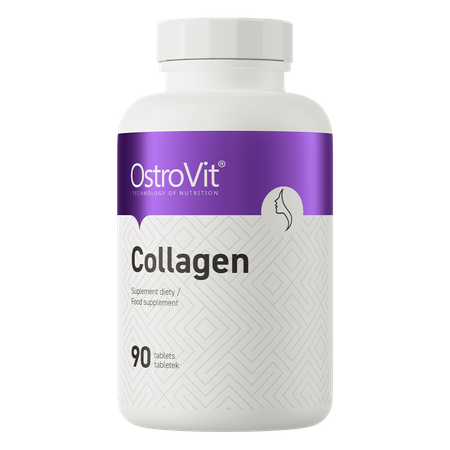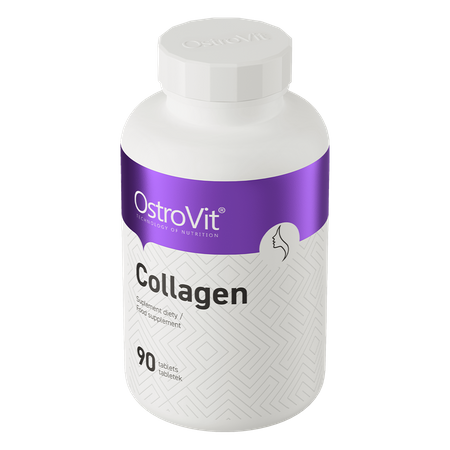 OstroVit Collagen 90 tabs
4,21 €
OstroVit Collagen 90 tablets
OstroVit Collagen is a dietary supplement in tablets containing the highest quality hydrolyzed bovine collagen. It is a suitable product for people practicing sports, after sports injuries or intense physical effort, during convalescence after fractures and to regenerate damaged joints. Proper collagen synthesis requires the presence of vitamin C and iron.

90 servings in the package
1 serving = 3 tablets
3000 mg hydrolyzed collagen in one serving!
OstroVit Collagen
Collagen is one of the most important proteins found in the human body. It is present in almost all human tissues. It is a basic building element, including skin, tendons, bones, joints, cornea of ​​the eye. It is responsible for the production of synovial fluid and the elasticity and hardness of cartilage, moisturizing the skin and proper renewal of the epidermis. It affects the cohesiveness, endurance and elasticity of the connective tissue. It also has a unique ability to bind water, so that the skin maintains its firmness, elasticity and tension. At the age of 26, the amount of collagen fibers naturally decreases and the body loses its ability to rebuild. Increased physical activity additionally intensifies the process of collagen destruction, which is why its supplementation is very important during intense exercise and training. Collagen deficiency is the cause of movement disorders, stiffness of the joints and spine pains, wrinkles, cellulite, dampness and skin firmness.
Properties of the ingredients contained in OstroVit Collagen:
Strengthens the synthesis of collagen fibers
Strengthen bones and joints
Maintains proper skin firmness, elasticity and tension
Inhibits the formation of wrinkles, cellulite
Supports the proper functioning of joints
Accelerates wound healing and scar
Suggested usage
Use one serving (3 tablets) 2 times a day between meals.
Do not exceed the recommended daily dose for consumption. Dietary supplement can not be used as a substitute (replacement) of a varied diet. A balanced diet and a healthy lifestyle are recommended. Do not eat if you are allergic to any of the ingredients in the product. The product should not be used by children, pregnant women and nursing mothers. Keep out of reach of small children.
Nutritional information
Ingredients
Hydrolyzed collagen, fillers: calcium phosphate, microcrystalline cellulose, anti-caking agents: magnesium salts of fatty acids, silicon dioxide.
The product may contain milk (including lactose), soy, wheat, eggs, celery, mustard, crustacea.
Nutrition Facts
Net weight of the product: 115 g
Servings per container: 30
| Active ingredients | 1 portion (3 tabs) | 2 portion (6 tabs) |
| --- | --- | --- |
| Hydrolyzed collagen | 3000 mg | 6000 mg  |
Product reviews
0
opinion
Questions and Answers
Add a question about this product