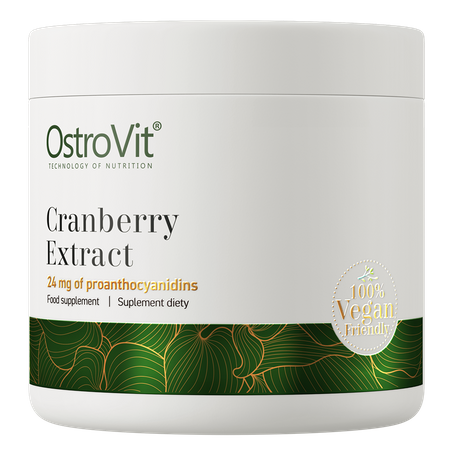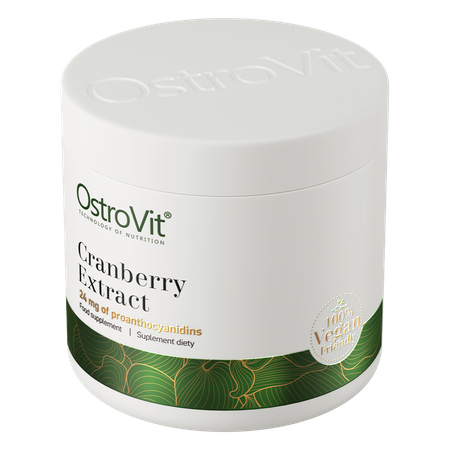 OstroVit Cranberry Extract 100 g natural
7,75 €
OstroVit Cranberry Extract 100 g
OstroVit Cranberry Extract is a natural dietary supplement which can help you supply your organism with numerous valuable nutrients. Ingredients of the supplement have a pro-health effect, in particular in the prevention of urinary tract diseases, cranberry fruits owe to the high content of vitamins A, C and E, beta-carotene, minerals, lutein, sterols and polyphenols.

The product OstroVit Cranberry Extract is a pure cranberry fruit extract standardized to 10% proanthocyanins, i.e. polyphenols with a strong antioxidant effect, occurring naturally in many berries. One package of the product is as much as 416 daily doses of the extract, making it a perfect family package.
Why is it worth supplementing cranberry?
Cranberry is a fruit that you surely know very well. It is part of many dishes, desserts, bread or juices. Sadly still few people know that aside from indispensable vitamins, the cranberry also has other substances which actively take care of your health. Thanks to high content of polyphenols, its fruits have anti-inflammation and antioxidant properties, and regulate blood pressure.
Consuming cranberry fruits is recommended particularly to persons who suffer from frequent bladder infections. The action of the extract in this respect is based on acidification of urine, so that the amount of bacteria in the bladder is reduced. Additionally cranberry shows diuretic impact, thanks to which undesired bacteria are regularly washed away.
Properties of the ingredients contained in OstroVit Cranberry Extract:
WEALTH OF NUTRIENTS - Cranberry fruits is a rich source of vitamins, minerals, beta-carotene and polyphenols. Combination of these ingredients causes cranberry to nourish the organism and regulate its functions.
PREVENTION OF URINARY TRACT DISEASES - Regular consumption of cranberries can save you from bladder disease. The proanthocyanins contained in its composition prevent bacteria from implanting in the bladder cells, which makes the possibility of infection less.
ANTI-OXIDATION ACTION - Cranberry fruits are rich in anti-oxidant ingredients which secure against oxidative stress. This way the extract covers cells and reduces free radicals.
NATURAL SUPPORT OF THE BODY - OstroVit Cranberry Extract dietary supplement is intended for all those who rely on simple, effective and natural solutions. The extract is free from any additives which would hinder effects of the product and may supplement vegan or vegetarian diets.
Suggested usage
Take 1 serving - 240 mg (1 scoop) daily with meal, drink water. Please use the measuring cup included in the package (0.5 ml).
Do not exceed the recommended daily dose. Do not use the product as a substitute (replacement) for a varied diet. Recommended are balanced diet and healthy lifestyle. Do not ingest if you are allergic to any of the ingredients. Do not consume the product by children, pregnant or nursing women. Keep out of the reach of children.
Nutritional information
Ingredients
Cranberry fruits extract (Vaccinium Macrocarpon L.) standardized on 10% proanthocyanidins.
Product may contain milk (including lactose), soy, peanuts, other nuts, sesame seeds, cereals containing gluten, eggs, crustaceans, fish.
Nutrition Facts
| Active ingredients | Per portion |
| --- | --- |
| Cranberry fruits extract, of which: | 240 mg |
| - proanthocyanidins 10% | 24 mg |
Product reviews
0
opinion
Questions and Answers
Add a question about this product