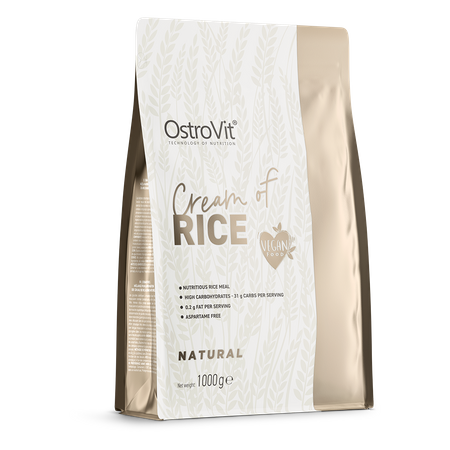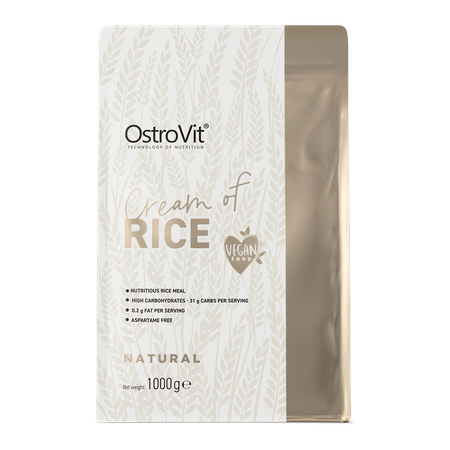 OstroVit Cream of Rice 1000 g natural
OstroVit Cream of Rice natural flavour 1000 g
OstroVit Cream of Rice is a series of rice gruel, now also with a natural flavor. Our new product will allow you to quickly and easily supplement the appropriate level of carbohydrates in your diet. The gruel was created primarily for people looking for an idea for a tasty snack after training. OstroVit Cream of Rice with a natural flavor is suitable for vegans and contains only naturally occurring sugars.


Why is it worth eating rice gruel?
Rice gruel is a tasty and nutritious snack with a high carbohydrate content. Its main ingredient is rice flour rich in B vitamins and minerals such as magnesium, zinc and iron. Our new type of natural flavored gruel does not have the addition of freeze-dried fruit.
OstroVit Cream of Rice is the perfect way to fight muscle fatigue after training. Carbohydrates contained in the gruel restore normal muscle contractions, thus supporting their regeneration. Choose our rice gruel, if:
you don't know what to eat after training
you are looking for a quick-to-prepare and nutritious snack
you are on a gluten free diet
you limit the amount of sugar in your meals
Properties:
If you are looking for a warm snack rich in nutrients, which you can easily prepare in a few seconds, OstroVit Cream of Rice will surely appeal to you. One package of the product contains as many as 25 suggested portions of rice gruel.
Product highlights:
HIGH CARBOHYDRATE CONTENT - Due to the fact that a single serving of the product is as much as 31 grams of carbohydrates, OstroVit Cream of Rice gruel will work for all physically active people. Consumption of the product after training is conducive to the rebuilding of glycogen stores.
VEGAN AND GLUTEN-FREE PRODUCT - OstroVit Cream of Rice is a product with a simple composition that does not contain ingredients of animal origin. Thanks to this, it will work well for vegans and vegetarians. Moreover, rice flour is gluten-free, so the product can be used by people with intolerance to this ingredient.
UNIVERSAL SNACK - You can prepare rice gruel wherever you have access to hot water. You can eat it at home, at work or on the road - it will take you a while to prepare our snack.
Suggested usage
Dissolve one serving 40 g (4 scoops) in 200 ml of boiling water. Use according to your needs.
Do not ingest if you are allergic to any of the ingredients.
Nutritional information
Ingredients
Rice flour 100 %.
Product may contain milk (including lactose), soy, peanuts, other nuts, sesame seeds, cereals containing gluten, eggs, crustaceans, fish.
Nutrition Facts
| Nutritional value | Per portion 40 g | Per 100 g |
| --- | --- | --- |
| Energy | 549 kJ / 140 kcal | 1485 kJ / 350 kcal |
| Fat | 0.2 g | 0.6 g |
| - of which saturated fatty acids | 0 g | 0.1 g |
| Carbohydrates | 31 g | 78 g |
| - of which sugars | 0.2 g | 0.5 g |
| Protein | 3.0 g | 7.4 g |
| Salt | 0 g | 0.01 g |
Product reviews
0
opinion
Questions and Answers
Add a question about this product