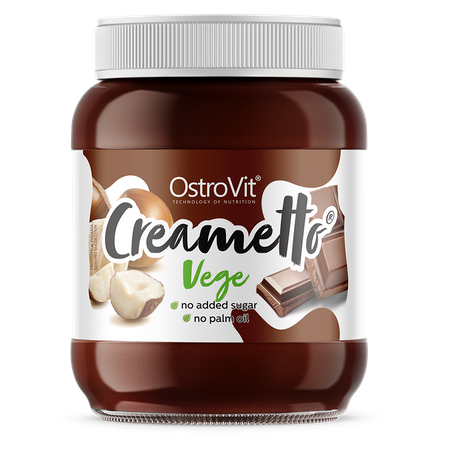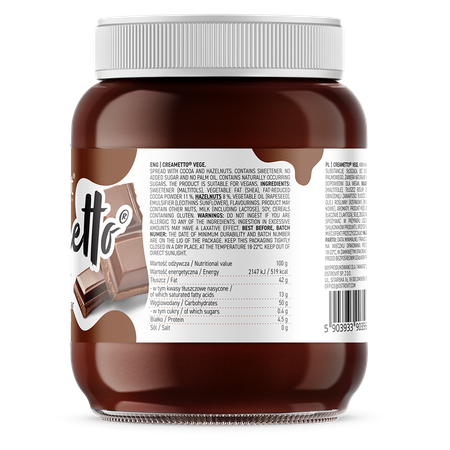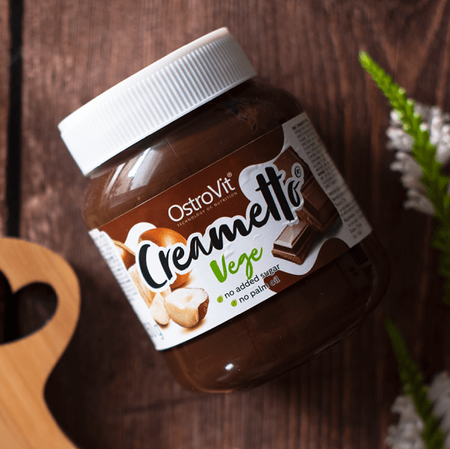 OstroVit Creametto Vege 350 g cocoa-hazelnut vege
3,73 €
OstroVit Creametto Vege 350 g
OstroVit Creametto Vege 350 g is a natural vegan cream with a cocoa-nut flavor. No extra sugar, no palm oil or no powdered milk, thanks to which it is a perfect vegan snack which you can grab any time of the day!

350 g of delicious vegan cream
No artificial color additives
Natural sugars only
No palm oil and powdered milk
Maltitol-sweetened delicious cream
OstroVit Creametto Vege 350 g is a perfect choice to those who love sweets but also wish to avoid negative consequences of consuming them. The composition of OstroVit Creametto Vege 350 g includes among others healthy vegetable fats and carbohydrates, and maltitol as a sweetener whose calorific value is 50% of the sugar's and its glycemic index is low.
Perfect match for pancakes and desserts
You can treat the product as a reasonable alternative to popular creams, whose compositions leave a lot to be desired. OstroVit Creametto Vege 350 g can surely be added to pancakes, cakes, bread and various desserts, the only limitation is your imagination!
Properties:
Vegan formula
Source of vegetable fats
Valuable source of carbohydrates
Perfect match for pancakes, cakes, bread, rice waffles and desserts
Healthy alternative to popular creams
Maltitol-sweetened product, 50% less calorific than sugar
Suggested usage
Consume as needed.
Do not eat if you are allergic to any of the ingredients of the product. Excessive consumption may have a laxative effect.
Nutritional information
Ingredients
Sweetener (maltitol), plant fat (shea), cocoa powder with reduced fat content 11%, hazelnuts 8%, vegetable oil (rapeseed), emulsifier (sunflower lecithins), flavors.
The product may contain other nuts, milk (including lactose), soy, cereals containing gluten.
Nutrition Facts
| Active ingredients | Per 100 g |
| --- | --- |
| Energy | 2147 kJ / 519 kcal |
| Fat | 42 g |
| - of which saturated fatty acids | 13 g |
| Carbohydrates | 50 g |
| - of which sugars | 0.4 g |
| - including polyhydric alcohols (polyols) | 46 g |
| Protein | 4.5 g |
| Salt | 0 g |
Product reviews
0
opinion
Questions and Answers
Add a question about this product