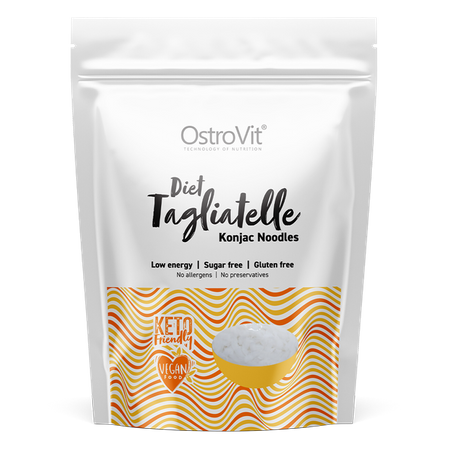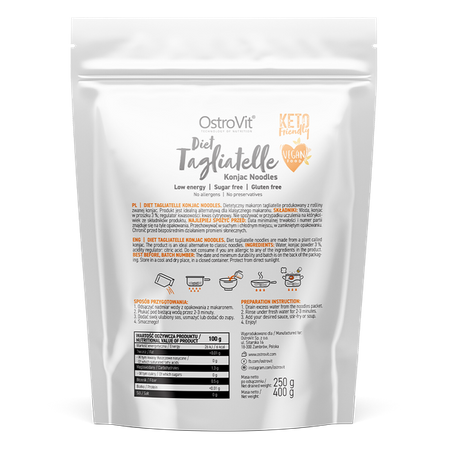 OstroVit Diet Tagliatelle Konjac Noodles 400 g
1,54 €
OstroVit Diet Tagliatelle Konjac Noodles 400 g
OstroVit Diet Tagliatelle Konjac Noodles is a revolutionary product in the form of easy-to-prepare noodles with a very low calorific value. The pasta is free from sugar and gluten, and is also distinguished by its extremely low fat content. The product is perfect for vegetarians and vegans because it is devoid of animal-origin ingredients. A low content of carbohydrates makes our tagliatelle ideal for those who have gone on a ketogenic diet. Are you looking for low-calorie noodles which may well serve as a universal additive to diverse meals? Try OstroVit Diet Tagliatelle Konjac Noodles!

Why konjac?
Konjac noodles, also referred to as Shirataki, is made from water and a root of Amorphophallus konjac (or simply konjac), a plant which occurs naturally in the south-eastern Asia. Konjac flour used to make our tagliatelle contains few carbohydrates and traces of fats and proteins, which makes the noodles a good match for numerous diets. The noodles are rich in glucomannan, a natural plant fiber. The product is devoid of any allergens and preservatives.
OstroVit Diet Tagliatelle Konjac Noodles is a low-calorie and virtually flavorless product which proves perfect at absorbing flavor and aroma of additives you serve it with. Choose our tagliatelle if you are on a diet:
reduction,
vegan and vegetarian,
ketogenic or low-carbohydrate,
with low IG.
Properties
Aside from being a low-calorie product, tagliatelle konjac is very easy to prepare. Contrary to wheat pasta, before serving all you need to heat it up for a while on the pan with sauce or in the soup.
The most important features of the product:
LOW CALORIFIC VALUE - OstroVit Diet Tagliatelle Konjac Noodles represents only 6 calories in 100 grams of the product. Thanks to this, it is perfect in persons who wish to lose weight and look for a light alternative to traditional pasta.
LOW IG - Our noodles is a perfect solution to all those who need to keep their glycemic index under control. Tagliatelle konjac may be included in the diet in people who deal with insulin resistance and diabetes.
PLANT-BASED FORMULA - The composition of our noodles is free from fillers, preservatives or any other animal-origin products. The pasta can well be used by vegans and vegetarians.
QUICK PREPARATION - Take noodles out of the packaging and remove surplus of water. Rinse the product under running water. Add it to the sauce and fry for a while until it reaches a suitable temperature, or place it directly in the soup.
Suggested usage
PREPARATION INSTRUCTION:
1. Drain excess water from the noodles packet.
2. Rinse under fresh water for 2-3 minutes.
3. Add your desired sauce, stir-fry or soup.
4. Enjoy!
BEST BEFORE, BATCH NUMBER: The date and minimum durability and batch is on the back of the
packaging. Store in a cool and dry place, in a closed container. Protect from direct sunlight.
Nutritional information
Ingredients
Water, konjac powder 3%, acidity regulator: citric acid.

Do not consume if you are allergic to any of the ingredients in the product.
Nutrition Facts
| Nutritional values | Per 100 g |
| --- | --- |
| Energy | 26 kJ / 6 kcal |
| Fat |  < 0.01 g  |
| - of which saturated fatty acids | 0 g |
| Carbohydrates | 1.3 g |
| - of which sugars | 0 g |
| Fiber | 0.5 g |
| Protein | < 0.01 g |
| Salt | 0 g |
Product reviews
0
opinion
Questions and Answers
Add a question about this product