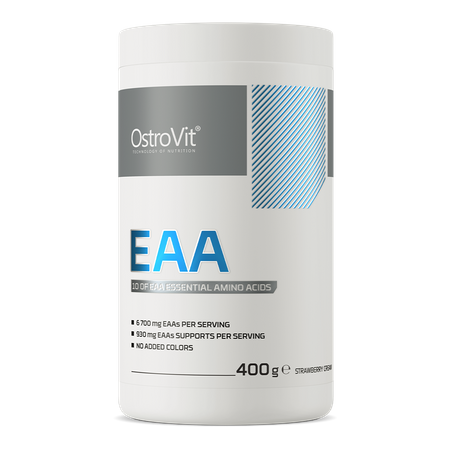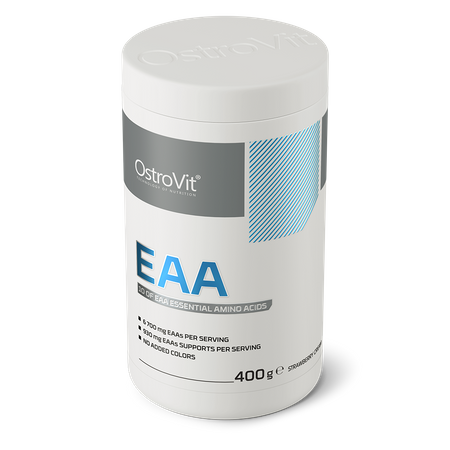 OstroVit EAA 400 g creamy strawberry
OstroVit EAA 400 g
OstroVit EAA is a powdered dietary supplement that supplements our diet with essential exogenous amino acids that the human body is unable to synthesize on its own. The product of the TRUE TASTE line was developed using the highest quality raw materials. OstroVit EAA in two delicious flavours for the most demanding consumers.
1,5
Scoops
1 serving = 1,5 scoops
A whole range of exogenous amino acids
Product reinforced with EAA Support formula
Raw materials tested in the laboratory
40 servings in the package
Essential amino acids
TRUE TASTE product line
EAA - ESSENTIAL AMINO ACIDS
EAA essential amino acids are a group of organic chemical compounds (amino acids), which are the basic "puzzles" for building peptides and proteins. Our body, unfortunately, is not able to synthesize (produce) itself, so it is so important to provide them with a proper diet or with the help of supplementation. The composition includes the BCAA complex, i.e. three long-chain amino acids: Leucine, Valine and Isoleucine, as well as such compounds as Lysine, Threonine, Phenylalanine, Methionine, Arginine, Histidine and Tryptophan. OstroVit Supreme Pure EAA complex, thanks to protein amino acids, supports the regeneration and anabolic processes of our muscle cells. The components of the supplement contribute to supporting and directly participate in a number of life processes of our body, supporting the immune, nervous and digestive systems.
Properties of the ingredients contained in OstroVit EAA:
Supplement the diet with essential exogenous amino acids
Accelerate muscle regeneration processes
Can support anabolic processes in muscle cells
Prevent muscle catabolism
Support the action of CUN - the central nervous and digestive system
EAA are essential amino acids for the proper functioning of the immune system
Improve the body's energy processes
Addition of glutamine, tyrosine, cysteine ​​and vitamin B6
WARNING! Due to the high content of L-leucine, L-isoleucine, L-phenylalanine and L-tryptophan, the product is characterized by lower solubility and a bitter aftertaste. This is a natural feature of the raw materials used. A good solution is to mix the product in water or juice, gently stirring the solution or to drink the powder directly with water or juice.
Laboratory-proven quality
For the sake of our customers' health, the products we manufacture are regularly tested in an independent accredited laboratory to ensure and maintain the highest quality.






Suggested usage
Serving 10 g (1.5 scoops) dissolve in 200 ml of water. On training days, consume one portion before a meal or workout, the second portion after training. On non-workout days, 1 serving between two meals.
Do not exceed the recommended daily dose. Do not use the product as a substitute (replacement) for a varied diet. Recommended are a balanced diet and healthy lifestyle. Do not ingest if you are allergic to any of the ingredients. Children, pregnant or nursing woman must not take the product. Keep out of the reach of children.
Nutritional information
Ingredients
Branched-chain amino acids BCAA (L-leucine, L-valine, L-isoleucine), L-lysine hydrochloride, maltodextrin, L-glutamine, aromas, acidity regulator: citric acid; L-threonine, L-phenylalanine, L-methionine, L-tyrosine, L-arginine, concentrated beetroot juice powder, L-histidine, L-tryptophan, L-cysteine, sweeteners: sucralose, acesulfame K; pyridoxine hydrochloride (vitamin B6).
Diet supplement. Contains sweeteners.
Product may contain milk (including lactose), soybeans, peanuts, other nuts, sesame seeds, oat, eggs, crustaceans, fish.
Nutrition Facts
Active ingredients
Per 100 g
Per portion
% RI*
L-leucine
20 000 mg
2 000 mg
- 
L-isoleucine
10 000 mg
1 000 mg
- 
L-valine
10 000 mg
1 000 mg
- 
L-lysine
9 000 mg
900 mg
- 
L-threonine
4 500 mg
450 mg
- 
L-phenylalanine
4 500 mg
450 mg
- 
L- methionine
3 000 mg
300 mg
- 
L-arginine
2 700 mg
270 mg
- 
L-histydyna
2 000 mg
200 mg
- 
L-tryptophan
1 300 mg
130 mg
- 
EAA SUPPORT
L-glutamine
5 500 mg
550 mg
- 
L-tyrosine
3 000 mg
300 mg
- 
L-cysteine
800 mg
80 mg
- 
Vitamin B6
4 mg
0.4 mg
29
*RI - Reference intake
Product reviews
0
opinion
Questions and Answers
Add a question about this product