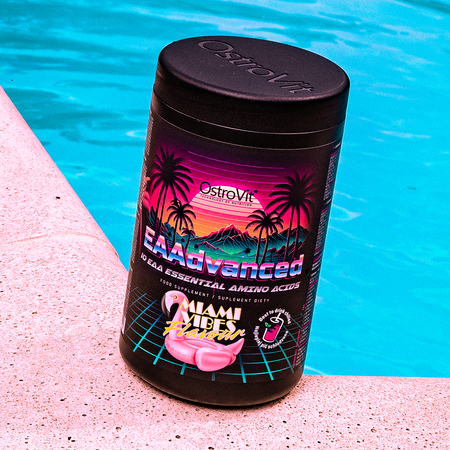 OstroVit EAAdvanced 540 g Miami Vibes
14,38 €
OstroVit EAAdvanced 540 g Miami Vibes
OstroVit EAAdvanced with Miami Vibes is a high quality powdered dietary supplement. It is a comprehensive nutrient containing essential amino acids (EAA), branched chain amino acids (BCAA) and valuable electrolytes. It is a product created for physically active people who have an increased demand for nutrients contained in the preparation.
Source of EAA and BCAAs - the dietary supplement contains all essential exogenous amino acids, including branched chain amino acids.
A wealth of electrolytes - the preparation provides the body with valuable minerals such as potassium, calcium, magnesium, as well as sodium and chloride.
Unique flavor composition - Miami Vibes flavor product is an uncommon aromatic variant that delights the taste buds.
No added sugar - the nutrient contains low-energy sweeteners such as sucralose and acesulfame K, which contribute to lowering the energy content of the diet.
Performance - one package of the product is enough to prepare 45 servings of the mixture.
Convenient form - powder preparation is an easy and quick to prepare dietary supplement.
OstroVit EAAdvanced with Miami Vibes - source of amino acids and electrolytes
EAA (Essential Amino Acids) are essential amino acids that are not naturally synthesized in the human body, so they must be supplied to the body from the outside, either with the daily diet or in the form of supplements. Among essential amino acids, there are also branched-chain amino acids, known as BCAAs, which include L-leucine, L-isoleucine and L-valine.
In OstroVit EAAdvanced in Miami Vibes flavor you can find all the branched chain amino acids and other essential amino acids. In addition, the supplement contains electrolytes, i. e. minerals that are present in the human body in the form of aqueous solutions of ions. Electrolytes are formed by the dissociation of salts, acids and bases, and in the body can be found in blood, plasma or tissue fluids. Minerals present in OstroVit EAAdvanced with Miami Vibes flavor include potassium, magnesium, sodium, chloride and calcium.
Nutrients contained in OstroVit EAAdvanced with Miami Vibes and their properties
The magnesium used in the dietary supplement contributes to reducing feelings of fatigue and tiredness, and moreover, helps maintain electrolyte balance and supports proper muscle function. The element also contributes to the maintenance of proper energy metabolism and supports normal protein synthesis.
Calcium contained in the formula helps maintain normal nerve transmission and supports proper muscle function. In addition, it is needed to maintain healthy bones and helps with the proper functioning of digestive enzymes.
The electrolyte chloride helps maintain proper digestion by producing hydrochloric acid in the stomach.
Vitamin B6 present in the supplement contributes to reducing feelings of fatigue and tiredness, and additionally helps in the proper production of red blood cells and contributes to maintaining proper protein and glycogen metabolism.
Suggested usage
Serving 12 g (2 flat scoops) dissolve in 200 ml of water. On training days, consume one serving before a meal or workout, the second serving after training. On non-workout days, 1 serving between two meals.
Do not exceed the recommended daily dose. Do not use the product as a substitute (replacement) for a varied diet. Recommended are balanced diet and healthy lifestyle. Do not ingest if you are allergic to any of the ingredients. Children, pregnant or nursing women must not take the product. Keep out of the reach of children.
Keep this packaging tightly closed in a dry place, at the temperature 15-25°C. Keep out of direct sunlight.
Nutritional information
Ingredients
BCAA branched-chain amino acids (L-leucine, L-valine, L-isoleucine, emulsifier: lecithins), acidity regulator: citric acid; potassium citrate (potassium), L-lysine hydrochloride, flavourings, L-glutamine, calcium carbonate (calcium), magnesium salts of citric acid (magnesium), L-threonine, L-phenylalanine, sodium chloride (sodium, chloride), L-tyrosine, bulking agent: isomalt; L-arginine, L-histidine, beet juice concentrate in powder, L-tryptophan, L-methionine, L-cysteine hydrochloride, sweeteners: sucralose, acesulfame K; pyridoxine hydrochloride (vitamin B6).
Product may contain milk (including lactose), soybeans, peanuts, other nuts, sesame seeds, cereals containing gluten, eggs, crustaceans, fish.
Nutrition Facts
| Active ingredients | 1 portion (12 g) | % RI* |
| --- | --- | --- |
| EAA |   |   |
| L-Leucine | 1500 mg | - |
| L-Isoleucine | 750 mg | - |
| L-Valine | 750 mg | - |
| L-Lysine HCl | 900 mg | - |
| L-Threonine | 450 mg | - |
| L-Phenylalanine | 400 mg | - |
| L-Methionine | 75 mg | - |
| L-Arginine | 200 mg | - |
| L-Histidine | 200 mg | - |
| L-Tryptophan | 130 mg | - |
| EAA SUPPORT |   |   |
| L-Glutamine | 550 mg | - |
| L-Tyrosine | 300 mg | - |
| L-Cysteine HCl | 25 mg | - |
| Vitamin B6 | 0.4 mg | 29% |
| ELECTROLYTES |   |   |
| Potassium | 300 mg | 15% |
| Calcium | 180 mg | 23% |
| Magnesium | 70 mg | 19% |
| Sodium | 157 mg | - |
| Chloride | 240 mg | 5% |
*RI - Reference intakes
Product reviews
0
opinion
Questions and Answers
Add a question about this product