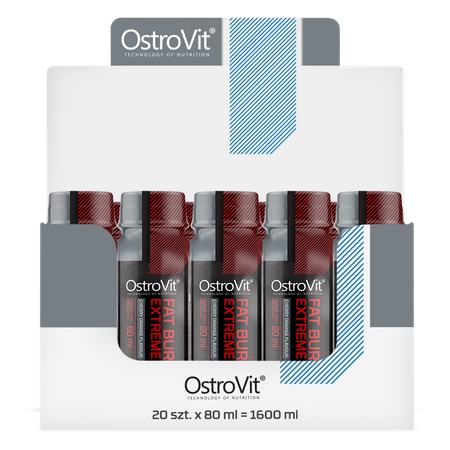 OstroVit Fat Burner Extreme Shot 20 x 80 ml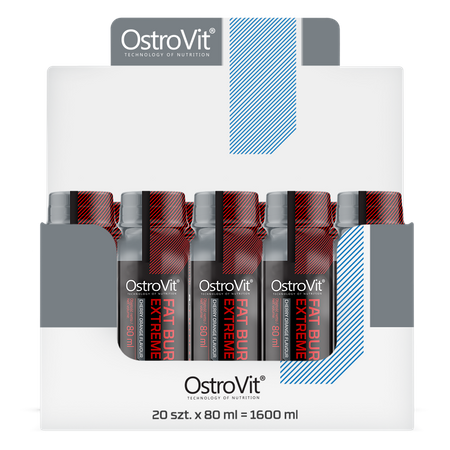 18,08 €
OstroVit Fat Burner Extreme Shot 20 x 80 ml
OstroVit Fat Burner Extreme Shot is a handy dietary supplement in the form of liquid, designed for all those who actively try to lose weight. Thanks to combination of as many as 11 active ingredients which support reduction of fatty tissue, the drink not only counteracts fatty tissue but also gives you energy before workout, regulates hormones level, supports regeneration of tissues and muscles after physical effort, as well as guarantees a healthy look. If you are on a reducing diet, drink our shot before your workout to get more energetic and motivated to act!
1600
MILILITERS
in the set
40
MILILITERS
1 serving = 40 mililiters
Properties of the ingredients contained in OstroVit Fat Burner Extreme Shot:
RICH COMPOSITION - The combination of ingredients that will support you at every stage of training - will give you strength, improve concentration and motivation, as well as make you return to form faster!
EFFECTIVE REDUCTION - A complex of ingredients supporting the reduction of adipose tissue, including beta-alanine, L-carnitine, caffeine, choline and pantothenic acid.
HANDY FORM - A convenient form of a small drink is an ideal proposition for people who value comfort. From now on, you do not have to buy a few supplements for reduction - all you need is a bottle of our orange-cherry drink.
Active ingredients of dietary supplement
See roles of particular ingredients of the supplement:
Beta-alanine - It helps you build muscle mass and reduce concentration of lactic acid in muscles after workout.
Caffeine - It has stimulating properties. It can soothe pain. It boosts memory and concentration.
L-arginine - It supports the vascular system and regulates blood pressure. It may foster regeneration of tissues and muscle growth.
L-carnitine - It assists in burning fatty acids. It influences activity of hormones and cholesterol.
Choline bitartrate - It improves functioning of a liver and supports slimming down. It may improve concentration.
Glucuronolactone - It demonstrates anti-oxidant properties. It influences functions of a liver. It boosts metabolism.
Vitamin B6 - It supports transformation of carbohydrates and fats. It participates in production of serotonin and adrenaline.
Niacin - It assures proper functioning of brain and regulates hormone level.
Riboflavin - It assures proper operation of a nervous system. It may regulate serotonin and dopamine levels.
Pantothenic acid - It takes part in synthesis of cholesterol and fatty acids. It fosters operation of a nervous system and helps you control your emotions. It allows faster regeneration of tissues.
Biotin - It makes the skin more flexible, while hair and nails stronger. It guarantees suitable blood coagulation.
Laboratory-proven quality
For the sake of the health of our customers, the products manufactured by us are regularly tested in an independent accredited laboratory to ensure and maintain the highest quality.
Suggested usage
One serving (40 ml - 8 teaspoons) consume once a day before planned exercise.
Disposable intake of beta-alanine in excess of 800 mg may cause side effects (tingling, numbness). It is advisable to consume a single serving of 800 mg with a break of at least 3 hours between individual unit servings of the product. The product is intended for people with increased physical activity. Sediment is a natural phenomenon. Shake before use. Once opened, store in the fridge, consume within 48 hours.
Do not use if you are allergic to any of the ingredients of the supplement. Do not mix with alcohol. Because it contain the high content of caffeine, the product is not indicated for people sensitive to caffeine, hypertension and other cardiovascular diseases, children, pregnant women, breast-feeding women. Food supplement can not be used as a substitute (replacement) of a varied diet. Store at 2-25 °C in a dry place. Protect from sunlight and freeze. Keep out of reach of children.
Nutritional information
Ingredients
Water, apple juice from apple concentrate (20%), L-carnitine, L-arginine, acid: citric acid; beta-alanine, glucuronolactone, choline bitartrate, caffeine, aromas, sweeteners: acesulfame K, sucralose, neotame; preservatives: sodium benzoate, potassium sorbate; maltodextrin, pyridoxine hydrochloride (vitamin B6), nicotinic acid amide (niacin), riboflavin (vitamin B2), calcium D-pantothenate (pantothenic acid), D-biotin (biotin).
Nutrition Facts
| Active ingredients | Per portion | % RI* |
| --- | --- | --- |
| Beta-alanine | 800 mg | - |
| Caffeine | 50 mg | - |
| L-arginine | 750 mg | - |
| L-carnitine | 1000 mg | - |
| Choline bitartrate, of which: | 244 mg | - |
| - choline | 100 mg | - |
| Glucuronolactone | 250 mg | - |
| Vitamin B6 | 0.7 mg | 50% |
| Niacin | 7.5 mg | 47% |
| Riboflavin | 5 mg | 357% |
| Pantothenic acid | 5 mg | 84% |
| Biotin | 12.5 µg | 25% |
*RI - Reference intake
Product reviews
0
opinion
Questions and Answers
Add a question about this product