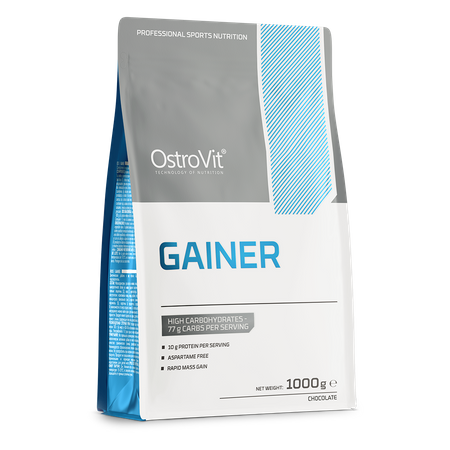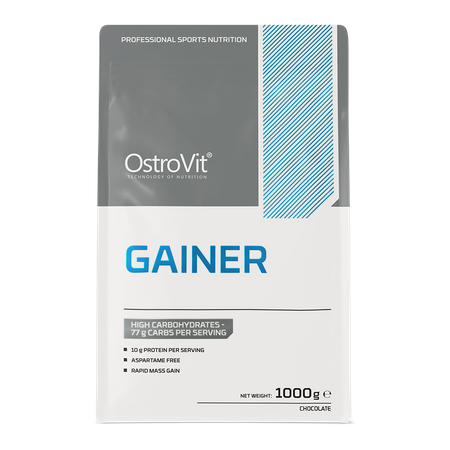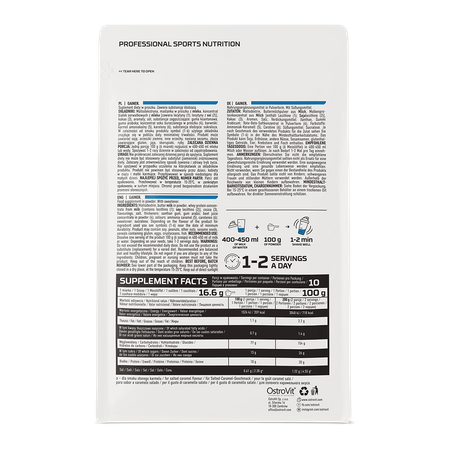 OstroVit Gainer 1000 g chocolate
7,41 €
OstroVit GAINER 1000 g
OstroVit GAINER is a series of carbohydrate and protein supplements, dedicated in particular to all physically active people. The product has a high content of carbohydrates (77%), which is the primary source of energy in our diet. If you regularly do sports and want an easy way to increase body weight - try our OstroVit GAINER - nutrients available in up to 7 delicious flavors!
1 package = 10 suggested servings
7 delicious flavor variants
velvety creamy texture thanks to the addition of buttermilk
What is OstroVit GAINER nutrient?
Dietary supplement OstroVit Delicious GAINER is a high-calorie nutritional powder, in which you can find both carbohydrates and also protein and fats, including saturated fatty acids. The product helps to expand muscle mass, providing the body with ingredients that facilitate weight gain. Thanks to its convenient powder form, the gainer is easy to prepare and you can take it anywhere you want - it's an ideal snack to prepare in a few moments both before and after training. Just mix it with water or skim milk to get a serving of a delicious drink with a constant energy value of 359 kcal. The product is a balanced meal substitute that will help you quickly fill your body's daily caloric needs.
Check out what our OstroVit GAINER 1000 g consists of:
Whey protein concentrate - is a form of protein with a high protein content. Whey protein is a source of animal protein that contains a broad profile of amino acids essential for building muscle fibers. It is characterized by a small amount of fats and carbohydrates and a negligible amount of lactose. Whey protein is used in the diet of athletes and people during convalescence, ensuring better muscle regeneration. In addition, it has an anti-catabolic effect - prevents muscle breakdown and effectively supports the growth of lean body mass. Supports the feeling of satiety.
Maltodextrin - it is obtained in the process of partial starch hydrolysis. It is characterized by very fast assimilation and easy digestibility, it does not stay in the stomach. It is a source of energy easily obtained by the body, so it is an ideal ingredient in preparations consumed before, during and after exercise. It is an excellent element of exercise support and post-exercise recovery, quickly replenishes muscle glycogen, enhances the transport of creatine and amino acids into muscle cells.
Laboratory-confirmed quality
For the sake of our customers' health, the products we manufacture are regularly tested in an independent accredited laboratory to ensure and maintain the highest quality.






Suggested usage
Dissolve one serving of the product 100 g (6 scoops) in 400-450 ml of water or milk in a shaker. Depending on your needs, take 1-2 servings daily.
Do not exceed the recommended daily dose. Do not use the product as a substitute (replacement) for a varied diet. Recommended are balanced diet and healthy lifestyle. Do not ingest if you are allergic to any of the ingredients. Children, pregnant or nursing woman must not take the product. Keep out of the reach of children.
Nutritional information
Ingredients
Maltodextrin, buttermilk powder from milk, whey protein concentrate from milk [contains lecithin (1); lecithin from soybeans (2)], cocoa, aromas, salt, thickeners: xanthan gum, gum arabic; sweetener: sucralose.
Dietary supplement powder. Contains sweetener.
Depending on the taste of the product, the symbol (1-6) of the ingredient used is near the date of minimum durability.
The product may contain soybeans, peanuts, other nuts, sesame seeds, cereals containing gluten, eggs, crustaceans, fish.
Nutrition Facts
| Nutritional values | 1 portion (100 g) | 2 portions (200 g) |
| --- | --- | --- |
| Energy | 1524 kJ / 359 kcal | 3048 kJ / 718 kcal |
| Fat | 1.1 g | 2.2 g |
| - of which saturated fatty acids | 0.7 g | 1.4 g |
| Carbohydrates | 77 g | 154 g |
| - of which sugars | 13 g | 26 g |
| Protein | 10 g | 20 g |
| Salt | 0.61 g | 1.22 g |
Product reviews
0
opinion
Questions and Answers
Add a question about this product