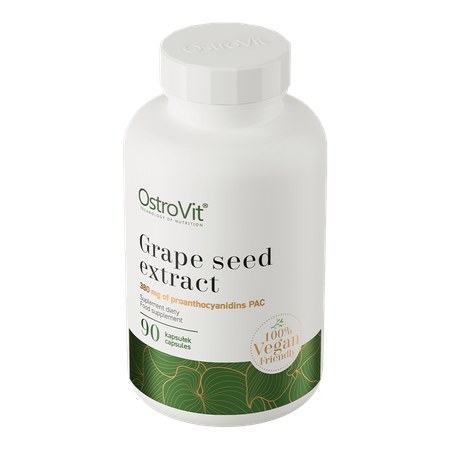 OstroVit Grape Seed Extract VEGE 90 caps
5,28 €
OstroVit Grape Seed Extract VEGE 90 caps
OstroVit Grape Seed Extract VEGE is a dietary supplement in the form of vegan capsules, and containing grapes seeds extract (Vitis vinifera L.), standardized for 95% of proanthocyanidins (PAC), which assures high content of health-promoting polyphenols in every portion. This extract will be of interest to anyone who looks for the supplement rich in antioxidants. Its antioxidant properties will be useful after a hard workout which causes emergence of free radicals in your muscles, thus affecting your health. A dose of supplement after a workout helps you reduce oxidative stress in your organism and regenerate faster.

How to use OstroVit Grape Seed Extract VEGE?
High blood pressure is nothing pleasant. As a rule it results in headache or vertigo, increased skin sweating, irregular heart beat, insomnia, face reddening, lowered physical and mental capability as well as hot flashes. Grape seed extract taken regularly may exhibit blood pressure lowering properties.
You can also use the extract if you do sports or take other forms of physical activity. Boosted blood flow through muscles lets you successfully supply them with nutrients as well as faster remove and neutralize free radicals. Thanks to improved blood supply, you will feel the so-called "muscle pump" which guarantees impression of bigger muscles. OstroVit Grape Seed Extract can support healing of swelling arising from hits or other injuries sustained when doing sports, at work or just during everyday activities. Choose OstroVit Grape Seed Extract when you:
you are looking for a natural ingredient that can lower blood pressure
looking for a natural antioxidant
wish to improve muscle blood supply
want to get rid of free radicals
deal with post-injury swelling
Properties:
The standardised form of grape seed extract contained in OstroVit Grape Seeds VEGE is a wealth of antioxidants and other biologically active ingredients enclosed in vegan capsules. Standardization for content of proanthocyanidins (PAC) is a guarantee that every measure of product supplies you with the same amount of active ingredients.
Major features of the supplement:
VERY STRONG ANTIOXIDANT - The dietary supplement is exceptionally useful after hard workout and every time you wish to get rid of harmful free radicals emerging during infection.
REGULATES HEART BEAT - It our grape seed extract, you can take care of your cholesterol levels, protecting yourself from cardiovascular diseases.
LOWERS TOTAL CHOLESTEROL - Grape seed extract can help you achieve optimal blood pressure.
VEGAN FORMULA - OstroVit VEGE Grape Seeds is a product that can be successfully used by people on vegetarian and vegan diets. Both the supplement itself and the capsule shell do not contain any ingredients of animal origin.
Suggested usage
Take 1 serving (1 capsule) daily preferably with meal.
Do not exceed the recommended daily dose. Do not use the product as a substitute (replacement) for a varied diet. Recommended are balanced diet and healthy lifestyle. Do not ingest if you are allergic to any of the ingredients. Do not consume the product by children, pregnant or nursing women. Keep out of the reach of children.
Nutritional information
Ingredients
Grape seed extract (Vitis vinifera L.) standardized on 95% of proanthocyanidins (PAC), coating composition (bulking agent: hydroxypropyl methyl cellulose).
Product may contain milk (including lactose), soybeans, peanuts, other nuts, sesame seeds, cereals containing gluten, eggs, crustaceans, fish.
Nutrition Facts
| Active ingredients | Per portion |
| --- | --- |
| Grape seed extract, of which: | 400 mg |
| - proanthocyanidins PAC (95%) | 380 mg |
Product reviews
0
opinion
Questions and Answers
Add a question about this product