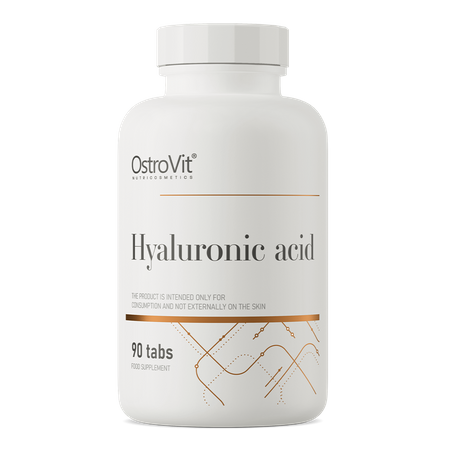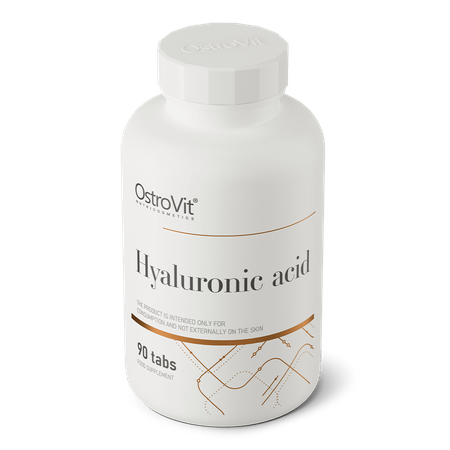 OstroVit Hyaluronic Acid 90 tabs
6,18 €
OstroVit Hyaluronic Acid 90 tabs
OstroVit Hyaluronic acid is a dietary supplement in tablets that supplements the diet with hyaluronic acid. It is a gel-like water-binding molecule. It acts as a cushioning and filling agent for intercellular spaces in all mammals. It cushions the joints, moisturizes the skin and hair. It can increase skin elasticity and also contribute to the improvement of post-traumatic convalescence.


90 servings in the package
1-2 tablets per day
70 mg of hyaluronic acid per 1 serving
Discover the rich possibilities of hyaluronic acid!
Hyaluronic acid is most often associated as an ingredient of body care cosmetics, rejuvenating cosmetics and as an anti-aging agent. The properties and use of hyaluronic acid are very numerous - it can increase the elasticity of the skin, which can protect us from unwanted stretch marks, spoiling the visual effect of our figure. Oral supplementation with hyaluronic acid, increases its level in our skin, thanks to which it can accelerate recovery after injuries, cuts, abrasions or soft tissue injuries. One of the most desirable advantages of hyaluronic acid during its supplementation is a positive effect on the functioning of bones, joints and connective tissue. Our body is rich in hyaluronic acid in the vicinity of the organs of the locomotor system. Supplementation will have clear advantages for everyone who trains, runs and leads active lifestyle. If you are one of those people, take care of your bones and joints by supplementing hyaluronic acid.
Properties of the ingredients contained in OstroVit Hyaluronic Acid:
As one of the components of the skin, it is responsible for its hydration
Performs building functions and fills intercellular spaces
May contribute to delaying skin aging
Can contribute to the proper functioning of joints, bones and connective tissue
Supplementation can help increase skin elasticity
Suggested usage
Consume 1-2 servings (1-2 tablets) per day, preferably with a meal.
Do not exceed the recommended daily dose for consumption. Dietary supplement can not be used as a substitute (replacement) of a varied diet. A balanced diet and a healthy lifestyle are recommended. Do not eat if you are allergic to any of the ingredients in the product. The product should not be used by children, pregnant women and nursing mothers. Keep out of reach of small children.
Nutritional information
Ingredients
Bulking agent: maltodextrin; starch, hyaluronic acid (sodium hyaluronate), anticaking agents:  magnesium salts of fatty acids, silicon dioxide.
Product may contain milk (including lactose), soy, peanuts, other nuts, sesame seeds, cereals containing gluten, eggs, crustaceans, fish.
Nutrition Facts
| Active ingredients | 1 serving (1 tablet) | 2 serving (2 tablets) |
| --- | --- | --- |
| Hyaluronic acid (sodium hyaluronate) | 70 mg | 140 mg |
Product reviews
0
opinion
Questions and Answers
FAQ
Is this product vegan? What is the source of the hyaluronic acid?
Yes, this product is suitable for vegans.
The source of sodium hyaluronate is glucose and yeast
Do you need more information?
If the above information is not sufficient for you, please send us your question. We will do our best to answer them.
Add a question about this product