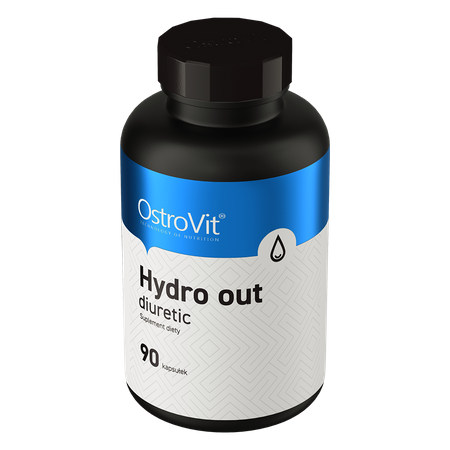 OstroVit Hydro Out Diuretic 90 caps
Customers recommend!
Rating 5/ 5
9,58 €
OstroVit Hydro Out Diuretic 90 caps
OstroVit Hydro Out Diuretic is the highest quality comprehensive dietary supplement in capsules, which contains standardized ingredients that support your "reduction" diet and help you get rid of excess water in your body. OstroVit Hydro Out Diuretic consisting of highly species-rich extracts that together build a synergistic supplement, shapes your body, supports fat reduction, but above all increases your well-being through changes for the better.
90 capsules in the package
Standardized extracts
Natural ingredients
Supplementation month
Specially developed formula
OstroVit Hydro Out Diuretic
Usually, the last stage of building a perfect figure, improving muscle definition and obtaining the "drying" effect is getting rid of unnecessary water from the body. The main element of this pathway is proper urine output, healthy kidneys and maintained electrolyte balance, where the main factor in this context is optimal sodium levels. Many preparations from the diuretic group do not have a "salutary" effect because the recipe and individual ingredients have not been selected properly. OstroVit Hydro Out Diuretic adapts perfectly to the framework of preparations with herbal and standardized extracts, which are the main domain of pharmaceutical products. Thanks to the Hydro Out Diuretic supplement, the problem of "subcutaneous water effect" will cease to exist, and you, thanks to true definition, will not only gain self-confidence, but will also make your figure satisfy you.
Nettle leaf extract - a plant that has been used for a long time because of its pleiotropic effects. It shows a strong anti-inflammatory effect, but above all supports the proper functioning of the prostate and urinary system.
Dandelion root extract (including 3% flavonoids) - a plant - a vegetable often confused by people with dandelion, which does not have so many medicinal aspects compared to dandelion. Due to its diuretic effect, it often reigns in preparations to help get rid of excess water in the body. It is a good source of potassium and a wealth of polyphenolic compounds.
Guarana seed extract (including 22% caffeine) - Guarana seeds are usually known for their high caffeine content, which is considered by many people as one of the better diuretics. Nothing could be more wrong. Despite the fact that caffeine is actually a weak diuretic, theophylline and theobromine contained in guarana is one of the main reasons why this extract was found in this mix.
Extract from the ground parts of Goldenrod - Goldenrod is a plant widely known for its diuretic effect. Often used in inflammation of the urinary tract, supporting the proper functioning of the kidneys and normalizing the water-electrolyte balance. It can lower blood pressure and improve digestion.
Cranberry fruit extract (including 10% proanthocyanidin) - cranberry fruit is a source of bioflavonoids, phenolic compounds and many valuable anti-inflammatory and antioxidant phytochemicals. Cranberry fruit has found many applications in the therapy of treatment or preventive supplementation of the urinary tract, bladder inflammation, regulation of the correct urine pH level and diuretic effect.
Green tea-leaf extract (including 50% polyphenols) - Green tea extract contained in the preparation contains a very high amount of polyphenols, which have a strong antioxidant effect. It has the ability to sweep free radicals that accelerate the body's aging processes. Thanks to this, green tea extract helps reduce and delay the aging process of the body. In addition, green tea extract supports the immune system. In addition, green tea extract effectively supports the fat burning process, helps stimulate the breakdown of fat cells and prevents their re-enlargement.
Extract from the ground parts of horsetail (including silica 7%) - horsetail is one of the oldest plants on the whole globe. Known primarily for preparations that have a beneficial effect on our skin, hair and nails. Contains valuable polyphenolic ingredients and organic acids. The plant is often used in urinary tract problems, just like other plants, it has a diuretic effect, lowers blood pressure.
Vitamin B6 (pyridoxalo 5'-phosphate P-5-P) - in the form of p-5-p or pyridoxalo 5-phosphate. It is the best biologically available form of vitamin B6 for our body. It meets and supports the ocean of physiological functions, and is crucial in the proper functioning of all organs in our body.
Properties:
Facilitates getting rid of excess water in the body
Improves muscle definition and the "sculpture" effect
Supports fat reduction processes
Has a positive effect on the body's immunity
A wealth of valuable polyphenolic ingredients and other phytochemicals
Highly quality standardized plant extracts
Supports normal urinary tract function (kidneys, bladder)
Supports regulation of water and electrolyte management
It improves the appearance of our skin, hair and nails
Laboratory-confirmed quality
For the sake of our customers' health, the products we manufacture are regularly tested in an independent accredited laboratory to ensure and maintain the highest quality.






Suggested usage
Take 1 serving (3 capsules) daily. Product is intended for adults.
Do not exceed the recommended daily dose. Do not use the product as a substitute (replacement) for a varied diet. Recommended are balanced diet and healthy lifestyle. Do not ingest if you are allergic to any of the ingredients. Children, pregnant and nursing woman must not take the product. Keep out of the reach of children.
Food supplement in capsules. Contains caffeine; it is not recommended for use by children and pregnant women (content of caffeine 55 mg in 1 serving); do not consume with other products that are a source of caffeine or other ingredients with similar effects.
Nutritional information
Ingredients
Nettle leaf extract, dandelion root extract - 3% of flavonoids, guarana seed extract - 22% of caffeine, solidago virgaurea aerial part extract, cranberry fruit extract - 10% of proanthocyanidins, green tea leaf extract - 50% of polyphenols, horsetail aerial part extract - 7% of silica, capsule shell (gelatin, water, colours: titanium dioxide, iron oxide red, azorubine*), pyridoxalo 5'-phosphate P-5-P (vitamin B6).*azorubine may have an adverse effect on activity and attention in children.
Product may contain milk (including lactose), soy, nuts, other nuts, sesame seeds, cereals containing gluten, eggs, celery, mustard, crustaceans, fish.
Nutrition Facts
| Active ingredients | Per portion | % RI* |
| --- | --- | --- |
| Nettle leaf extract | 350 mg | - |
| Dandelion root extract | 350 mg | - |
| - in these flavonoids (3%) | 10.5 mg | - |
| Guarana seed extract | 250 mg | - |
| - in this caffeine (22%) | 55 mg | - |
| Solidago virgaurea aerial part extract | 200 mg | - |
| Cranberry fruit extract | 200 mg | - |
| - in this proanthocyanidins (10%) | 20 mg | - |
| Green tea leaf extract | 200 mg | - |
| - in this polyphenols (50%) | 100 mg | - |
| Orsetail aerial part extract | 150 mg | - |
| - in this silica (7%) | 10.5 mg | - |
| Vitamin B6 (pyridoxalo 5'-phosphate P-5-P) | 18 mg | 1286 |
*Reference intake
Product reviews
1
opinion
What customers say about this product
Questions and Answers
Add a question about this product