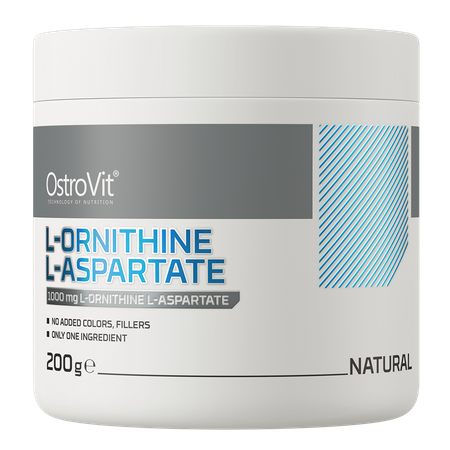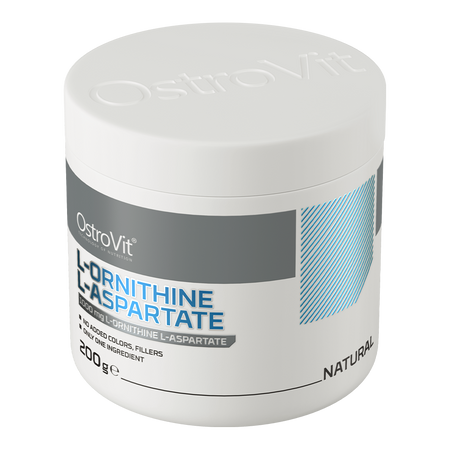 OstroVit L-Ornithine L-Aspartate 200 g
14,58 €
OstroVit L-Ornithine L-Aspartate 200 g
OstroVit L-Ornithine L-Aspartate is a powdered dietary supplement in the form of a pure L-ornithine L-aspartate. The product shows hepatoprotective properties. The ingredient is famous for its ability to secure and regenerate liver cells, and may contribute to boosted collagen metabolism.

What is L-ornithine L-aspartate?
The L-ornithine L-aspartate is a salt which combines ornithine aminoacids and L-aspartic acid. The substance cleanses the liver and boosts its regeneration. The L-ornithine L-aspartate may also reduce the concentration of ammonia in blood, which is highly important in people who consume a lot of proteins, incl. athletes. Since the product may also help you get through the hangover faster, it can well be used after drinking alcohol. The ornithine included in the supplement is also known for its arginine-strengthening impact, so that the muscle pump during a workout is even stronger.
Properties of the ingredients contained in OstroVit L-Ornithine L-Aspartate
SUPPORT FOR LIVER - OstroVit L-Ornithine L-Aspartate is a supplement which boosts liver detoxification. It not only cleanses it but also provides assistance on a daily basis. Thanks to this, it serves as an invaluable support for people who deal with indigestion.
PERFECT FOR ATHLETES – If you are an athlete and regularly use proteins or are on a high-protein diet, your organism may accumulate ammonia. Thanks to supplementation of L-ornithine L-aspartate, you can limit its amount.
RELIEF AFTER DRINKING ALCOHOL – The L-ornithine L-aspartate can be used as a help in mitigating the symptoms of hangover. The supplement may contribute to reduction of cortisol which accumulates in the organism while drinking alcohol.
ECONOMICAL BOX – The product is available in a large box of as many as 200 grams! One box of the supplement represents as many as 200 single portions of L-ornithine L-aspartate.
Suggested usage
Dissolve a single serving of the product 1000 mg (2 scoops) in 100-150 ml of water or juice in a shaker. Take one serving a day. Please use the scoop included in the package (1 ml).
Do not exceed recommended daily dose. Dietary supplement cannot be used as a substitute for a properly varied diet. Balanced diet and healthy lifestyle is recommended. Do not use if allergic to any of the ingredients. The product should not be consumed by children, pregnant and breastfeeding women. Store out of the reach of small children.
Nutritional information
Ingredients
L-Ornithine L-Aspartate.
Product may contain milk (including lactose), soybeans, peanuts, other nuts, sesame seeds, cereals containing gluten, eggs, crustaceans, fish.
Nutrition Facts
| Nutritional values | Per portion | Per 100 g |
| --- | --- | --- |
| L-Ornithine L-Aspartate | 1000 mg | 100 g |
Product reviews
0
opinion
Questions and Answers
Add a question about this product