OstroVit Lemon Balm VEGE 90 caps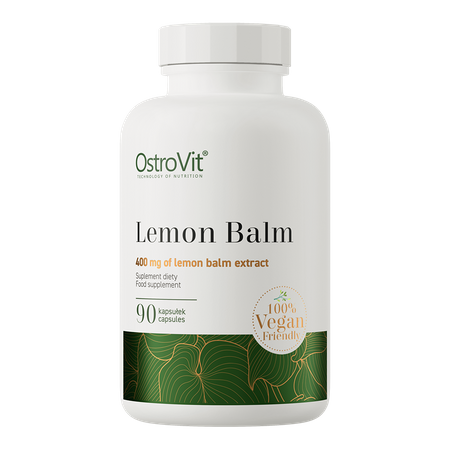 4,65 €
OstroVit Lemon Balm VEGE 90 caps
OstroVit Lemon balm VEGE is a vegan dietary supplement whose ingredients support the fight against problems related to the malfunctioning of the digestive system.
One capsule contains as much as 400 mg of active ingredient with a DER 4:1.
1
Capsule
1 serving = 1 capsule
What are properties of the lemon balm leaves?
The lemon balm is a herb native of the Mediterranean region, used in folk medicine for ages. Lemon balm leaves come in a shape of hearts and when rubbed emit a distinctive and intensive lemon-like aroma. This is why this plant is also referred to as lemon herb. The lemon balm demonstrates a series of health-promoting properties, but it is mostly known for relaxing impact. It will perform perfectly in people who lead a stressful lifestyle or who are irritated or nervous.
Regular use of the lemon balm leaves extract will help you not only deal with stress better, but may also have an influence on balancing the cholesterol in blood. Additionally, the lemon balm limits oxidation of lipids in the liver so that you can reduce digestive issues.
Properties of the ingredients contained in OstroVit Lemon Balm VEGE:
SOOTHING EFFECT - Regular use of the lemon balm leaves extract may help you relieve. Lemon balm not only relaxes but also helps you deal with stress and may support your memory and concentration, and soothe headaches.
SUPPORT TO DIGESTION - Lemon balm leaves encourage the liver to produce gastric juices. In effect, your organism can easily handle heavy meals, and you do not need to experience a feeling of heaviness after eating.
HEALTHY SLEEP - OstroVit Lemon Balm VEGE also assists persons who deal with insomnia. Thanks to the fact that the lemon balm relaxes and soothes nerves, it also helps you fall asleep and makes your sleep stronger.
CONVENIENT FORM - Our dietary supplement has been designed for persons who do not like a taste of infusion of lemon balm. The product is available in the form of easy-to-use capsules, which should go together with meals.
Suggested usage
Take 1 serving (1 capsule) daily preferably with meal.
Do not exceed the recommended daily dose. Do not use the product as a substitute (replacement) for a varied diet. Recommended are balanced diet and healthy lifestyle. Do not ingest if you are allergic to any of the ingredients. Do not consume the product by children, pregnant or nursing women. Keep out of the reach of children.
Nutritional information
Ingredients
Balm leaf extract (Melissa officinalis) DER 4:1, coating composition (bulking agent: hydroxypropyl methyl cellulose).
Product may contain milk (including lactose), soybeans, peanuts, other nuts, sesame seeds, cereals containing gluten, eggs, crustaceans, fish.
Nutrition Facts
| Active ingredients | Per portion |
| --- | --- |
| Lemon balm leaf extract | 400 mg |
Product reviews
0
opinion
Questions and Answers
Add a question about this product