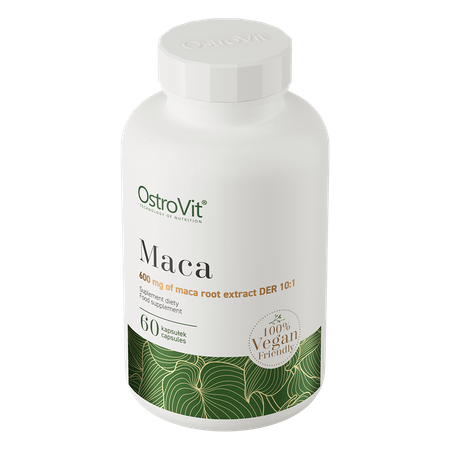 OstroVit Maca VEGE 60 vcaps
4,03 €
OstroVit Maca VEGE 60 caps
OstroVit Maca VEGE is a dietary supplement in vegan capsules containing maca root extract. The product was created for people who lead an active lifestyle and for those who on a daily basis are forced to intense mental effort. The comprehensive use of Peruvian ginseng, considered one of the superfoods products, has been supported by numerous studies.


60 servings in the package
DER (drug extract ratio) - 10:1
600 mg of extract in one tablet
1 capsule per serving
HPMC capsules - for vegans and vegetarians
OstroVit Maca VEGE
Peruvian ginseng or Maca are names that refer to a historical plant cultivated for a long time in Peru by indigenous Peruvian Indians. The Indians, traversing the mountainous andean areas, needed a panacea for the difficulties of living in this climate. Lepidium meyenii (because that is its Latin name) was used to increase energy levels, endurance, and weaknesses related to mental fatigue and even menstrual pain. Nowadays maca is a synonym of high libido, great superfood, as well as perfect help in improving memory. Peruvian ginseng thanks to its adaptogenic properties supports immunity and protects us from stressful situations.
Properties of the ingredients contained in OstroVit Maca Vege:
They help to increase the body's endurance
Proven real impact on increasing libido
Have an energizing (stimulating) effect
Help to slow down the aging processes of the body and mind
Demonstrate a pro-cognitive effect (improve memory and concentration)
Natural antioxidant and great adaptogen
VEGE CAPSULES products have been developed using only vegan ingredients. In connection with the company's high-security policy and the fact that allergenic ingredients are used in the production plant, hence the information on the possibility of cross-allergens occurring on the label. For more information, please contact us by email.
Suggested usage
Consume 1 serving (1 capsule) daily.
Do not exceed the recommended daily allowance. The dietary supplement cannot be used as a substitute for a varied diet. A balanced diet and a healthy lifestyle are recommended. Do not consume if you are allergic to any of the ingredients in the product. The product should not be used by children, pregnant women and nursing mothers. Keep out of reach of small children.
Nutritional information
Ingredients
Maca root extract (Lepidium meyenii Walp.) DER 10:1; coating composition (bulking agent: hydroxypropyl methyl cellulose)./p>
The product may contain milk (including lactose), soy, peanuts, other nuts, sesame seeds, oats, eggs, crustaceans, fish.
Nutrition Facts
| Active ingredients | Per portion |
| --- | --- |
| Maca root extract DER 10:1 |  600 mg  |
Product reviews
0
opinion
Questions and Answers
Add a question about this product