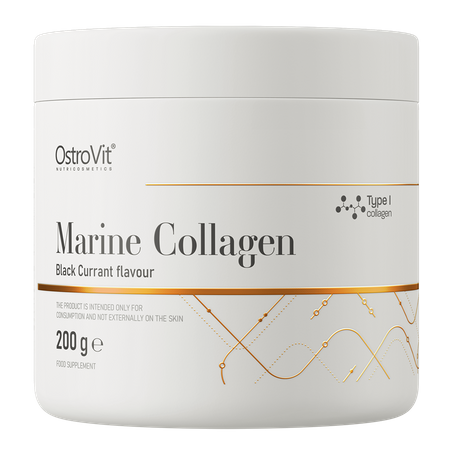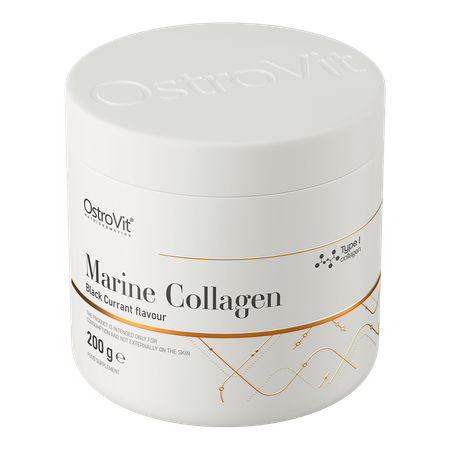 OstroVit Marine Collagen 200 g black currant
12,66 €
OstroVit Marine Collagen 200 g
OstroVit Marine Collagen is an innovative powdered dietary supplement which you can easily dissolve in water or juice. The product contains marine collagen peptides whose structure is very similar to human collagen, thanks to which the product assimilates well.

What is OstroVit Marine Collagen, and who is it intended for?
Collagen is an important building block of tissues that is responsible for their elasticity. It is thanks to him that the skin is firm, and the hair and nails - strong. With age, the level of natural collagen decreases and the body begins to age. The surface of skin is filled with first wrinkles and cellulite which do not look very nice. The best way to eliminate collagen shortage issue is to supplement it.
Marine collagen in the form of powder is one of the most effective kinds of collagen. Thanks to this product, the condition of your skin, hair and nails will be substantially improved.
Properties of the ingredients contained in OstroVit Marine Collagen:
EFFECTIVE OPERATION - Marine collagen in the form of fish collagen peptides goes through the cuticle and directly reaches the dermis. It penetrates deeply into its structure, providing natural strengthening.
FAST ASSIMILATION - After swallowing, the collagen in the form of powdered collagen hydrolysate goes straight to the stomach, where it's instantly released. This way its impact is much quicker when compared to collagen tabs.
CONVENIENT FORM - Powdered collagen is intended for those who have difficulties in swallowing pills. To consume it, you need to dissolve the collagen in water or your favorite juice.
DELICIOUS TASTE - OstroVit Marine Collagen dietary supplement is flavored with blackcurrant. It contains fish collagen peptides, and sucralose was used as a sweetener.
Suggested usage
Dissolve a single serving of the product 2700 mg (5 full scoops) in 100-150 ml of water. Please use the measuring cup included in the package (1 ml). Take one serving a day.
Do not exceed the recommended daily dose. Do not use the product as a substitute (replacement) for a varied diet. Recommended are balanced diet and healthy lifestyle. Do not ingest if you are allergic to any of the ingredients. Children, pregnant or nursing woman must not take the product. Keep out of the reach of children.
Nutritional information
Ingredients
Fish collagen peptides (hydrolysed), acidity regulator: citric acid; black carrot concentrate in powder; aroma, sweeteners: sucralose, acesulfame K.
Product may contain milk (including lactose), soybeans, peanuts, other nuts, sesame seeds, cereals containing gluten, eggs, crustaceans.
Nutrition Facts
| Active ingredients | Per portion | Per 100 g |
| --- | --- | --- |
| Fish collagen peptides (hydrolysed) | 2200 mg | 81.48 g |
Product reviews
0
opinion
Questions and Answers
Add a question about this product