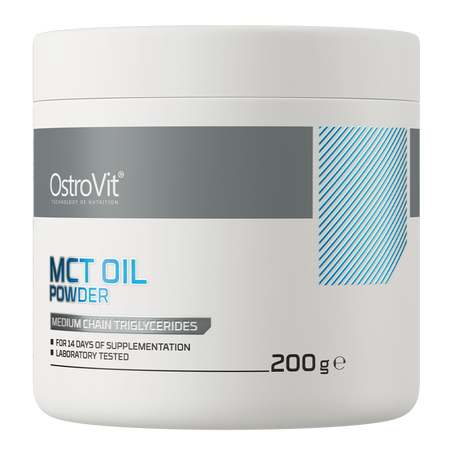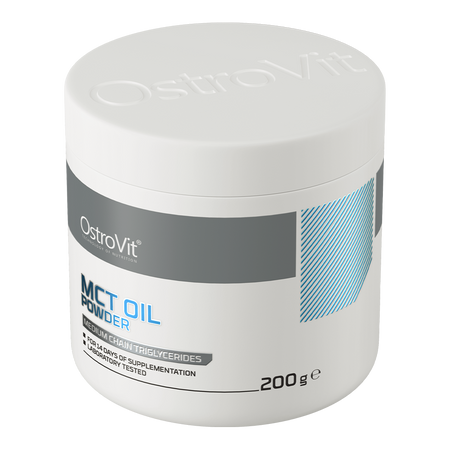 OstroVit MCT Oil Powder 200 g natural
6,54 €
OstroVit MCT Oil Powder 200 g
OstroVit MCT Oil is a carefully developed dietary supplement that is a source of medium-chain MCT fatty acids. It is a preparation available in a convenient powder form, which is recommended in particular to athletes and physically active people.

A source of medium-chain fatty acids MCT (medium-chain triglycerides) - One portion of the dietary supplement contains 7 g of fats, including capric or caprylic acid.
Efficiency - The package of the product with a capacity of 200 g is enough for 14 portions of a dietary supplement.
Convenient form - The preparation in powder form provides easy supplementation and is a great solution for people who have difficulty swallowing tablets.
Natural taste and smell that does not cause discomfort during supplementation.
Convenient for vegetarians and vegans - The product does not contain ingredients of animal origin
MCT oil - medium chain fatty acids
MCT oil, or medium-chain triglycerides, are saturated fats that consist of fatty acids containing from 6 to 10 (and according to some sources up to 12) carbon atoms.
MCT oil is most often obtained from coconut oil, as well as palm oil or milk fat. Although it is saturated fat, it differs from other fatty acids in this group, which results, among others, from a different way of absorption - MCT oil is absorbed from intestinal epithelial cells and with the help of a portal vein goes directly to the liver, which means that the compound from the digestive system gets directly into the circulatory system at a rate similar to glucose. In addition, its digestion does not require the presence of lipase and bile, which favorably affects the pace of the process. MCT oil consists of fatty acids, such as caproic acid containing six carbon atoms, eight-carbon caprylic acid, or capric acid consisting of ten carbon molecules. It is a product that is often used as a component of vitamin dietary supplements - as a source of fat, MCT oil has a positive effect on the absorption of fat-soluble vitamins. In addition, the compound is a source of energy, which is distinguished by a neutral taste and smell, thanks to which it is willingly used by people on a ketogenic diet, i.a. as an ingredient of bulletproof coffee. MCT oil is also used in cosmetics as an ingredient in skin and hair care products.
Suggested usage
Add 14 g (2 scoops) in 100 - 150 ml of water or your favorite beverage.
Do not exceed the recommended daily dose for consumption. Dietary supplement can not be used as a substitute (replacement) of a varied diet. A balanced diet and a healthy lifestyle are recommended. Do not eat if you are allergic to any of the ingredients in the product. The product should not be used by children, pregnant women and nursing mothers. Keep out of reach of small children.
Nutritional information
Ingredients
MCT oil (50%) in powder containing medium-chain fatty acids (MCT) from palm oil, modified starch, corn syrup, anti-caking agent - silicon dioxide, emulsifier - mono- and diglycerides of fatty acids.
The product may contain milk (including lactose), soy, peanuts, other nuts, sesame seeds, oats, eggs, crustaceans, fish.
Nutrition Facts
Active ingredients
Per 100 g
For a portion
% RI*
Energy value
643 kcal
90 kcal
5
Fat
50.20 g
7.03
10
- of which saturated fatty acids
50.20 g
7.03 g
35
Carbohydrates
47.80 g
6.69 g
3
- of which sugar
0 g
0 g
-
Protein
0 g
0 g
-
Salt
0.08 g
0.01 g
-
Composition of fatty acids  
C6:0 Caprylic acid
1 g
0.14 g
-
C8:0 Caprylic acid
50 - 65 g
7 g - 9.1 g
-
C10:0 Capric acid
34 g - 45 g
4.76 g - 6.30 g
-
C12:0 Lauric acid
2 g
0.28 g
-
C14:0 Myristic acid
1 g
0.14 g
-
*RI - Reference intake
Product reviews
0
opinion
Questions and Answers
Add a question about this product