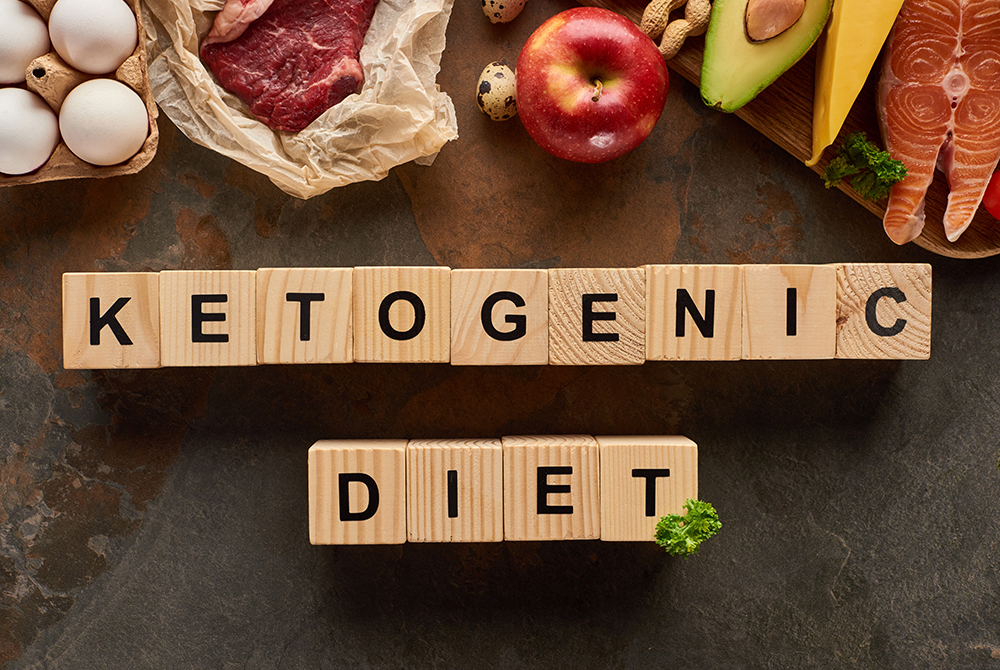 The ketogenic diet is one of the most effective methods for losing weight, but it is very different from classic nutritional recommendations. We have gathered a set of the necessary information on how to compose a ketogenic diet menu. We suggest which recipes to use, what you can eat on a keto diet and what this actually helps.
Ketogenic diet recipes - what to eat on keto?
The ketogenic diet, also known as ketogenic, or commonly and briefly as keto, is an alternative way of eating, in which the distribution of macronutrients is completely different than on classic diets. The formula for the keto diet is about 60-75% energy from fat, 20-35% from protein and no more than 50g of carbohydrates. Such a low amount of carbohydrates is responsible for putting the body into a state of ketosis, in which the body's primary source of energy becomes ketone bodies produced during fat metabolism, rather than glucose formed during carbohydrate metabolism. Before we move on to ready-made ketogenic diet recipes, let's take a look at what to eat on keto and what foods are forbidden.
Recommended products for people on a ketogenic diet
What can you eat on keto?
Every ketogenic diet (keto) recipe is based on fat, and protein as an additional ingredient. In contrast to classic dietary recommendations, where carbohydrates are the primary source of energy, products on the ketogenic diet contain practically no carbohydrates at all. What to eat on a ketogenic diet (ketosis)?
meat - beef, pork, offal, chicken, turkey, meat products - high quality sausages, ham, bacon,
fatty fish - salmon, tuna, herring, mackerel, sardine, anchovy,
seafood,
eggs,
butter, sweet cream,
cheeses,
nuts and seeds,
oils – olive oil, coconut oil, linseed oil, rapeseed oil,
avocado,
low carbohydrate vegetables - green leafy vegetables, tomatoes, peppers, cucumbers, broccoli, cauliflower, courgettes, aubergines, asparagus, olives,
small quantities of berries - strawberries, raspberries, blueberries, currants.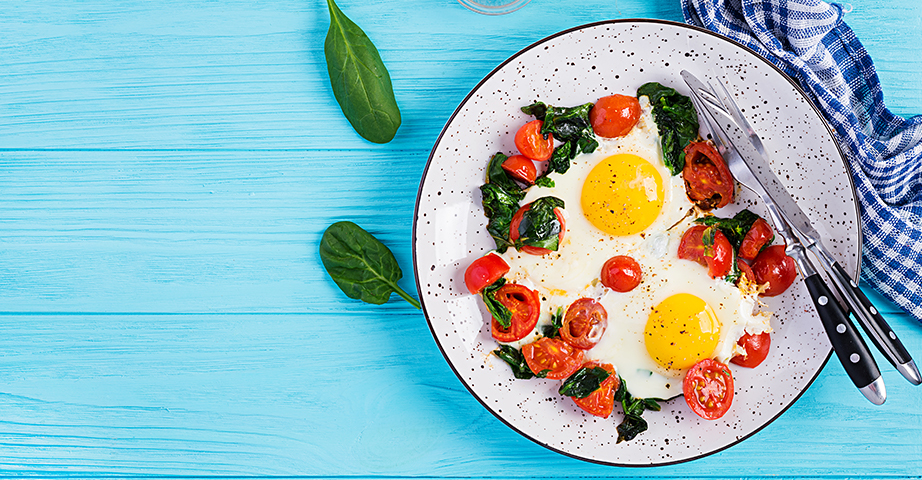 What should ketogenic diet recipes not include?
The list of foods banned on keto are:
cereal and flour products - bread, pancakes, groats, rice, cereals, corn,
potatoes and yams,
vegetables high in carbohydrates - artichokes, parsnips, green peas,
pulses - beans, peas, lentils, chickpeas,
high sugar fruits - tangerines, oranges, pineapples, bananas, apples, pears, grapes, mangoes, nectarines, peaches,
sweetened carbonated and non-carbonated soft drinks, fruit juices, fruit cocktails, sports drinks, beer, sweet and semi-sweet wine, drinks, sweetened tea, sweetened coffee,
sweets,
prepared sauces, ketchup.
Interesting ketogenic diet recipes - keto guide
There are plenty of ketogenic diet recipes. It's not difficult to eat following the keto principles. For most dinners, simply eliminate carbohydrates (potatoes, rice, groats or pasta) instead, add more meat and vegetables. Breakfasts without bread are not a big problem either. Eggs can be used in dozens of keto breakfast recipes for omelettes, frittatas, boiled, fried or poached eggs. But what do you do when you're really thirsty for a cheese and tomato sandwich? Or a pancake? What can you substitute for pasta and bolognese sauce? Are you not going to eat any cake on the keto diet? Check out ketogenic diet recipes for meals that perfectly pretend to be carbs.
Ketogenic bun recipe
Ingredients: 150 g almond flour, 80 g egg white husk powder, 60 g coconut flour, 75 g ground flaxseed, 2 teaspoons apple vinegar, 1 teaspoon of baking soda, 1 teaspoon of salt, 8 egg whites, 2 cups of lukewarm water, sesame seeds for sprinkling
Preparation: Heat the oven to 175 degrees. Mix the dry ingredients in a bowl (almond flour, coconut flour, flaxseed, plantain husk powder, baking soda and salt). Add the egg whites, vinegar and water and mix thoroughly. Line a baking tray with baking paper and form buns on it. Sprinkle sesame seeds on top. Keep the space between the rolls, as they will rise during baking. Bake in the oven for 45-50 minutes. If the rolls come out too wet, you can dry them in the oven for 40-60 minutes at 100 degrees.
Keto pancakes
Ingredients: 3 eggs, 3 tablespoons of cream cheese, 1 tablespoon of almond flour, 1/4 teaspoon of baking powder
Preparation: Mix the eggs, cream cheese, almond flour and baking powder thoroughly in a bowl. Heat a small amount of coconut oil in a frying pan. Fry the pancakes for about 1 minute on each side.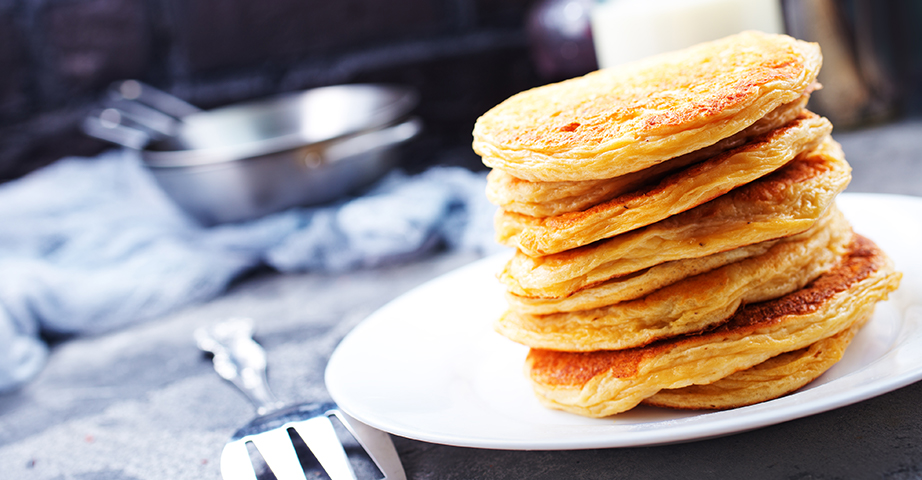 How to eat pasta on keto? Ketogenic pasta recipe
Ingredients: 120 g mozzarella cheese, 1 egg yolk
Preparation: Grate the cheese. Melt the cheese in the microwave, wait about 30 seconds and add the egg yolk. Stir thoroughly with a spatula. Reheat in the microwave for about 15 seconds. Roll out the dough to a thickness of approx. 0.5 cm, placing it between two oiled pieces of baking paper. Cut into ribbons and place in the fridge for about 4 hours. Put the keto pasta in boiling salted water for about 1-2 minutes. Drain. Drizzle with olive oil and mix to prevent the pasta from sticking.
Keto recipe for lemon cake
Ingredients: 1/2 cup of melted butter, 1 and 3/4 cups of almond flour, 1 cup of powdered erythritol, 3 medium lemons, 3 large eggs
Preparation: Mix the butter, 1 cup almond flour, 1/4 cup erythritol together and add a pinch of salt. Roll out and put into a 20×20 cm baking tin lined with baking paper. Bake at 175°C for 20 minutes. Then leave to cool for 10 minutes. In a bowl, grate the zest from one lemon, then squeeze all 3 lemons, add the eggs, 3/4 cup erythritol, 3/4 cup almond flour and a pinch of salt. Mix the pie filling thoroughly. Pour the filling onto the cooled bottom and bake for 25 minutes. Serve the cake decorated with lemon slices and sprinkled with erythritol.
The ketogenic diet - a menu
How to create a ketogenic diet menu? The main thing to remember is to eliminate sources of carbohydrates other than vegetables. What about fruit on keto? You can eat berries from time to time, but be careful not to exceed the limit of 50 g of carbohydrates per day.
A keto diet does not have to be complicated, fancy or monotonous at all. See how a weekly ketogenic diet menu may look like, which will help you create your own meal compositions.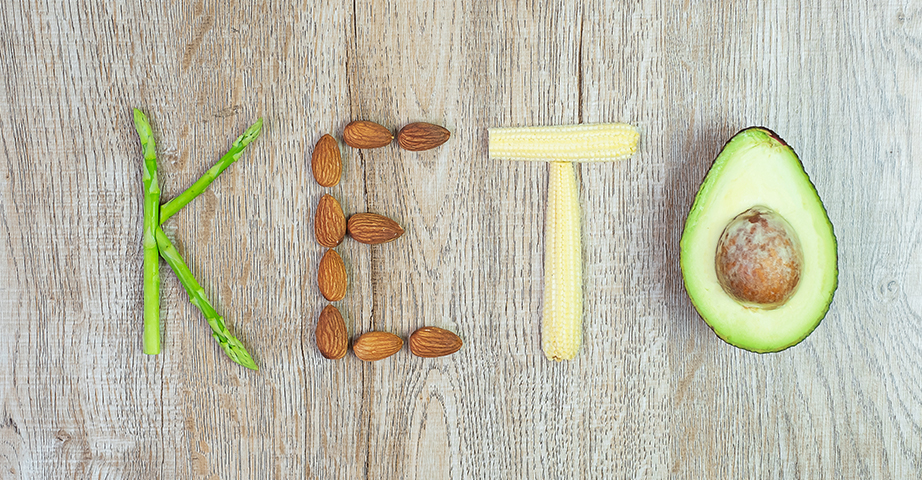 Ketogenic diet - weekly menu
Day 1
breakfast: 2 eggs fried in butter, 3 slices of bacon fried crispy, tomatoes with chives
dinner: pork ribs cooked in cabbage
supper: peppers filled with chicken, mushrooms with onion and cheese, sprinkled with parsley
Day 2
breakfast: keto buns buttered with cheese, ham, lettuce and tomato
dinner: pork chops fried in lard and covered in almond flour and egg white husks + cauliflower puree + mizzeria with cream and chives
supper: frittata of 2-3 eggs with peppers and ham fried in coconut oil
Day 3
breakfast: scrambled 3 eggs fried in butter with smoked chicken breast and a slice of cheese + arugula with cherry tomatoes drizzled with olive oil
dinner: keto pasta with prawns, garlic, cream and parsley
supper: Thai soup with chicken, green beans, peppers and coconut milk with curry paste
Day 4
breakfast: 3 boiled eggs, mackerel paste with onion, pickled cucumbers
dinner: chicken legs baked in a bag + roasted vegetables - courgette, peppers, carrots topped with olive oil
supper: sugar-free keto peanut butter pancakes with coconut and nuts
Day 5
breakfast: omelette from 3 eggs and 1 tablespoon of coconut flour fried in coconut oil + smoked salmon, a bunch of spinach leaves, tomato drizzled with olive oil
dinner: chicken liver fried in rapeseed oil + stewed onions in a cream and mustard sauce + pickled cucumbers
supper: feta cheese baked with cherry tomatoes, drizzled with olive oil, sprinkled with basil and oregano + salad mix drizzled with olive oil
Day 6
breakfast: keto pancakes with cheese and mushrooms
dinner: chicken breast nuggets fried in butter and coated in almond flour and Eggplant husk + coleslaw salad (without honey and sugar!)
supper: baked trout + sauerkraut salad with carrots, onion and oil
Day 7
breakfast: omelette made of 3 eggs and 1 tablespoon of coconut flour fried in coconut oil spread with sugar-free peanut butter sprinkled with blueberries
dinner: bolognese sauce with courgette pasta
supper: salad of mixed salads, roast chicken breast, avocado, cucumber, cherry tomatoes with olive oil and sprinkled with roasted sunflower seeds
Ketosis - the effects of a ketogenic diet
Nowadays, the ketogenic diet is chosen by many people as a way of losing weight without hunger and obsessive thinking about food. It is because such an eating programme provides a feeling of satiety and it is easier to spontaneously restrict calories when meals are high in fat. The effects of ketosis were originally used for a completely different purpose, specifically the treatment of drug-resistant epilepsy. Today, it is known that the ketogenic diet not only allows you to lose weight faster than other diets (especially compared to low-fat diets rich in carbohydrates with a low glycaemic index, which for decades have been promoted as the most effective ones in the fight against obesity) but also has a positive effect on health in many aspects.
Effects of a diet in ketosis
more efficient metabolism of fats and more efficient use of them as an energy source,
a strongly reduced feeling of hunger, a spontaneous calorie restriction that allows you to lose weight without counting it,
a decrease in blood glucose and insulin levels, which prevents and treats insulin resistance and type II diabetes,
lowering blood pressure and triglyceride levels in the blood, which reduces the risk of cardiovascular incidents,
potentially reducing the risk and symptoms of Alzheimer's disease,
slowing the growth of certain cancer tumours,
supporting the treatment of polycystic ovary syndrome.
Opinions on the ketogenic diet are extremely varied, ranging from praise for its slimming effects and healing potential to accusations of high health risks and lack of effectiveness in weight loss. However, scientific studies indicate the positive effects of the ketogenic diet. Ketosis is effective and safe, but it must be done correctly. Therefore, before starting a keto diet, it is best to consult a nutritionist experienced in this topic.