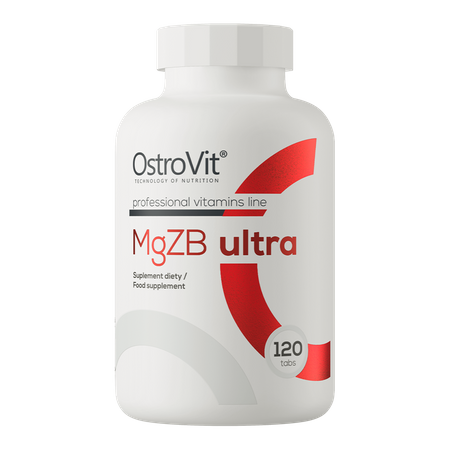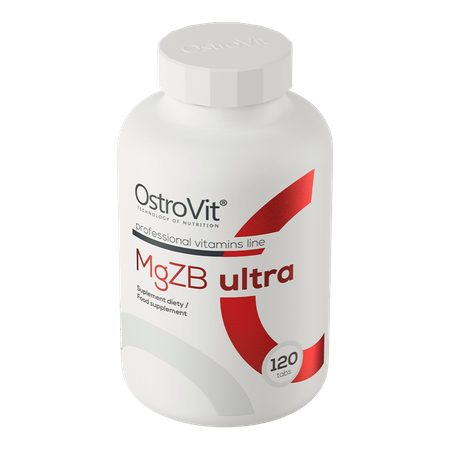 OstroVit MGZB ULTRA 120 tabs
Customers recommend!
Rating 3/ 5
3,80 €
OstroVit MGZB ULTRA 120 tabs
OstroVit MgZB ULTRA is a high-quality dietary supplement, consisting of three compounds necessary for the human body, i.e. magnesium, zinc and vitamin B6 (pirodoxin). Supplement intended for adults who are physically active, especially athletes.

There are 120 tablets in one package
Highly bioavailable forms
New improved composition
MAGNESIUM, ZINC and VITAMIN B6 (MgZB)
Magnesium Magnesium contained in the preparation helps in the proper functioning of the muscles and in maintaining electrolyte balance, and also helps in maintaining healthy bones and teeth. Magnesium and vitamin B6 contribute to maintaining proper energy metabolism and help in the proper functioning of the nervous system. In addition, these ingredients contribute to the reduction of tiredness and fatigue.
Zinc found in OstroVit MgZB ULTRA helps to maintain a proper acid-base balance and helps to maintain healthy hair, skin and nails. In addition, zinc contributes to the maintenance of normal metabolism of fatty acids and vitamin A. Zinc and vitamin B6 help in the proper functioning of the immune system.
Vitamin B6 helps in the proper synthesis of cysteine ​​and in maintaining the proper metabolism of homocysteine. Vitamin B6 contributes to the maintenance of normal protein and glycogen metabolism and contributes to the regulation of hormonal activity.
Supplement intended for adults who are physically active, especially athletes. The product is recommended during periods of increased effort.
Properties of the ingredients contained in OstroVit MGZB Ultra:
The components of the product help to maintain healthy bones
Support the anabolism process
Improve regeneration after training the body
Help to reduce fatigue and the proper functioning of cognitive functions
Have a positive effect on the nervous system
Provide deep, regenerative sleep
Laboratory-proven quality
For the sake of our customers' health, the products we manufacture are regularly tested in an independent accredited laboratory to ensure and maintain the highest quality.






Suggested usage
Consume 1 serving (3 tablets) daily before bedtime.
Do not exceed the recommended daily dose for consumption. Dietary supplement can not be used as a substitute (replacement) of a varied diet. A balanced diet and a healthy lifestyle are recommended. Do not eat if you are allergic to any of the ingredients in the product. The product should not be used by children, pregnant women and nursing mothers. Keep out of reach of small children.
Nutritional information
Ingredients
Bulking agent: microcrystalline cellulose; magnesium citrate (magnesium), bulking agent: starch; anticaking agents: magnesium salts of fatty acids, silicon dioxide; zinc picolinate (zinc), pyridoxine hydrochloride (vit. B6).
Product may contain milk (including lactose), soy, peanuts, other nuts, cereals containing gluten, eggs, celery, mustard, crustaceans, fish.
Nutrition Facts
| Active ingredients | For a portion | % RI* |
| --- | --- | --- |
| Magnesium  | 375 mg | 100 |
| Zinc  | 15 mg | 150 |
| Vitamin B6 | 2 mg | 143 |
*RI - Reference intake
Product reviews
1
opinion
What customers say about this product
Questions and Answers
Add a question about this product