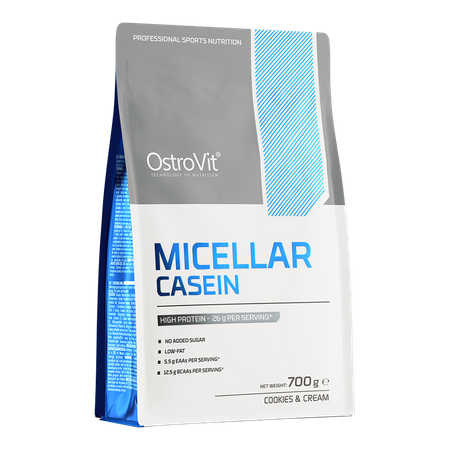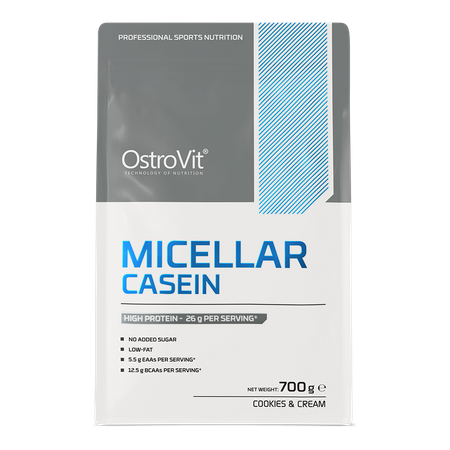 OstroVit Micellar Casein 700 g cookies and cream
12,83 €
OstroVit Micellar Casein 700 g
OstroVit Micellar Casein is a dietary supplement that is the source of the highest quality micellar casein. This is the most effective form of casein that brings the best results. It is characterized by a very slow absorption time, thanks to which it provides a several-hour supply of building materials to the muscle tissue. Casein undergoes a coagulation process in the stomach, which slows down its digestion and extends the absorption time.

700 g protein in the package
One serving is 30 g of the product
Excellent flavors
Extended absorption time of the highest quality casein protein
OstroVit Micellar Casein is recommended for all athletes, regardless of the sports discipline. It is also suitable for people who have an increased need for protein.It is an excellent support in the period of building muscle mass and during slimming diets. It works great as a protein supplement consumed at bedtime.
Micellar Casein - casein protein
Casein is one of the most important proteins found in mammalian milk, where the vast majority of its consumption is of cow origin. It constitutes about 80% of all proteins contained in milk. Other proteins, such as β-lactoglobulin and α-lacto-albumin, are in the minority but are also technologically important as above-mentioned casein. This protein, like other proteins of animal origin, is valuable due to the content of all essential amino acids (including BCAAs) in an amount sufficient for the proper functioning of humans with the minimum recommended intake. Micellar casein is also an effective slimming diet aid as it provides a large amount of protein and low in fat and carbohydrates. After consumption, it leaves a feeling of fullness for a long time, which limits additional snacking between meals.
Properties of the ingredients contained in OstroVit Micellar Casein:
The source of the highest quality casein protein
Very low in fat and carbohydrates
Effective muscle regenerating action
Strong anti-catabolic and anabolic effects
A great supplement at bedtime
The prolonged absorption time ensures long-lasting effects of amino acids on the muscles
Supports the building of clean muscle mass
Facilitates slimming.
Suggested usage
Add 30 g (3 scoops) in 200 ml of skim milk or water. Consume 1-2 times a day depending on your needs.
Do not exceed the recommended daily dose for consumption. Dietary supplement can not be used as a substitute (replacement) of a varied diet. A balanced diet and a healthy lifestyle are recommended. Do not eat if you are allergic to any of the ingredients in the product. The product should not be used by children, pregnant women and nursing mothers. Keep out of reach of small children.
Nutritional information
Ingredients
Milk protein, emulsifier: lecithins; colour: ammonia caramel; aromas, salt, sweeteners: sucralose, acesulfame K.
Product may contain soy, peanuts, other nuts, sesame seeds, cereals containing gluten, eggs, crustaceans, fish.
Nutrition Facts
| Nutritional values | Per portion 30 g | % RI* | Per 2 portion 60 g | % RI* | Per 100 g |
| --- | --- | --- | --- | --- | --- |
| Energy | 434 kJ / 102 kcal | 5 | 868 kJ / 204 kcal | 10 | 1446 kJ / 340 kcal |
| Fat | 0.3 g | - | 0.6 g | 1 | 0.9 g |
| - of which saturated fatty acids | 0.2 g | 1 | 0.4 g | 2 | 0.7 g |
| Carbohydrates | 2.4 g | 1 | 4.8 g | 2 | 8.0 g |
| - of which sugars | 2.4 g | 3 | 4.8 g | 5 | 8.0 g |
| Protein | 23 g | 45 | 45 g | 90 | 75 g |
| Salt | 0.19 g | 3 | 0.37 g | 6 | 0.62 g |
*RI - Reference intake
Product reviews
0
opinion
Questions and Answers
Add a question about this product