OstroVit Oat My Day 200 g apple cinnamon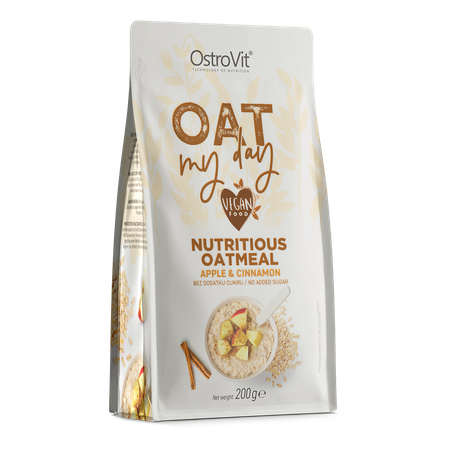 1,83 €
OstroVit Oat My Day 200 g
OstroVit Oat My Day is a nutritious porridge that stands out for its richness in dietary fiber. The product does not contain added sugar, and the sweet taste is due to pieces of natural, freeze-dried fruit and a low-energy sweetener, which is sucralose. Available in four different flavor variants, the mix is a solution that will satisfy the appetite and individual preferences of the consumer, while the simplicity and short time needed to prepare the meal will allow you to enjoy a tasty and healthy snack even during a busy day.
4
SCOOPS
1 serving = 4 scoops
Rich in dietary fiber - in one serving of the product you can find about 4 g of the valuable compound.
No added sugar - the healthy snack contains a low-energy sweetener such as sucralose, which contributes to lowering the calorie content of the meal.
Various flavor variants - a sweet strawberry, a warming apple with cinnamon, melt-in-your-mouth chocolate, or perhaps a sour-sweet duo in the form of kiwi and banana? With a range of options, everyone can find a product that will satisfy their appetite and their taste buds.
Speed and simplicity - 5 minutes - that's all it takes to prepare delicious OstroVit My Day oatmeal.
Vegan formula - the mixture does not contain animal products, so it will also fit into the menu of people who observe special dietary restrictions.
The perfect sibstitute for breakfast or any other meal.
Dietary fiber - a valuable component of the daily diet
Dietary fiber is a mixture of polysaccharide and non-polysaccharide substances of plant origin. These are compounds that are not digested or absorbed in the human digestive tract, which is why they are often referred to as residual substances. Two fractions of dietary fiber can be distinguished - soluble fiber and insoluble fiber, which are commonly found in food, including oatmeal.
The World Health Organization (WHO) recommends that every day, along with the diet, provide the body with a minimum of 25 g of dietary fiber. How to ensure an adequate supply of the valuable ingredient? Starting the day with a nutritious oatmeal such as OstroVit Oat My Day can be a good solution.
Suggested usage
Mix a one serving of the product 50 g (4 scoops) with 200 ml of hot water or milk. Leave for 5 minutes and then eat it.
Do not ingest if you are allergic to any of the ingredients.
Keep this packaging tightly closed in a dry place, at the temperature 15-25°C. Keep out of direct sunlight.
Nutritional information
Ingredients
Instant oat flakes (contain gluten) 93.76%, freeze-dried apple 3%, ceylon cinnamon 1.5%, apple fiber, flavouring, salt, sweetener: sucralose.
Product may contain milk (including lactose), soy, peanuts, other nuts, sesame seeds, eggs, crustaceans, fish.
Nutrition Facts
| Nutritional value | 1 portion (50 g) | % RI* | Per 100 g |
| --- | --- | --- | --- |
| Energy value | 770 kJ / 183 kcal | 9% | 1540 kJ / 365 kcal |
| Fat | 3.4 g | 5% | 6.8 g |
| - of which saturated fatty acids | 0.6 g | 3% | 1.1 g |
| Carbohydrates | 31 g | 12% | 61 g |
| - of which sugars | 1.6 g | 2% | 3.1 g |
| Fiber | 4.1 g | - | 8.1 g |
| Protein | 5.5 g | 11% | 11 g |
| Salt | 0.06 g | 1% | 0.11 g |
*RI - Reference intakes
Product reviews
0
opinion
Questions and Answers
Add a question about this product