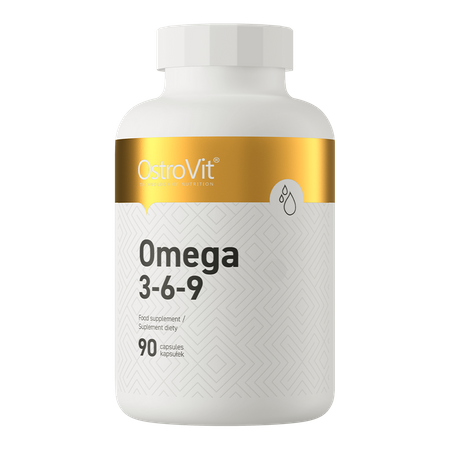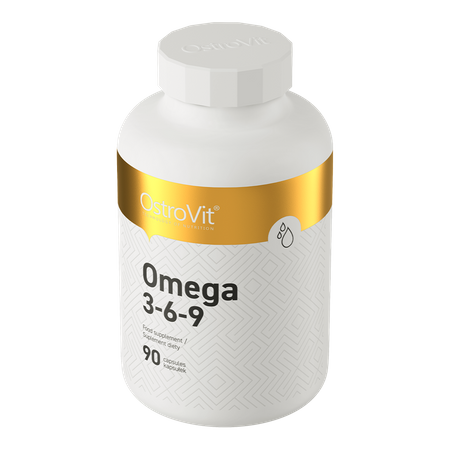 OstroVit Omega 3-6-9 90 caps
4,03 €
OstroVit Omega 3-6-9 90 caps
OstroVit Omega 3-6-9 is a dietary supplement in capsules containing omega 3 fatty acids (EPA, DHA, ALA), Omega 6 (LA) and Omega 9 (OA), enriched with vitamin E. Omega 3 and omega fatty acids 6 and omega 9 are essential unsaturated fatty acids. The right proportion of all unsaturated acids is very important because each of them plays a different role in the body.
Contains 90 servings in the package
1 serving = 1 capsule
3 OMEGA fractions 3-6-9
BESTSELLER
OMEGA 3
Omega 3 fatty acids lower the level of bad cholesterol (LDL) and thus increase the level of good cholesterol (HDL). They mainly lower the level of triglycerides. The most important of them - DHA and EPA acids are the unique building blocks of our cells. Thanks to them, the cell membrane functions better, which improves all life processes from conception. They increase the body's immunity and are essential for the formation and functioning of the brain from the very beginning of fetal life.
OMEGA 6
Omega 6 acids are the building blocks of cells, they are involved in the production of many hormones, including neurotransmitters (connections between nerve cells in the brain), and help to improve the functioning of the central nervous system. These acids are an important component of cell membranes, support immunity, and improve the work of the nervous system.
OMEGA 9
Omega-9 fatty acids lower the level of total and bad (LDL) cholesterol without reducing good (HDL) cholesterol. They are the building blocks of every cell and help maintain normal blood pressure.
Omega 3-6-9 has been additionally enriched with vitamin E, which helps protect cells against oxidative stress. This supplement is recommended for all people who want to improve their well-being and body functioning. Regular use of Omega 3 contributes to the improvement of both the physical and mental condition of the body.
Properties:
Helps maintain normal cholesterol levels
Helps to improve the work of the central nervous system
Promotes better functioning of our body's cell membranes
Many studies prove that Omega 3 contributes to the reduction of blood triglycerides
It is the main building block of our cell membranes
Provides them with oxygen and nutrients
ATTENTION! Due to the high content of fish oil, the product has a fishy smell.
Suggested usage
Consume 1 serving (1 capsule) a day, preferably after a meal. Drink with the right amount of water.
Do not exceed the recommended daily dose for consumption. Dietary supplement can not be used as a substitute (replacement) of a varied diet. A balanced diet and a healthy lifestyle are recommended. Do not eat if you are allergic to any of the ingredients in the product. The product should not be used by children, pregnant women and nursing mothers. Keep out of reach of small children.
Nutritional information
Ingredients
Fish oil, flax seed oil, sunflower seed oil, gelatin, humectant - glycerol; water; DL-alpha-tocopheryl acetate (vitamin E).  
The product may contain milk (including lactose), soy, peanuts, other nuts, sesame seeds, oats, eggs, crustaceans, fish.
Nutrition Facts
| Active ingredients | For a portion | % RI* |
| --- | --- | --- |
| Fish oil: | 400 mg | - |
| - including EPA eicosapentaenoic acid | 72 mg | - |
| - including docosahexaenoic acid DHA | 48 mg | - |
| Flax seed oil: | 300 mg | - |
| - including alpha-linolenic acid ALA | 150 mg | - |
| - including linoleic acid LA | 45 mg | - |
| - including oleic acid OA | 60 mg | - |
| Sunflower seed oil: | 290 mg | - |
| - including linoleic acid LA | 145 mg | - |
| - including oleic acid OA | 43.5 mg | - |
| Vitamin E | 10.5 mg | 88 |
*RI - Reference intake
Product reviews
0
opinion
Questions and Answers
Add a question about this product