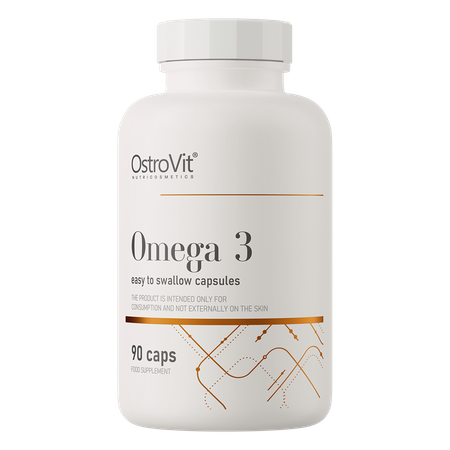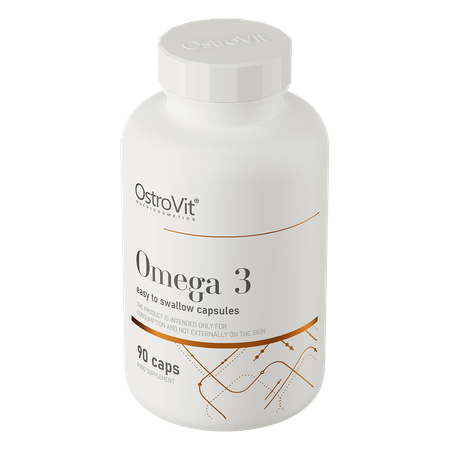 OstroVit Omega 3 Easy to Swallow 90 caps
4,21 €
OstroVit Omega 3 EASY TO SWALLOW 90 capsules
OstroVit Omega 3 EASY TO SWALLOW is a dietary supplement for all those who wish to provide their organism with a required amount of Omega-3 fatty acids, but have difficulties in swallowing standard capsules. As the capsules are smaller, the dietary supplement can be easily swallowed and does not get stuck in the throat.

The daily dose of the OstroVit Omega 3 EASY TO SWALLOW supplement is as much as 1000 mg of fish oil, including 180 mg of EPA eicosapentaenoic acid and 120 mg of DHA docosahexaenoic acid and 9.1 mg of fat-soluble vitamin E.
What is OstroVit Omega 3 EASY TO SWALLOW?
OstroVit Omega 3 EASY TO SWALLOW is a fish oil-based dietary supplement rich in fatty acids. The capsules contain icosapentaenoic acid (EPA) and docosahexanoic acid (DHA) which support a series of processes in the organism.
Regular consumption of Omega-3 acids can support your cardiovascular and nervous systems.
Properties of the ingredients contained in OstroVit Omega 3 Easy to Swallow
SMALL CAPSULE – A specially designed small capsule is intended for all people who have difficulties in taking Omega-3 in a standard form. Two small capsules represent a daily intake.
COMPREHENSIVE IMPACT – OstroVit Omega 3 EASY TO SWALLOW supplement has a positive influence on heart and blood vessels. It can lower the homocysteine level.
HIGH QUALITY OF ACTIVE INGREDIENTS – Fish oil included in the supplement contains a high dose of fatty acids for improved assimilability.
ADDITION OF VITAMIN E - Thanks to presence of vitamin E in the form of D-alpha tocopherol, the capsules can help cells defend against oxidative stress.
Laboratory-proven quality
For the sake of the health of our customers, the products manufactured by us are regularly tested in an independent accredited laboratory to ensure and maintain the highest quality.
Suggested usage
Take 1 serving (2 capsules) daily, preferably after a meal. Drink adequate amounts of water. In pregnant and nursing women, use after consultation with a physician.
Do not exceed the recommended daily dose. Do not use the product as a substitute (replacement) for a varied diet. Recommended are balanced diet and healthy lifestyle. Do not ingest if you are allergic to any of the ingredients. Keep out of the reach of children.
Nutritional information
Ingredients
Fish oil, capsules shell (gelatin, humectant: glycerol; water), D-alpha tocopherol (vitamin E).
Product may contain milk (including lactose), soy, peanuts, other nuts, sesame seeds, cereals containing gluten, eggs, crustaceans.
Nutrition Facts
| Active ingredients | For a portion | % RI* |
| --- | --- | --- |
| Fish oil: | 1000 mg | - |
| - EPA eicosapentaenoic acid | 180 mg | - |
| - Docosahexaenoic acid DHA | 120 mg | - |
| Vitamin E | 9.1 mg | 76 |
*RI - Reference intake
Product reviews
0
opinion
Questions and Answers
Add a question about this product