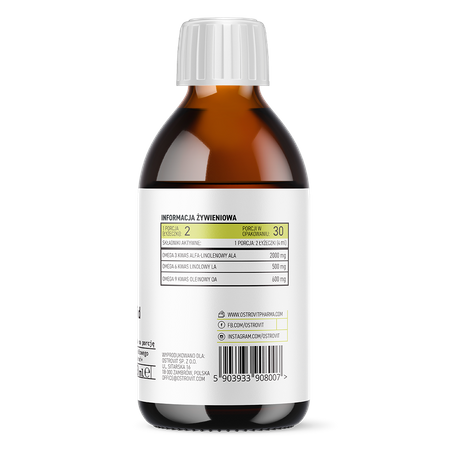 OstroVit Pharma Elite OMEGA 3-6-9 liquid VEGE 120 ml
8,66 €
OstroVit Pharma Elite OMEGA 3-6-9 liquid VEGE
OstroVit Pharma Elite OMEGA 3-6-9 liquid VEGE liquid is the highest-quality dietary supplement in the form of an oil for oral use, which contains the OMEGA 3-6-9 acid complex. OstroVit Pharma is a line that puts the quality of raw materials, pharmaceutical production diligence and all the components thanks to which the supplement is created, in the first place. OstroVit Pharma are absolutely elite supplements for consumers who know what is most important to them.

30 servings in the package
High content of OMEGA 3-6-9 acids
4 ml is 1 portion of the dietary supplement
suitable for people on a vegan diet
The supplement is in the form of an oil for oral use. Bet on OstroVit Pharma Elite OMEGA 3-6-9 liquid VEGE if:
you are looking for a complex of OMEGA 3-6-9 acids in one preparation
you want to take care of the proper cholesterol level and the health of the body
you don't like capsule supplements
Properties of the ingredients contained in OstroVit Pharma Elite OMEGA 3-6-9 liquid VEGE:
MULTI-DIRECTIONAL SUPPORT OF THE ORGANISM -OMEGA 3-6-9 fatty acids affect a number of physiological functions in the body, especially the work of the nervous and cardiovascular systems.
PROPERLY SELECTED INGREDIENTS - comprehensively supplemented with the level of plant-derived OMEGA 3-6-9 acids.
IMMUNITY SUPPORT - the proper level of OMEGA 3-6-9 acids plays a huge role in supporting immunity.
EASY USE - our dietary supplement doest not require sipping. You can accept it at any time of the day!
HIGH EFFICIENCY - 120 ml of the preparation is enough for a month of supplementation.
OstroVit Pharma Elite OMEGA 3-6-9 liquid VEGE - OMEGA 3-6-9 acid complex
Omega 3 fatty acids - in our preparation in the form of alpha-linolenic acid (ALA) - Its richest source in the diet is linseed oil. It affects many physiological processes, participates in the work of the cardiovascular and immune systems. A powerful antioxidant. It helps in maintaining the proper level of cholesterol in the blood. Alpha-linolenic acid shows both the properties of regulating blood sugar levels and preventing the development of chronic complications of diabetes.
Omega 6 fatty acids - in our preparation in the form of linolenic acid (LA) - They are mainly found in vegetable oils such as sunflower, rapeseed, hemp, soybean, corn, evening primrose, borage and safflower, grape seed, wheat germ. Omega 6 acids are the building blocks of cells and are involved in the production of many hormones, including neurotransmitters (connections between nerve cells in the brain). These acids are an important component of cell membranes, improve the functioning of the nervous system and have a positive effect on the condition of the skin.
Omega 9 fatty acids - in our preparation as Oleic Acid (OA) - Olive oil is a rich source of omega-9 fatty acids. Additionally, they are found in smaller amounts in linseed, sunflower and rapeseed oil, avocado, almonds and peanuts. Omega-9 fatty acids have a significant effect on the work of the circulatory system, regulating blood pressure. In addition, they protect the nervous system, have an impact on immunity and support the process of healing and regeneration of the skin.
Suggested usage
Drink 1 serving of 4 ml (2 teaspoons) daily.
Shake before use. Do not exceed the recommended daily serving. The dietary supplement must not be used as a substitute (replacement) for a varied diet. A balanced diet and healthy lifestyle is recommended. Do not consume if you are allergic to any of the product ingredients. Use by pregnant women and nursing mothers after consultation with a doctor. Keep out of reach of small children. Consume within 3 months of first opening. Store at 15-25°C, in a closed container, in a dry place. Protect from direct sunlight. Once opened, store in the refrigerator.
Nutritional information
Ingredients
Ethyl ester of omega 3, 6, 9 fatty acids from cold-pressed linseed oil.
The product may contain milk (including lactose), soya, peanuts, other nuts, sesame seeds, cereals containing gluten, eggs, crustaceans.
Nutrition Facts
| Active ingredients | Per portion 4ml | % RI* |
| --- | --- | --- |
| Omega 3 alpha-linolenic acid ALA | 2000 mg | - |
| Omega 6 linoleic acid LA | 500 mg | - |
| Omega 9 oleic acid OA | 600 mg | - |
*RI - Reference intake value
Product reviews
0
opinion
Questions and Answers
Add a question about this product