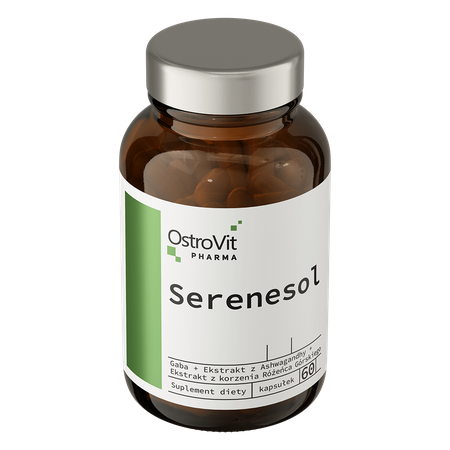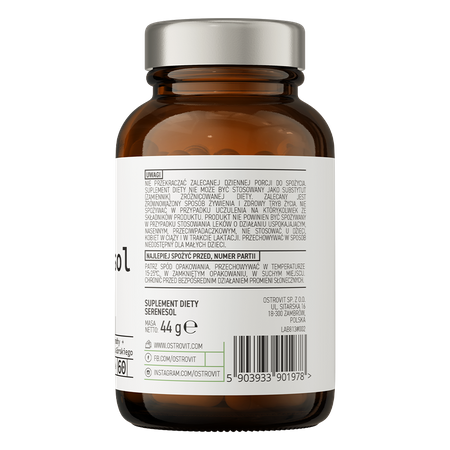 OstroVit Pharma For Relaxation 60 caps
4,25 €
OstroVit Pharma For Relaxation 60 caps
OstroVit Pharma For Relaxation is a dietary supplement which contains relaxing ingredients. Thanks to combination of gamma-aminobutyric acid and L-theanine and three natural plant extracts in one product – ashwagandha root, Asiatic pennywort and golden root, the supplement effectively reduces stress and limits tension.

Who OstroVit Pharma For Relaxation is designed for?
OstroVit Pharma For Relaxation dietary supplement is a product for all those who cannot deal with stress well or are exposed to stressful situations. Ingredients of the supplement show not only soothing properties, but also support the functioning of gray cells - they facilitate remembering and support memory.
Properties of the ingredients contained in OstroVit Pharma For Relaxation:
RICH COMPOSITION - Combination of six different active ingredients supports anti-stress properties of the supplement.
LESS STRESS ON A DAILY BASIS - Regular use of the supplement is a guarantee of protection against stress throughout the day in any situation.
SUPPORT TO COGNITIVE FUNCTIONS - The supplement assures a peace of mind and improves memory and concentration.
CONVENIENT USE - Using the supplement in capsules, you get rid of swallowing problem and you know that every dose contains the same amount of active ingredients.
Active ingredients of OstroVit Pharma For Relaxation
Gamma-aminobutyric acid (GABA) - Inhibits the activity of cells of the nervous system, thus reducing the feeling of tension. Shows soothing properties. Makes it easier to fall asleep.
L-theanine - It has a soothing effect. It can relieve nervousness and stress. It makes the body feel less tired.
Ashwagandha root extract - Supports the functioning of the nervous system. Provides faster regeneration.
Asian pennywort extract - It makes you remember important things faster.
Rhodiola rosea root extract - It is priceless in the fight against stress. It supports memorizing and supports studying.
Suggested usage
Consume 1 serving (2 capsules) daily, preferably with a meal. The preparation is intended for adults.
Do not exceed the recommended daily allowance. A dietary supplement cannot be used as a substitute (replacement) for a varied diet. A balanced diet and a healthy lifestyle are recommended. Do not eat if you are allergic to any of the ingredients of the product. The product should not be consumed in the case of sedative, hypnotic or antiepileptic drugs, and should not be used in children, pregnant and lactating women. Keep out of the reach of small children.
Nutritional information
Ingredients
Gamma-aminobutyric acid (GABA), L-theanine, ashwagandha root extract (7.2% withanolides, 1% alkaloids and 0.25% vitaferin A), Asian pennywort extract (10% triterpenes, including 2% asacosides, 6% madecassosides, 2% asiaticosides B), Rhodiola rosea root extract (1% salidrosides), capsule shell (bulking agent: hydroxypropyl methylcellulose).
Product may contain milk (including lactose), soy, peanuts, other nuts, sesame seeds, gluten-containing cereals, eggs, crustaceans, fish.
Nutrition Facts
| Active ingredients | Per portion |
| --- | --- |
| Gamma-aminobutyric acid (GABA) | 500 mg |
| L-theanine | 250 mg |
| Ashwagandha root extract (7.2% withanolides, 1% alkaloids and 0.25% vitaferin A) | 139 mg |
| Asian pennywort extract (10% triterpenes, including: 2% asianosides, 6% madecassosides, 2% asiansosides B) | 300 mg |
| Rhodiola rosea root extract (1% salidrosides) | 100 mg |
Product reviews
0
opinion
Questions and Answers
Add a question about this product