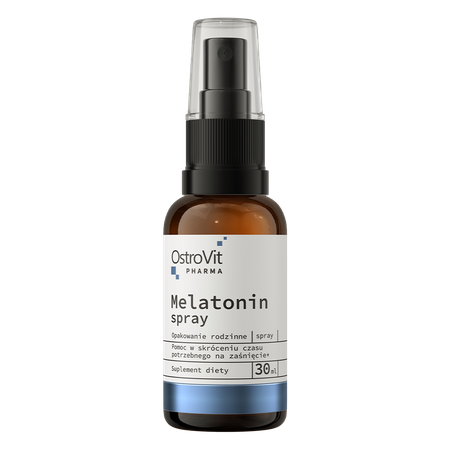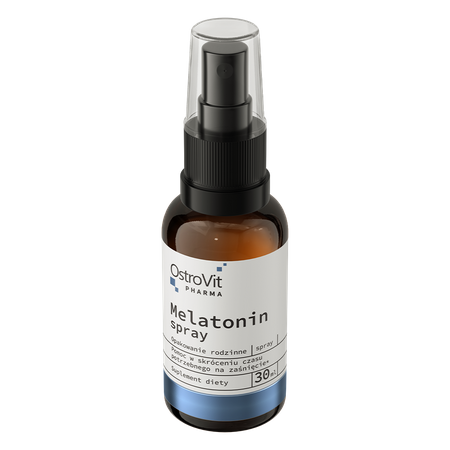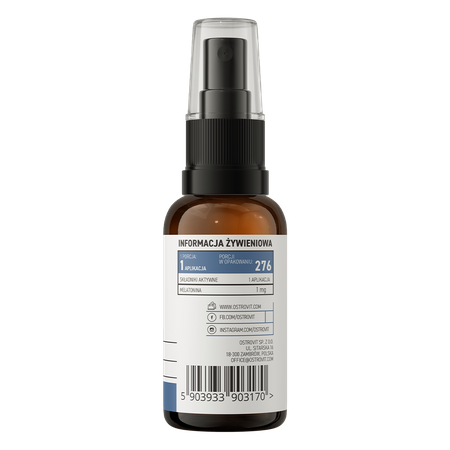 OstroVit Pharma Melatonin spray 30 ml
4,25 €
OstroVit Pharma Melatonin spray 30 ml
OstroVit Pharma Melatonin is a user-friendly dietary supplement, designed for all those who deal with insomnia. Thanks to unique form of the spray active ingredients of the supplement easily penetrate the vascular system and the action of melatonin starts to work much faster.

Why is it worth using melatonin?
Melatonin, also referred to as sleep hormone, controls your circadian rhythm. Top concentration of this essential substance, occurring naturally in the organism, can be recorded when it gets dark. This is when melatonin provides you with strong sleep. Sadly as we get older, the melatonin level drops and leads to numerous disorders, such as insomnia, light sleep, frequent awaking at night.
Properties of the ingredients contained in OstroVit Pharma Melatonin:
EFFECTIVE SUPPORT TO FALLING ASLEEP - With OstroVit Pharma Melatonin dietary supplement, you can have strong and healthy sleep. The product will let you forget about sleepless nights and make you sleep better and longer.
FIGHT AGAINST JET LAG - Melatonin spray can help you regain a proper circadian rhythm after traveling by plane from a different time zone. Thanks to the supplement, you can recover quickly and be able to function properly.
HIGHLY ASSIMILATE FORM - The supplement in spray not only guarantees comfort but also faster assimilability of active ingredient. Melatonin under your tongue starts working instantly after use, so you just need to take it 30 minutes before going to sleep.
HANDY PACKAGE - OstroVit Pharma Melatonin dietary supplement allows you to dose the product fast and precisely. This way you can be sure you always take a suitable amount of the supplement.
Laboratory-proven quality
For the sake of the health of our customers, the products manufactured by us are regularly tested in an independent accredited laboratory to ensure and maintain the highest quality.
Suggested usage
Shake before use. 1 application 30 minutes before bedtime. It is recommended to dose under the tongue. Product intended for adults.
The beneficial effect is when you consume 1 mg of melatonin shortly before going to bed or 0.5 mg shortly before going to bed on the first day of travel and for a few more days after arriving at your destination.
Do not exceed the recommended daily allowance. A dietary supplement cannot be used as a substitute (replacement) for a varied diet. A balanced diet and a healthy lifestyle are recommended. Do not eat if you are allergic to any of the ingredients of the product. Keep out of the reach of small children.
Do not use while driving or operating machinery, do not combine with alcohol consumption and with other drugs, including herbal remedies.
BEST USED BEFORE: See bottom of pack. To be consumed within 2 months of opening. Store at room temperature in a closed container in a dry place. Protect from direct sunlight.
Nutritional information
Ingredients
Bulking agent: glycerol; purified water, melatonin.
Product may contain milk (including lactose), soy, peanuts, other nuts, sesame seeds, gluten-containing cereals, eggs, crustaceans, fish.
Nutrition Facts
Product capacity: 30 ml
| Active ingredients | 1 application |
| --- | --- |
| Melatonin | 1 mg |
Product reviews
0
opinion
Questions and Answers
Add a question about this product