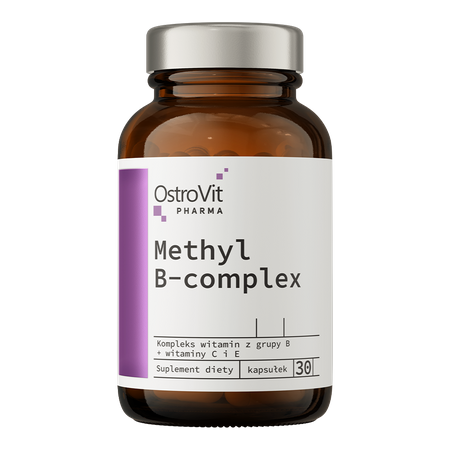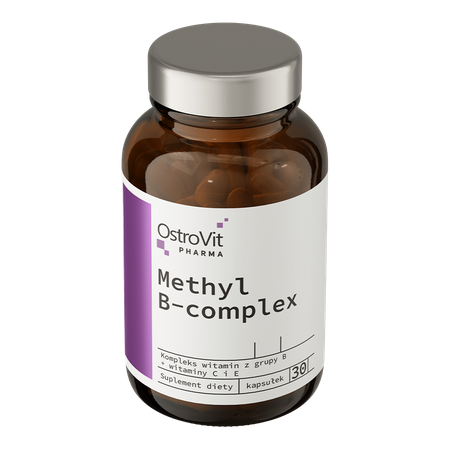 OstroVit Pharma Methyl B-Complex 30 capsules
5,39 €
OstroVit Pharma Methyl B-Complex 30 capsules
OstroVit Pharma Methyl B-Complex is a high-quality dietary supplement that is a source of the most absorbable forms of B vitamins. It is a preparation that has been additionally enriched with vitamin C and vitamin E. This is a product from the elite Ostrovit Pharma line, created for conscious consumers who want a comprehensive supplement of their daily diet with valuable micronutrients.

Source of B vitamins - the preparation provides the body with 100 mg of thiamine, 40 mg of riboflavin, 16 mg of niacin, 150 mg of pantothenic acid, 18 mg of vitamin B6 and 2500 ug of biotin, 600 ug of folic acid and 100 ug of vitamin B12 in a form that is distinguished by excellent bioavailability.
Enriched with vitamin C and E - the dietary supplement contains 80 mg of L-ascorbic acid and 12 mg of DL-alpha-tocopheryl acetate.
Contains PABA acid and choline - the product provides the body with 50 mg of p-aminobenzoic acid and 50 mg of choline bitartrate.
1 serving = 1 capsule.
Performance - the product package is enough for a month of regular supplementation.
Convenient form - the preparation available in the form of easy-to-swallow capsules.
Glass and dark packaging that protects the valuable ingredients from oxidation and ensures the highest quality of the dietary supplement.
OstroVit Pharma Methyl B-Complex - a source of 13 ingredients
B vitamins are water-soluble compounds that must be supplied to the body on an ongoing basis, as the body is not capable of synthesizing them naturally. They are commonly found in foods - they can be found in dry legume seeds, milk and dairy products, eggs, nuts, fruits, vegetables and yeast. B vitamins include compounds such as thiamine (vitamin B1), riboflavin (vitamin B2), niacin (vitamin B3), pantothenic acid (vitamin B5), pyridoxine (vitamin B6), biotin (vitamin B7), folic acid (vitamin B9), and cobalamin (vitamin B12).
In the OstroVit preparation, in addition to B vitamins, you can also find vitamin C (ascorbic acid), a water-soluble exogenous compound. It is an organic substance from the group of polyhydroxy alcohols that occurs naturally in fruits and vegetables, including acerola, blackcurrant, lemon, kohlrabi, parsley or red pepper.
The dietary supplement is also a source of vitamin E (DL-alpha-tocopheryl acetate), a fat-soluble vitamin that is referred to as the "vitamin of youth". Vitamin E can be supplied to the body along with the daily diet - the ingredient is found in vegetable oils, including olive oil, sunflower oil and corn oil, as well as in nuts and cereal seed germs.
In addition, the product contains p-aminobenzoic acid (PABA), a well-water-soluble organic chemical compound included in the amino acid group, which is often referred to as vitamin B10, although it is now considered a vitamin-like substance.
OstroVit Pharma Methyl B-Complex is also a source of choline (choline bitartrate), an organic chemical compound that until recently was called vitamin B4. However, current scientific data suggests that choline is a vitamin-like substance, considered a nutrient similar to amino acids, which in small amounts, can be naturally synthesized in the human body.
The dietary supplement OstroVit Pharma Methyl B-Complex in capsules uses the most absorbable and bioavailable forms of compounds, which makes the preparation a valuable source of valuable micronutrients.
Properties of the ingredients contained in OstroVit Pharma Methyl B-Complex:
OstroVit Pharma Methyl B-Complex capsules are a source of B vitamins, most of which contribute to the maintenance of normal energy metabolism and help in the proper work of the nervous system. In addition, vitamin B1, B3 and B12 support the maintenance of normal psychological functions.
Compounds belonging to the B vitamins, such as riboflavin and niacin, contribute to reducing feelings of fatigue and tiredness. Biotin supports the maintenance of normal macronutrient metabolism and helps maintain healthy hair and skin, while thiamine supports normal heart function.
The L-ascorbic acid present in the preparation helps in the proper production of collagen for the optimal functioning of blood vessels, bones, cartilage and gums, as well as skin and teeth, and additionally increases the absorption of iron and supports the regeneration of the reduced form of vitamin E. What's more, it helps maintain the proper functioning of the immune system during and after intense exercise. In turn, vitamin E contributes to the protection of cells from oxidative stress.
The choline used in the product contributes to the maintenance of normal homocysteine and fat metabolism, as well as helps in the proper functioning of the liver.
Suggested usage
Consume 1 serving (1 capsule) daily with a meal. The preparation is intended for adults.
Do not exceed the recommended daily allowance. Dietary supplement cannot be used as a substitute for a varied diet. A balanced diet and a healthy lifestyle are recommended. Do not consume if you are allergic to any of the ingredients in the product. The product should not be used by children, pregnant women and nursing mothers. Keep out of reach of small children.
Nutritional information
Ingredients
Pantothenic acid (calcium d-pantothenate), capsule shell (bulking agent: hydroxypropyl methylcellulose), thiamine (thiamine hydrochloride), vitamin C (l-ascorbic acid), inositol (myo-inositol), PABA p-aminobenzoic acid, choline bitartrate B2 (riboflavin), vitamin E (DL-alpha-tocopheryl acetate), vitamin B6 (P-5-P pyridoxal 5'-phosphate), niacin (nicotinic acid), biotin (d-biotin), folic acid (glucosamine salt of (6S) -5-methyltetrahydrofolic - 5-MTHF, vitamin B12 (methylcobalamin).
The product may contain milk (including lactose), soy, peanuts, other nuts, sesame seeds, oats, eggs, crustaceans, fish.
Nutrition Facts
| Active ingredients | Per portion | % RI* |
| --- | --- | --- |
| Pantothenic acid (calcium D-pantothenate) | 150 mg | 2500 |
| Thiamine (thiamine hydrochloride) | 100 mg | 9091 |
| Vitamin C (L-ascorbic acid) | 80 mg | 100 |
| Inositol (myo-Inositol) | 50 mg | - |
| PABA p-aminobenzoic acid | 50 mg | - |
| Choline bitartrate | 50 mg | - |
| Vitamin B2 (riboflavin) | 40 mg | 2857 |
| Vitamin E (DL-alpha-tocopheryl acetate) | 12 mg | 100 |
| Vitamin B6 (pyridoxalo 5'-phosphate P-5-P) | 18 mg | 1286 |
| Niacin (nicotinic acid) | 16 mg | 100 |
| Biotin (d-biotin) | 2500 µg | 5000 |
| Folic acid ((6S) -5-methyltetrahydrofolic acid glucosamine salt - 5-MTHF) | 600 µg | 300 |
| Vitamin B12 (methylcobalamin) | 100 µg | 4000 |
*RI - Reference intake
Product reviews
0
opinion
Questions and Answers
Add a question about this product