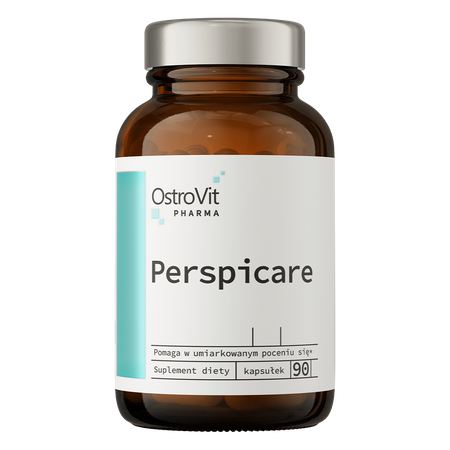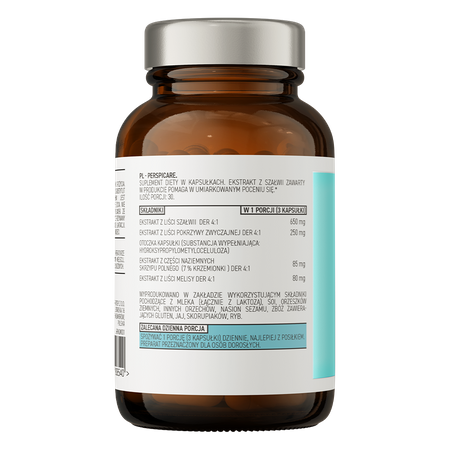 OstroVit Pharma Sweat Blocker 90 caps
5,39 €
OstroVit Pharma Sweat Blocker 90 caps
OstroVit Pharma Sweat Blocker is a dietary supplement in capsules that contain as many as four natural plant extracts that regulate skin and urinary system in a comprehensive way. It has been designed for people who deal with excessive sweating.

90 capsules in the box
High content of plant extracts
1 portion = 3 capsules
Natural support to sweating
OstroVit Pharma Sweat Block – who is it for?
Sweating is a natural physiological process thanks to which your skin can maintain a proper pH. Excessive sweating may occur due to hyperactivity of sweat glands. One of the most popular ways of limiting sweat is to use antiperspirants and cosmetic sweat blocks for body, which prove effective locally only. Contrary to these products, our OstroVit Sweat Block dietary supplement supports proper sweating throughout the body.
Properties of ingredients in OstroVit Pharma Sweat Block:
Sage leaves extract - proves anti-inflammatory and disinfecting. It supports healthy skin and hair. It reduces sweating.
Field horsetail extract - comes as a diuretic. It fosters production of a connective tissue. It has cleansing properties and may boost your metabolism.
Common nettle leaves extract - proves to be a diuretic too. It may have a positive influence on your skin condition and regulate sebaceous glands.
Lemon balm leaves extract - is rich in anti-oxidants. It proves to have a soothing impact. It may limit excessive sweating in stressful situations.
Suggested usage
Consume 1 serving (3 capsules) daily, preferably with a meal. The preparation is intended for adults.
Do not exceed the recommended daily allowance. A dietary supplement cannot be used as a substitute (replacement) for a varied diet. A balanced diet and a healthy lifestyle are recommended. Do not eat if you are allergic to any of the ingredients of the product. The product should not be used by children, pregnant and lactating women. Keep out of the reach of small children.
Nutritional information
Ingredients
Sage leaf extract DER 4:1, extract from ground parts of field horsetail (7% silica) DER 4:1, nettle leaf extract DER 4:1, lemon balm leaf extract DER 4:1, capsule shell (bulking agent: hydroxypropyl methylcellulose).
Product may contain milk (including lactose), soy, peanuts, other nuts, sesame seeds, gluten-containing cereals, eggs, crustaceans, fish.
Nutrition Facts
| Active ingredients | Per portion |
| --- | --- |
| Sage leaf extract DER 4:1 | 650 mg |
| Extract from ground parts of field horsetail (7% silica) DER 4:1 | 85 mg |
| Nettle leaf extract DER 4:1 | 250 mg |
| Lemon balm leaf extract DER 4:1 | 80 mg |
Product reviews
0
opinion
Questions and Answers
Add a question about this product