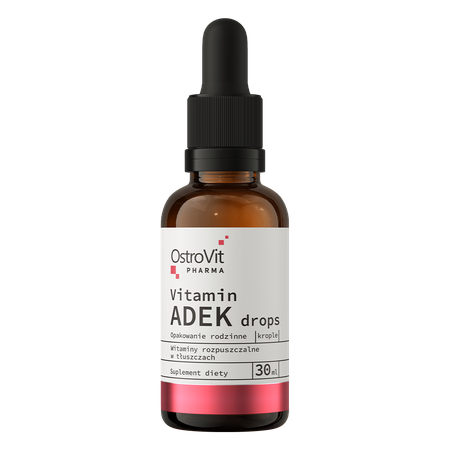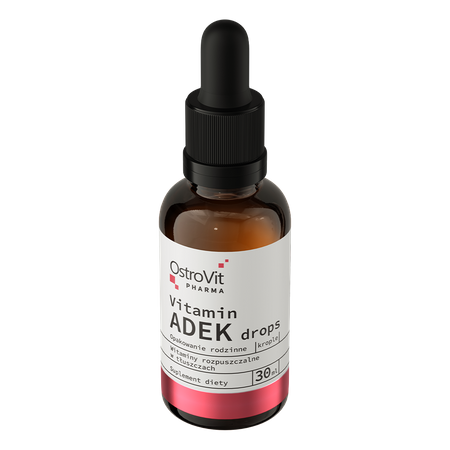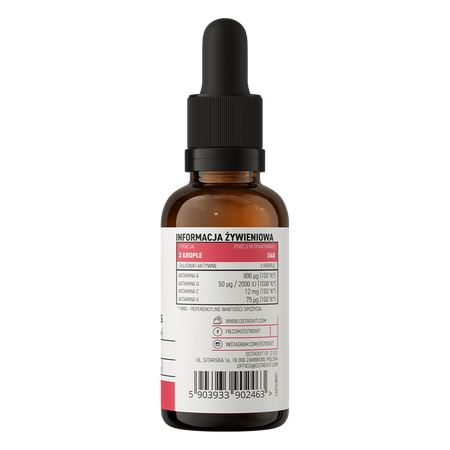 OstroVit Pharma Vitamin ADEK drops 30 ml
5,67 €
OstroVit Pharma Vitamins ADEK in drops 30 ml
OstroVit Pharma Vitamins ADEK is a modern dietary supplement in drops, which contains a complex of fat-soluble vitamins. Vitamins A, D, E and K are known for comprehensive impact throughout the organism, they support operation of many systems, protect against oxidative stress, as well as make the skin look healthy.

Dietary supplement OstroVit Pharma Vitamins ADEK in drops is an excellent alternative to vitamins in the form of tablets. The preparation is characterized by a very good bioavailability and is easy to use. You can swallow the daily portion of the supplement directly from a teaspoon or add it to your favorite drink.
A, D ,E and K
OstroVit Pharma Vitamins ADEK dietary supplement, rich in four fat-soluble vitamins - A, D, E and K, has been designed for those who wish to supplement required nutrients and counteract effects of their deficiency. Insufficient amount of fat-soluble vitamins in the organism may lead to a series of unpleasant consequences, including lower immunity, wrong blood coagulation and vision problems.
If you want to take care of health of internal systems and beautiful look, supplement your daily diet with vitamin A, D, E, and K.
Properties of the ingredients contained in OstroVit Pharma Vitamins ADEK:
COMPLEX OF 4 VITAMINS - OstroVit Pharma Vitamins ADEK contains a set of four fat-soluble vitamins so that it can replace a few dietary supplements.
ORGANISM SUPPORT - If you regularly use ADEK complex, you will notice increased immunity, nicer skin, stronger teeth and bones, and better eyesight.
CONVENIENT FORM - Choosing the dietary supplement in the form of drops, you choose comfort. Every day add three drops of the supplement to your drink to assure optimal ADEK vitamins level.
FAMILY BOX - The dietary supplement is available in a handy family box which contains as many as 348 single daily portions of the supplement.
Active ingredients of OstroVit Pharma Vitamins ADEK
VITAMIN A - It improves skin condition and boosts nails growth. It contributes to rise in immunity. It assures good vision.
VITAMIN D - It stimulates immunity system. It helps your bones and teeth remain healthy. It assures proper calcium absorption.
VITAMIN E - It prevents oxidative stress and protects red blood cells.
VITAMIN K - It influences blood coagulation and supports wounds healing. It improves absorption of vitamin D.
Laboratory-proven quality
For the sake of the health of our customers, the products manufactured by us are regularly tested in an independent accredited laboratory to ensure and maintain the highest quality.
Suggested usage
Shake well before use. Measure out 3 drops per teaspoon or dissolve in liquid at room temperature (water, tea, juice).
Before use, it is advisable to perform a 25- (OH) D blood test and consult your doctor or pharmacist about the test results. The product is intended for adults.
Do not exceed the recommended daily allowance. A dietary supplement cannot be used as a substitute for a varied diet. A balanced diet and a healthy lifestyle are recommended. Do not eat if you are allergic to any of the ingredients of the product. The product should not be used by children, pregnant women, nursing mothers and people taking anticoagulants containing vitamin K antagonists (e.g. warfarin and acenocoumarol). Keep out of reach of small children.
BEST BEFORE: See bottom of pack. To be consumed within 2 months of opening. Store at room temperature in a closed container in a dry place. Protect from direct sunlight.
Nutritional information
Ingredients
MCT oil containing medium-chain fatty acids from guinea oil seeds, D-alpha-tocopheryl acetate (vitamin E), olive oil, menaquinone-7 MK-7 (vitamin K) derived from Bacillus subtilis natto, retinyl acetate (vitamin A), cholecalciferol (from lanolin) (vitamin D).
The product may contain milk (including lactose), soy, peanuts, other nuts, sesame seeds, cereals containing gluten, eggs, crustaceans, fish.
Nutrition Facts
| Active ingredients | Per portion (3 drops) | % RI* |
| --- | --- | --- |
| Vitamin A | 800 µg | 100 |
| Vitamin D | 50 µg / 2000 IU | 1000 |
| Vitamin E | 12 mg | 100 |
| Vitamin K | 75 µg | 100 |
*RI- Reference intake
Product reviews
0
opinion
Questions and Answers
Add a question about this product