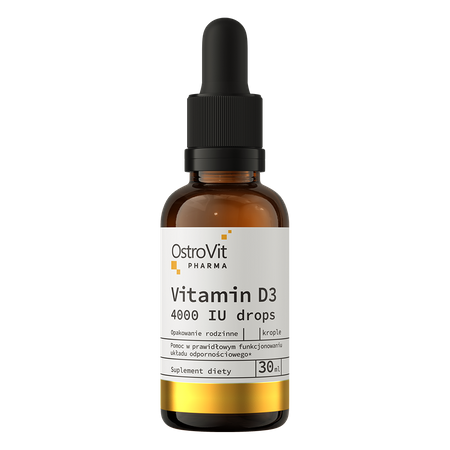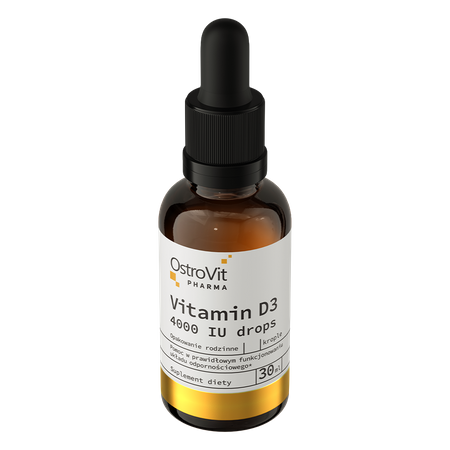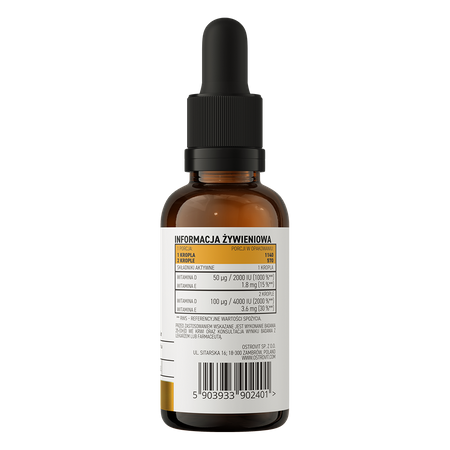 OstroVit Pharma Vitamin D3 4000 IU drops 30 ml
4,21 €
OstroVit Pharma Vitamin D 4000 IU in drops 30 ml
OstroVit Pharma Vitamin D 4000 IU is a modern dietary supplement which supports immunity. A unique form of drops performs perfectly in people who do not like swallowing tabs and capsules. The composition of the product includes vitamin D, MCT oil and vitamin E.

OstroVit Pharma drops contain as much as 4,000 IU. vitamin D in the form of fat-soluble cholecalciferol from lanolin. Such a large amount of active substance in the product makes it recommended primarily to people suffering from its deficiencies. The drops will work for both young people and seniors over 75 years of age. One bottle of the supplement is as much as 570 daily doses of the supplement containing 4,000 IU. vitamin D.
Composition OstroVit Pharma Vitamin D3 4000 IU
OstroVit Pharma Vitamin D 4000 IU drops is a combination of three ingredients which support operation of your organism on a daily basis. A high content of vitamin D in the form of cholecalciferol from lanolin will let you successfully secure yourself against infections and may serve as an important factor in preventing such diseases as diabetes, hypertension and tumor.
An additional ingredient of the supplement is vitamin E in the form of D-alpha-tocopherol acetate. This ingredient has strong anti-oxidizing properties, thanks to which it can protect your organism against diseases caused by free radicals. The base of the supplement is an energizing MTC oil, that is a product recommended primarily to physically active people.
Properties of the ingredients contained in OstroVit Pharma Vitamin D3 4000 IU:
UNIQUE COMBINATION OF ACTIVE SUBSTANCES - OstroVit Pharma supplement combines a highly assimilable form of vitamin D, vitamin E and MCT oil which substantially improves solubility of active ingredients.
IMMUNE SUPPORT - Ingredients included in the supplement have strong anti-oxidant properties and foster immunity of the organism. They also reduce morbidity and allow raising the number of anti-inflammatory cytokines.
HIGH DAILY DOSE - Only two drops of the dietary supplement is enough to provide your organism with 4000 IU of vitamin D. Such amount of active ingredient is recommended particularly to seniors. Younger people are advised to use one drop of the product a day.
CONVENIENT FORM - OstroVit dietary supplement is available in a revolutionary form of drops which you can easily measure ouy with the use of a pipette supplied.
Laboratory-proven quality
For the sake of the health of our customers, the products manufactured by us are regularly tested in an independent accredited laboratory to ensure and maintain the highest quality.
Suggested usage
Healthy adults up to 75 years of age - 1 drop a day with a meal; healthy adults over 75 years of age - 2 drops daily with a meal.
Before use, it is advisable to perform a 25- (OH) D blood test and consult your doctor or pharmacist for the results.
Do not exceed the recommended daily allowance. A dietary supplement cannot be used as a substitute for a varied diet. A balanced diet and a healthy lifestyle are recommended. Do not eat if you are allergic to any of the ingredients of the product. The product should not be used by children, pregnant women and nursing mothers. Keep out of the reach of small children.
BEST BEFORE: The date of minimum durability and batch number can be found on the bottom of the packaging. To be consumed within 2 months of opening. Shake before use. Store at room temperature in a closed container in a dry place. Protect from direct sunlight.
Nutritional information
Ingredients
MCT oil containing medium-chain fatty acids from guinea oil seeds, D-alpha-tocopheryl acetate (vitamin E), cholecalciferol from lanolin (vitamin D).
The product may contain milk (including lactose), soy, peanuts, other nuts, sesame seeds, cereals containing gluten, eggs, crustaceans, fish.
Nutrition Facts
| Active ingredients | 1 drop | % RI* | 2 drops | % RI* |
| --- | --- | --- | --- | --- |
| Vitamin D | 50 µg / 2000 IU | 1000 | 100 µg / 4000 IU | 2000 |
| Vitamin E | 1.8 mg | 15 | 3.6 mg | 30 |
*RI- Reference intake
Product reviews
0
opinion
Questions and Answers
Add a question about this product