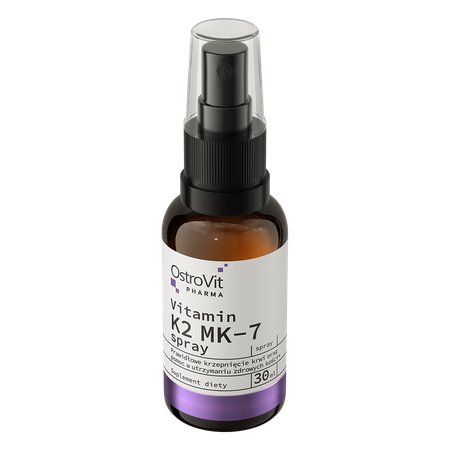 OstroVit Pharma Vitamin K2 MK-7 spray 30 ml
6,29 €
OstroVit Pharma Vitamin K2 MK-7 spray 30 ml
OstroVit Pharma Vitamin K2 MK-7 is the highest-quality dietary supplement in the form of a spray for oral use, which contains the best absorbable form of vitamin K2 MK-7 with the addition of vitamin E. OstroVit Pharma is a line that puts the quality of raw materials, pharmaceutical diligence of production and all the components thanks to which the supplement is created in the first place. OstroVit Pharma are absolutely elite supplements for consumers who know what is most important to them.

280 servings in the package
High in vitamin K2 MK-7
1 application is 1 serving of the dietary supplement
The supplement is in the form of an oral spray that is convenient to use. Choose OstroVit Pharma Vitamin K2 MK-7 spray if:
you are looking for a highly absorbable liquid form of vitamin K2 MK-7
you want to take care of the immunity and health of the body
you don't like pill supplements
Properties of the ingredients contained in OstroVit Pharma Vitamin K2 MK-7:
MULTI-DIRECTIONAL BODY SUPPORT - vitamin K2 participates a.o. in the process of blood clotting. It helps to maintain the healthy condition of bones and teeth. It facilitates the absorption of vitamin D.
PROPERLY SELECTED INGREDIENTS - the combination of vitamin K2 MK-7 with vitamin E in one preparation containing MCT oil and olive oil ensures high bioavailability and effective action.
NATURAL COMPOSITION - the source of vitamin K2 MK-7 in our preparation is natto - a Japanese dish made of fermented by Bacillus subtilis bacteria unmodified soybeans.
EASY APPLICATION - our spray dietary supplement does not need to be washed down. You can accept it at any time of the day!
HIGH PERFORMANCE - 30 ml of drops is enough for several months of supplementation.
OstroVit Pharma Vitamin K2 MK-7
VITAMIN K2 - otherwise known as Menaquinone, a fat-soluble vitamin, synthesized by bacteria present in the intestines. It is involved in many physiological processes in the human body. First of all, it takes part in the blood clotting process and in the development and proper functioning of the skeletal system. In the form of MK-7, it is the most bioavailable form of vitamin K.
VITAMIN E - In the form of D-alpha-tocopheryl acetate, a fat-soluble vitamin that can only be obtained from plants. It takes part in many important processes taking place in our body. It is one of the strongest antioxidants. It inhibits the oxidation of fats, which in turn allows you to lower the level of bad cholesterol (LDL). It destroys free radicals, has a positive effect on the functioning of the eye, supports the work of muscles.
Suggested usage
Shake well before use. 1 application once a day. It is recommended to dose the preparation under the tongue. The product is intended for adults.
Do not exceed the recommended daily allowance. A dietary supplement cannot be used as a substitute for a varied diet. A balanced diet and a healthy lifestyle are recommended. Do not eat if you are allergic to any of the ingredients of the product. The product should not be used by children, pregnant women, nursing mothers and people taking anticoagulants containing vitamin K antagonists (e.g. warfarin and acenocoumarol). Store out of reach of small children.
Nutritional information
Ingredients
MCT oil containing medium-chain fatty acids from Guinean oilseeds, olive oil, menaquinone-7 MK-7 (vitamin K) derived from Bacillus subtilis natto, D-alpha-tocopheryl acetate (vitamin E).
The product may contain milk (including lactose), soy, peanuts, other nuts, sesame seeds, cereals containing gluten, eggs, crustaceans, fish.
Nutrition Facts
| Active ingredients | 1 application | % RI* |
| --- | --- | --- |
| Vitamine K | 100 µg | 133%* |
| Vitamine E | 1.8 mg | 15%* |
*RI- Reference Intake
Product reviews
0
opinion
Questions and Answers
Add a question about this product