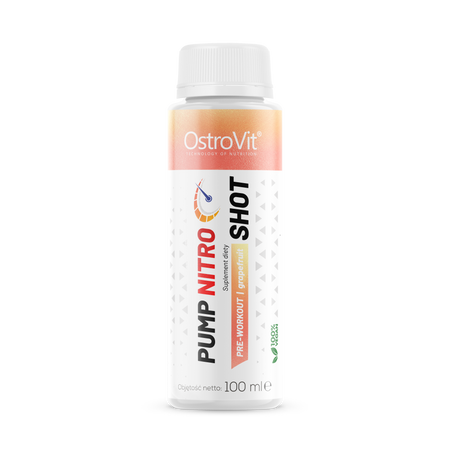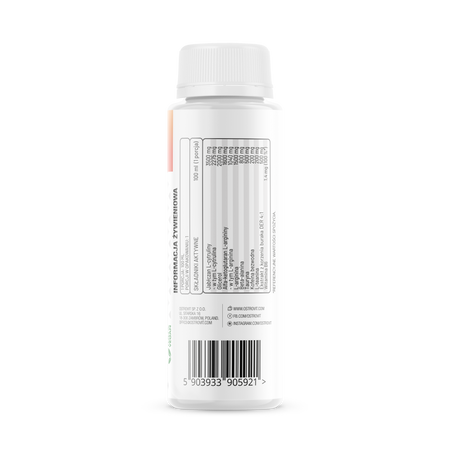 OstroVit Pump Nitro Shot 100 ml
0,92 €
OstroVit Pump Nitro Shot 100 ml
OstroVit Pump Nitro Shot 100 ml is a pre-workout in the form of a grapefruit-flavored shot that will provide you with energy and strength during physical activity. Our fruit shot is a combination of as many as 10 different active ingredients. Do you regularly play sports and are looking for a dietary supplement whose ingredients support the efficiency and endurance of your body, as well as increase the effectiveness of training? Bet on OstroVit Pump Nitro Shot - a small drink with great power!

Properties of the ingredients contained in OstroVit Pump Nitro Shot:
THE RIGHT DOSE OF ENERGY – Anhydrous caffeine stimulates action and reduces the feeling of fatigue in the body.
MAXIMIZING RESULTS – L-citrulline malate and AAKG protect the muscles during exercise and strengthen the feeling of the muscle pump. Taurine stimulates fat burning.
PROPERLY COMPOSED AMOUNT OF ACTIVE INGREDIENTS – One shot of our pre-workout is a combination of 3500 mg L-citrulline malate, 1600 mg AAKG, 800 mg Beta-alanine, 500 mg taurine, 200 mg anhydrous caffeine and 200 mg L-theanine, additionally enriched with glycerol, beetroot extract and vitamin B6.
COMFORTABLE FORM – Our shot is ready to eat and you can drink it whenever you need it.
Check what action the active ingredients in our supplement have:
L-citrulline malate. It has an antioxidant effect, protects the muscles during exercise. It helps to increase the effect of the muscle pump due to the increased synthesis of nitric oxide.
Glycerol. By affecting the water and electrolyte balance, it supports cellular hydration, thus helping to increase the feeling of a muscle pump.
L-arginine alpha-ketoglutarate.. It promotes regeneration, helps to increase blood supply to the muscles and accelerate the regeneration of tissues and muscles during physical exertion.
Beta-alanine. It demonstrates the ability to buffer muscles, which delays fatigue during high-intensity exercise.
Taurine. It can affect the body's efficiency and increase fat burning during activity, supports the activity of muscles, including the heart muscle, inhibits the processes of catabolism in the muscles, has a neuroprotective effect.
Anhydrous caffeine. It adds energy and willingness to act, can improve focus, reduces the feeling of fatigue and weariness and extends the time of concentration.
L-theanine. Non-protein amino acid supporting the cognitive functions of the body.
Beet root extract DER 4: 1. It can improve the circulatory and respiratory capacity of the body and increase the synthesis of nitric oxide, which in turn increases the efficiency of blood flow and muscle oxygenation.
Vitamin B6. It supports the transformation of amino acids and carbohydrates. It participates in the synthesis of serotonin and adrenaline, thanks to which it supports the functioning of the nervous system and helps to reduce the feeling of fatigue.
Laboratory-confirmed quality
For the sake of our customers' health, the products we manufacture are regularly tested in an independent accredited laboratory to ensure and maintain the highest quality.






Suggested usage
Consume 1 bottle (100 ml) per day. Do not consume more than 1 serving per day. The product is intended for adults. Sedimentation is a natural occurrence. Shake before use. Once opened, store in the refrigerator, consume within 24h.
Do not consume if you are allergic to any of the ingredients in the supplement. The product is not recommended for children, pregnant women, breastfeeding women. The dietary supplement must not be used as a substitute (replacement) for a varied diet. A balanced diet and healthy lifestyle is recommended. Store in a dry, cool place at 2-25°C. Protect from sunlight and frost. Keep out of reach of small children.
Nutritional information
Ingredients
Water, L-citrulline malate, apple juice from apple juice concentrate 20%, glycerol, L-arginine alpha-ketoglutarate, L-arginine, beta-alanine, taurine, beet root extract (Beta vulgaris L. ) DER 4:1, caffeine anhydrous, L-theanine, aroma, sweeteners: sucralose, acesulfame K; preservatives: potassium sorbate, sodium benzoate; pyridoxine hydrochloride (vit. B6).
The product may contain milk (including lactose), soya, peanuts, other nuts, sesame seeds, cereals containing gluten, eggs, shellfish, fish.
Nutrition Facts
| Active ingredients | Per portion | % RI* |
| --- | --- | --- |
| L-citrulline malate | 3500 mg | - |
| - of which L-citrulline | 2275 mg | - |
| Glycerol | 2000 mg | - |
| L-arginine alpha-ketoglutarate | 1600 mg | - |
| - of which L-arginine | 1040 mg | - |
| L-arginine | 1500 mg | - |
| Beta-alanine | 800 mg | - |
| Taurine | 500 mg | - |
| Caffeine anhydrous | 200 mg | - |
| L-theanine | 200 mg | - |
| Beet root extract DER 4:1 | 500 mg | - |
| Vitamin B6 | 1.4 mg | 100% |
*RI - Reference intake value
Product reviews
0
opinion
Questions and Answers
Add a question about this product