OstroVit PUMP Pre-Workout Formula 300 g NEW FORMULA watermelon
Customers recommend!
Rating 5/ 5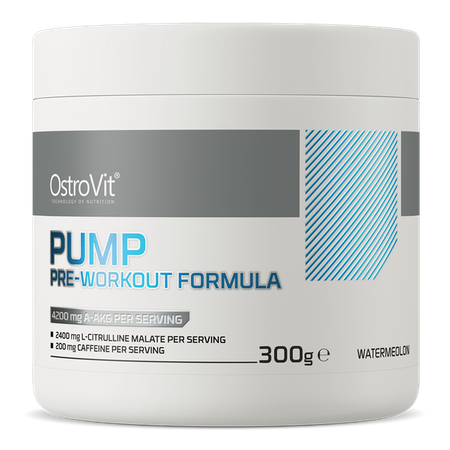 12,28 €
OstroVit PUMP Pre-Workout Formula 300 g NEW FORMULA
OstroVit PUMP Pre-Workout Formula True Taste is a supplement that supports the strength and endurance of the body and significantly increases the efficiency of training. The ideal bioavailability and high solubility of the product were dictated by high consumer requirements.
1,5
SCOOPS
1 serving = 1,5 scoops
300 g in the package
The product contains 30 servings!
1 serving=10 g
Various flavor versions
PUMP PRE-WORKOUT FORMULA
PUMP PRE-WORKOUT FORMULA is a mixture of beta-alanine, L-arginine, L-citrulline, taurine, L-leucine, L-carnitine, L-tyrosine.
The product does not contain creatine, so it can also be used in transition periods between creatine cycles. It is also an excellent supplement for the synthesis of muscle fibers without unnecessary retention of subcutaneous water, thanks to which the effects of exercise are even more visible.
Properties of the ingredients included in OstroVit PUMP Pre-Workout:
Increase the body's efficiency
Improve the effectiveness of exercises
Reduce body fatigue during training
Does not contain creatine, so it can be used between creatine cycles
The product has strong hygroscopic properties (strongly absorbs moisture). The formation of lumps or uniform (lumpy) consistency is not a sign of product properties loss. In such case the product should be ground again.
Suggested usage
Mix 10 g (1.5 flat scoops) in 150 - 200 ml of water or juice.
On training days, consume one serving daily, 30 minutes before training. The product is intended for people with increased physical activity.
Do not exceed the recommended daily allowance. A dietary supplement cannot be used as a substitute for a varied diet. A balanced diet and a healthy lifestyle are recommended. Do not consume if you are allergic to any of the ingredients in the product. The product should not be used by children, pregnant women and nursing mothers. Keep out of reach of small children.
Nutritional information
Ingredients
L-arginine alpha-ketoglutarate, citrulline malate, beta-alanine, taurine, L-leucine, L-carnitine tartrate, L-tyrosine, flavors, anhydrous caffeine, beet juice concentrate in powder, sweeteners: sucralose, acesulfame K; anti-caking agent: silicon dioxide.
The dietary supplement. Contains sugar and sweeteners.
The product may contain milk (including lactose), soy, peanuts, other nuts, sesame seeds, oats, eggs, crustaceans, fish.
Contains caffeine; not recommended for children and pregnant women (caffeine content 200 mg in one serving); Do not consume with other products that are a source of caffeine or other ingredients with similar effects.
Nutrition Facts
| Active ingredients | Per 100 g | Per portion |
| --- | --- | --- |
| L-arginine alphaketoglutarate | 42 g | 4200 mg |
| - of which L-arginine | 27.72 g | 2772 mg |
| Citrulline malate | 25 g | 2400 mg |
| - of which L-citrulline | 16.25 g | 1560 mg |
| Beta-alanine | 8 g | 800 mg |
| Taurine | 5 g | 500 mg |
| L-Leucine | 5 g | 500 mg |
| Winian L-carnitine | 3.5 g | 350 mg |
| - of which L-carnitine | 2.35 g | 235 mg |
| L-tyrosine | 3 g | 300 mg |
| Caffeine anhydrous | 2 g | 200 mg |
Product reviews
1
opinion
What customers say about this product
Questions and Answers
Add a question about this product