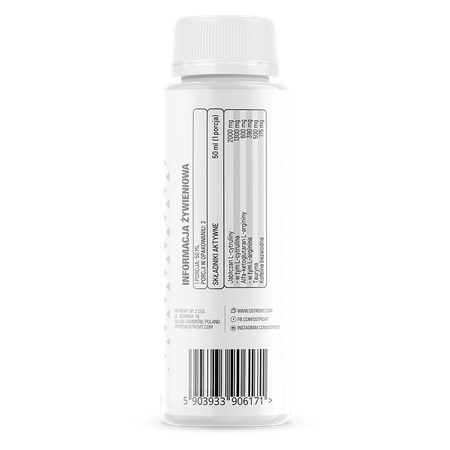 OstroVit Pump Pre-Workout Shot without beta-alanine 100 ml cherry
0,88 €
OstroVit Pump Pre-Workout Shot without beta-alanine 100 ml
OstroVit PUMP PRE-WORKOUT SHOT is a revolutionary pre-workout product in the form of a small apple-based drink which provides energy and strength while you are taking some physical activity. Our fruity shot combines as many as 4 various active ingredients. They will make your training more effective. Are you looking for a dietary supplement which can help your organism operate better and get more durable as well as support workout performance? Choose OstroVit PUMP PRE-WORKOUT SHOT – a small drink of great power!

Properties of the ingredients contained in OstroVit Pump Pre-Workout Shot:
PERFECT DOSE OF ENERGY – Thanks to the presence of caffeine anhydrous, the dietary supplement stimulates you to act and lets you reduce fatigue.
MAXIMIZATION OF RESULTS – L-cytruline malate and AAKG secure muscles and strengthen a sense of muscle pump. Taurine in turn boosts fat burning.
LARGE AMOUNT OF ACTIVE INGREDIENTS – One shot of our pre-workout product represents as many as 2000 mg of L-cytruline malate, 1200 mg AAKG, 1000 mg of taurine and 350 mg of caffeine anhydrous.
HANDY FORM – The pre-workout shot is a true revolution in the field of supplements for athletes. The shot is ready to drink and can be used whenever you need it.
Active ingredients
Check active ingredients included in our supplement:
L-cytruline malate. It shows anti-oxidant properties, removes ammonia from the organism, protects muscles and fosters the muscle pump.
L-arganine alpha-ketoglutarate. It fosters regeneration, raises blood supply to muscles while taking physical activities, strengthens a sense of muscle pump.
Taurine. It may influence the functions of the organism and help you burn fat during the workout, support muscles, including the heart muscle, hinders catabolism in muscles and shows neuroprotective properties.
Caffeine anhydrous. It gives you power and willingness to act, lowers fatigue and contributes to increased vigilance and concentration.
Laboratory-provem quality
For the sake of our customers' health, the products we manufacture are regularly tested in an independent accredited laboratory to ensure and maintain the highest quality.






Suggested usage
Consume 1/2 bottle (50 ml - 10 teaspoons) per day. Do not consume more than 1 portion per day. The product is intended for adults. Shake before use. Once opened, store in the refrigerator and use within 48 hours.
Do not use if you are allergic to any of supplement ingredients. Do not combine with alcohol. The product is not recommended for children, pregnant and breast-feeding women. Food supplement cannot be used as a substitute (replacement) for a varied diet. Balanced diet and healthy lifestyle is recommended. Store in a dry, cool place, at the temperature of 2-25°C. Protect against sunlight and frost. Keep out of reach of young children.
Nutritional information
Ingredients
Water, L-citrulline malate, apple juice from apple juice concentrate 20%, L-arginine alpha-ketoglutarate, taurine, caffeine anhydrous, flavour, sweeteners: sucralose, acesulfame K; preservatives: potassium sorbate, sodium benzoate.
Product may contain milk (including lactose), soy, peanuts, other nuts, sesame seeds, cereals containing gluten, eggs, crustaceans, fish.
Nutrition Facts
| Active ingredients | Per portion |
| --- | --- |
| L-Citrulline malate | 2000 mg |
| - of which L-Citrulline | 1300 mg |
| L-arginine alpha-ketoglutarate | 600 mg |
| - of which L-arginine | 390 mg |
| Taurine | 500 mg |
| Anhydrous caffeine | 175 mg |
Product reviews
0
opinion
Questions and Answers
Add a question about this product