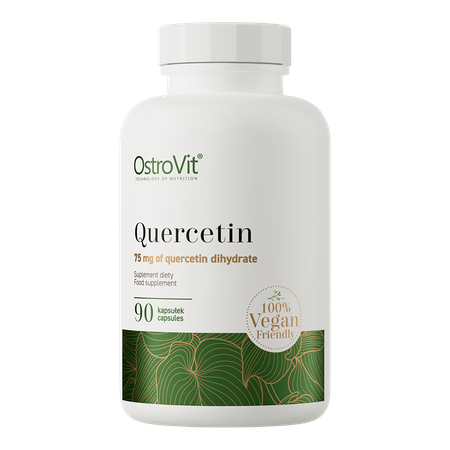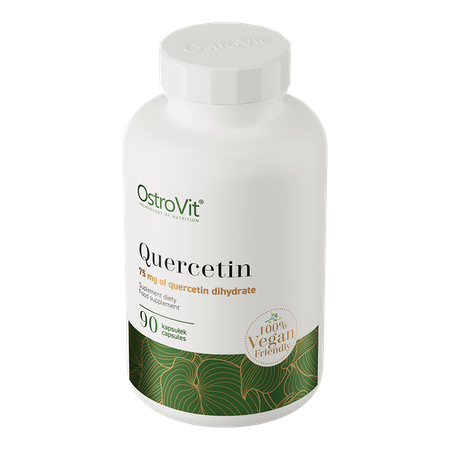 OstroVit Quercetin VEGE 90 caps
6,50 €
OstroVit Quercetin VEGE 90 caps
OstroVit Quercetin VEGE is a modern dietary supplement in vegan capsules containing dihydroquercetin (Sophora Japonica L. - Japanese Pearlwort). OstroVit Quercetin VEGE was developed for people who follow the principle of veganism or vegetarianism, does not contain any substances and compounds of animal origin, and the extract was enclosed in special HPMC (hydroxypropyl methylcellulose) capsules Supplements from 100% VEGE CAPSULES line are products designed for everyone who is looking for a particular extract and want to supplement their diet with it, and taking into account people who do not consume animal products, everyone here will be happy. OstroVit is attention to detail, quality and customer satisfaction without exception.
90 HPMC capsules (vegan capsules)
Product from the vegan 100% Vege Capsules line
1 serving is only 1 capsule a day
75 mg dihydroquercetin in one vegan capsule
Quercetin
Quercetin is one of the best-known phytochemicals, more specifically bioflavonoids, which can be found primarily in fruit and vegetables, but also in herbs and leaves, which are usually the main source of extracts in dietary supplements. The beneficial effect of quercetin is mainly due to its ability to act as an antioxidant or antioxidant (a compound that acts as a free radical neutralizer in our body). Free radicals are molecules that can cause damage to the body at the cellular level when their level gets too high.
Properties of the ingredients contained in OstroVit Quercitin VEGE:
Support the body in the fight against free radicals as an antioxidant
Can help regulate blood pressure
Help in supporting cognitive processes like improving memory or focus
Support the functioning of the cardiovascular system
Support blood glucose regulation
Support detoxification of the body
Products from the VEGE CAPSULES line were developed using only vegan ingredients. Due to the company's high-security policy and the fact that the production plant uses ingredients with an allergenic effect, hence the information on the possibility of the occurrence of cross allergens on the label. For more information, please contact us by email.
Suggested usage
Take 1 serving (1 capsule) per day.
Do not exceed the recommended daily dose. Do not use the product as a substitute (replacement) for a varied diet. Recommended are balanced diet and healthy lifestyle. Do not ingest if you are allergic to any of the ingredients. Do not consume the product by children, pregnant or nursing women. Keep out of the reach of children.
Nutritional information
Ingredients
Maltodextrin, quercetin dihydrate (from Sophora japonica L. fruits), coating composition (bulking agent: hydroxypropyl methyl cellulose).
Product may contain milk (including lactose), soybeans, peanuts, other nuts, sesame seeds, oats, eggs, crustaceans, fish.
Nutrition Facts
| Active ingredients | Per portion |
| --- | --- |
| Quercetin dihydrate | 75 mg |
Product reviews
0
opinion
Questions and Answers
Add a question about this product